On March 19, the night before the Kansas Jayhawks played New Mexico State in the second round of the NCAA tournament, I called my dad, a longtime columnist for the Lawrence Journal-World, our hometown paper. He was not feeling optimistic. "It's sick, it's odious," he said of being a KU fan. "If they play well, it's a relief. If they play terribly, you're disgusted. You hate it. It's a curse. It's no fun!"
Well, what happens if they win the national championship? He said it would be like Woody Allen's character in Hannah and Her Sisters when he finds out he doesn't have cancer. He'd be elated for five minutes, then come to his senses and remind himself of the meaningless of existence.
Existence sure didn't feel meaningless on the night in 1988 when Danny Manning and the Miracles beat Oklahoma to win the national championship for Kansas. One of the best nights of my life. Walking around campus all night with friends, high fiving strangers, rocking out on Wescoe Beach, watching this cute girl Debbie laughing while peeing. That's all I remember.
Growing up, I always knew I was going to be a professional basketball player. In September 1977 I moved with my mom to New York City. My dad soon remarried, moved to Lawrence, and we became Jayhawks fans. Our favorite player was Dave Magley who reminded us of Bill Murray. Dad sent me a lot of typewritten letters with updates about the Royals, the Kings (before they moved to Sacramento) and I thought there was one about Magley. I spent two hours looking for it the other day and was about to give up. It was pointless but I went through a box a second time.
"Found it!" I said, tearing up. It turned out not to be a letter but a profile of Magley that appeared in the Kansas City Times (the now defunct morning edition) on February 2, 1982. "Magley's Inner Peace Runs Deep," read the headline next to a photo of the six-foot-eight senior (the team's captain, MVP, and "Most Inspirational" that year) walking arm-in-arm with his wife Evelyn across the court at Allen Fieldhouse. Sportswriter Rich Sambol noted Magley's happy, smiling, exuberant attitude and how his "impish grin makes him look years younger, like a junior high kid shooting baskets on the playground."
I attended the Ted Owens Jayhawk basketball camp from age 11-13 and have a few vivid memories: 1) Getting really good at soul brother handshakes, 2) A jerk from Indian Hills junior high who poured OJ on my bed at Naismith Hall, then told pals I'd wet my bed, 3) The same prick repeating the same lie the next summer. Hey guy, if you're out there: I once bled the lizard in the middle of a bubble bath. Big deal! 4) A kid with a pair of binoculars claiming to have just witnessed a BJ in progress in a dorm room a quarter mile away.
In seventh grade, my mother and stepfather sat me down for a long chat about my grades, behavior, future, and so on. Finally, I blurted out that none of this mattered because I fully intended to go pro as soon as I could. Moses Malone did that straight out of high school. My stepfather asked me how many players were in the NBA. I guessed 200 or so. Next question: What's the population of the United States? I guessed 200 million or so. Then he went for the jugular, pointing out that I was white. He had me there. Reality was beginning to sink in. Fine, I thought, so I'll be a movie star.
I really had a moment, though. Playing for the JV team at St. John's in Houston, I made an 22-25 foot shot at the buzzer (halftime). All my teammates cheered, slapped me on the back, and one was so impressed he said for all to hear, "Jorge, I want to give you a blowjob!" Forgot to mention that I won "Field Day" in fifth grade, not to brag, and was once told by a baseball coach that I'd just made "a major league catch."
At Kent School in Connecticut I made the JV team in 10th grade. In a letter to my grandparents, I mentioned my last performance—17 points, 11 rebounds—leaving out the part about having been completely baked.
Also had a bad reputation as a stoner (true), lying to nurses at the infirmary (true), smoking cigs (true), "improper judgment," being late to class, skipping chapel, smoking cigs while skipping chapel, "no socks" (all true) and urinating out the window of my second floor dorm room. False. True, I did give lacrosse star Freddie La Manna permission to do so but it had been his idea. Well, a mutual decision (Fred: "I gotta take a piss!" Me: "Go out the window!")
Unbeknownst to us a teacher barbecue was under way in the courtyard directly below. 10 or 15 seconds into his whiz Freddie stopped, cursed and bolted out of my room. When I went to look out the window I saw angry faces and fingers pointing up my way. "It was Gurley!" Mr. Army and Mr. Gray ran up the stairs and after catching their breath, accused me of peeing on them. Because I refused to squeal I had to do a ten-hour work project for "gross improper judgment." (Freddie has yet to thank me).
But I got cut—injustice!—and gradually gave it all up. In a short essay I wrote for GQ about hating the Olympics, I heaped scorn on many sports among them beach volleyball and tennis ("creepy"). By 2008 I hadn't followed any sports since the Royals won the World Series in 1985, but my friend Henry Phyfe, a KU alum, insisted we go to an East Village bar to watch the NCAA finals. With 2.1 seconds to go Mario Chalmers made an incredible shot to send it into overtime. I couldn't stop screaming "Holy shit!" and then KU won and I became a fan again.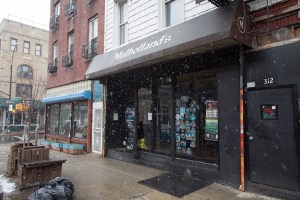 So did my wife Hilly in '09. First she loved Brady Morningstar and the Morris twins, then Jeff Withey ("Get Withey With it!" she'd holler at the screen. Or "Withey Wonka and the Block-It Factory!"). She adored Tyshawn Taylor but her all time favorite was Travis Releford. She loved his memoir (Relentless), too. Every game she'd put on her Jayhawks sweatpants and ring. We watched a few at the Village Pourhouse, then a KU bar. She cried when we lost in 2013 but then didn't seem to fully enjoy the next season. This year she lost complete interest.
I watched all the games alone from mid-December on and derived more pleasure from checking the schedule (Jayhawks are playing in three days!) than the actual game and usually tuned out until the last five-eight minutes. Maybe I wasn't paying attention, but where was the spirit, those running body bump celebrations, the smiles, the fun?
When they beat West Virginia in overtime, winning the Big 12 for the eleventh straight year, I went berserk, roared like a lunatic, frightened my wife, the cat, maybe the neighbors. But something was missing. Or maybe I was missing something, like the right attitude.
That's when I remembered when my friend and fellow KU alum Steve Nearenberg was in town last year, KU was playing Texas and Steve insisted on watching it at a sports bar in Williamsburg called Mulholland's. My father was in town, too, and he finally agreed to watch the game there. My wife Hilly and I showed up 90 minutes early to secure a table for five family members.
By 6 p.m. the place was packed. Three weeks earlier the Longhorns had soundly defeated the Jayhawks, so this was big. The 'hawks just destroyed the Texas guys, didn't have a chance, the place was rocking the whole time, and Kansas won by 31 points. Then Steve introduced me to Priest Fontaine, the man responsible for turning Mulholland's into a Jayhawks bar.
On March 20, the day Kansas would play New Mexico State in the second round of the 2015 tournament, I knew I had to go see Priest, and there he was in all his Jayhawks glory: Jayhawks windbreaker, Lawrence sweater, a Kansas City Kings T-shirt, and a blue knitted Jayhawks cap.
There were about two, three dozen fans present, a 95:5 male-female ratio. On Sunday, for round three, the ratio would be 50:50, with some lookers.
"Normally this would be completely packed, but it happens to be 12:15 on a Friday," Priest said. "But a lot of people called in sick from work including myself." (He's a videographer.) "We're neglecting a lot of important work for this very important Jayhawks game. Let's assume we win this—on Sunday the backyard will be full, this area will be full."
When he moved to Brooklyn a decade ago, he didn't have a TV and had to go to a bar on the Upper East Side called The Back Page, the only official place to watch Jayhawks games. He lived in South Williamsburg and in 2007, he noticed that a bar was about to open around the corner. He knocked on the door, met the owner Shawn Mulholland, and they made a deal. Priest would bring in a lot of Kansas people if Shawn could guarantee to get all the KU games.
"What started as a small amount has grown to be an insane amount," Priest said.
The game began and soon KU was up 10 points. There were a ton of regulars, guys here every game. Sitting in his usual spot, parked at the bar, there was Chris Raine, a big guy wearing a KU scarf, KU T-shirt and KU sweatshirt. There were claps and roars when Brannen Greene hit a three-pointer to send the Hawks up for 16. "Oh, I'm feeling great," Chris said. "I mean, you know this team, you can never feel too great. Inconsistent. We've blown bigger leads than this this year. I love them nonetheless."
"I've accepted this team for what it is this year's team," he continued. "They're young and They're terribly inconsistent. When they play well they look like one of the best teams the country but that only comes in spurts and the rest of the time it's a frustrating grind."
Has he had as good a time watching them this year?
"No, I can't say that. I've never question my time invested. I have questioned, Why can't this team stop throwing the ball away? Why can't this team make a layup? Why can't this team play better defense?"
The Jayhawks had a pretty comfortable lead at halftime. A deejay was playing White Stripes, The Police, Aerosmith, Blondie. Chris and I went to the backyard. It was snowing. People were smoking and watching the game on six screens. Priest was there talking about some of the rituals that go on at Mulholland's.
"I've made sure it's been at least twenty five percent performance art at all times so it's not just sports for the sake of sports," he explained. "We like to get a little weird."
He mentioned "the very, very lovely" knitted Jayhawk, a good luck charm. During clutch times in the tournament, Priest brings the knitted Jayhawk out and makes everyone touch it behind the bar.
"You made us kiss it one year," Chris said.
"Yeah, that's why they call me Priest."
Sadly, the knitted Jayhawk is missing.
"It lives downstairs in Sean's office but I went down there last night to get it and it's gone but we're still winning so not too worried."
Two minutes into the second half, Wayne Selden had a massive dunk. The Jayhawks were holding on to a 15-point lead. "Can't relax," Chris said. "Nope, not at all. I can only relax if we have a 15-point lead with one minute left. I know how they love to give up leads. There's no relaxing." Sixteen minutes left. An eternity. The ball was going out of bounds and Fearless Frank Mason did a beautiful behind-the-back save. We had this. Pride swelled. Priest was saying how Allen Fieldhouse was the greatest venue of sports.
"You have to go there to experience it," he said. "When you see a game there, the Rock Chalk chant, it's cult-ish, it's always sold out even if we're playing a no-name team. No other school is like that."
Chris seemed to think Mulholland's was a close second.
"In past years when we've had late NCAA tournament games I'll get here two, three hours in advance."
I ordered a bucket of Buds for us. Chris said he could have one after the game but he only drinks Blue Moon during KU games. "It's a thing," he added. "Last season they were out of Blue Moon and I had to drink something else and we lost and I totally blamed it on Shawn Mulholland and Shawn took credit for it, he's like, 'Yes this loss is on me.'"
Priest changed the subject to Boulevard Beer, made in Kansas City, which they now have on tap here as of a few KU games ago. Priest wouldn't let anyone order it until tipoff.
14 point lead now. 17 point lead. 60-43. A steal! By Fearless Frank! The deejay started playing Relax by Frankie Goes to Hollywood. Another three pointer by Brannen Greene! Nailed it with guys in his face—wasn't as easy as the last one, with those losers trying to get at him, but Greene still made it look like gravy. With one minute and eight seconds to go, Priest started doing the "Rock Chalk, Jayhawk" chant and everyone in Mulholland's joined him. Everyone was feeling great. Priest was talking about how the inventor of the game, Dr. James Naismith, was "our first coach." Chris mentioned Phog Allen, "the father of modern-day coaching who brought the game to the Olympics and created the NCAA tournament. Basically."
He cited the famous Jayhawks: Adolph Rupp, Dean Smith, Wilt Chamberlain, Larry Brown…
"It all starts in Lawrence, Kansas," Priest said. "I'm friends with the old beatnik guys like Wayne Propst who were friends with William Burroughs. Even the old townies and the weirdos that you wouldn't think would be basketball fans, even those guys are obsessed with watching the Jayhawks."
And so they were watching as the Jayhawks beat New Mexico State 75-56—only to fall to Witchita State on Sunday, knocked out in a massive upset. You hate it. It's a curse. It's no fun.