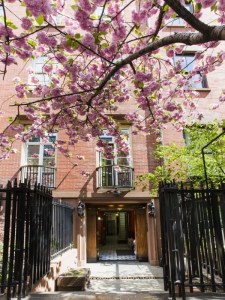 The stipulation that the owner of the plot of land currently hosting the 9,360 square-foot townhouse at 21 West 10th Street refrain from housing livestock on the premises–in favor of human occupants–seems a good deal more relevant when you consider that the dictate was handed down in the early 19th century, when the parcel was but a fragment of the local farmland holdings of John Jacob Astor. That is, of course, until you take into account that Michael Matlock, the home's owner since 1998–when he bought it for $2.1 million–hues toward husbandry himself, spending the bulk of his time on a horse farm he owns in Pennsylvania that dates to the 1680s.
But as far as we can see, via the listing held by Roger Erickson at Sotheby's International Realty, the Greenwich Village home hasn't suffered the indignities of life as a barn–despite featuring a few beams imported from one for aesthetic effect. And it's just sold for an even $21 million, according to city records, to an anonymous buyer that we can identify only as 21 West 10th LLC.
Time itself is perhaps chiefly responsible for the appreciation in price of the redbrick home, but the seller, who found the property subdivided into 10 dilapidated apartments, deserves a lot of credit, too. Reconfigured to contain an owner's triplex with several additional vacant apartments, the home has benefited from a pair of major renovations, leaving it with a gym and 20-person hot tub in the basement, a hand-carved cherry wood staircase modeled on the one at the Salmagundi Art Club and Carrera Marble and Pennsylvania bluestone in the kitchen.
The parlor level sports 13-foot ceilings and a bank of huge, brightness-admitting windows that wear Juliet balconies like small scarves and look onto a pair of soon-to-be-pink Japanese Maples. Out front, there is a black stockade of a gate that looks like a mighty find place to water your steed.