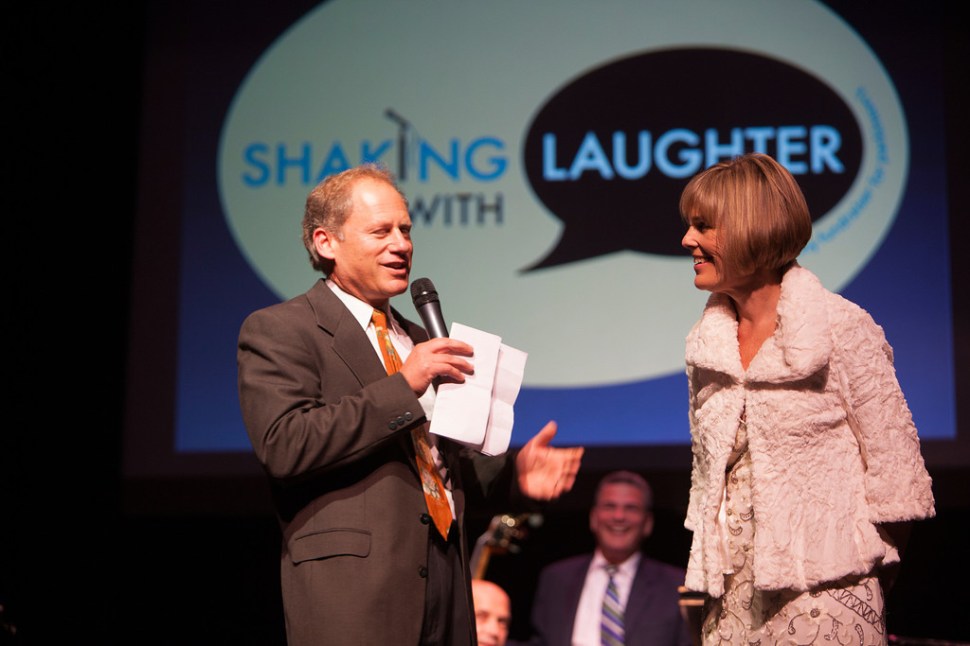 Did you read last week's "Modern Love" column in the Times? It was a beauty (it always is). In this one, Marc Jaffe, a comedian and writer described the way his wife and he cannot seem to get their sex drives in synch. At first, she is a busy doctor, rolling her eyes at his advances. But then, a drug she is taking to fight the symptoms of her Parkinson's disease has the side effect of invigorating her libido. Suddenly, at Karen Jaffe's insistence, they're canoodling in unconventional places at unconventional hours. Hey, now!
It's a lovely portrait of what makes a marriage. But there's something missing. What was the name of this mysterious wonder drug that turns a wife who always has a headache into Mrs. Roper?
The answer is Requip (generic name ropinirole), a dopamine agonist that mimics the function of the dopamine no longer being produced by the neurons of Parkinson's patients.
In an interview with the Observer, Mr. Jaffe says he decided not to reveal the name of this wonder drug because "It didn't seem to be the important part – I knew that wasn't the focus."
Although the listed side effects are stuff like drowsiness/dizziness/nausea, weakness, unusual dreams and constipation, anyone who heard the Stochasticity episode of Radiolab, with its searing portrait of a woman whose gambling addiction was traced to her Parkinson's medication, understands the links between these dopamine delivery drugs and sudden lack of self-consciousness. A different dopamine agonist is named Mirapex – or, as Mr. Jaffe joked, "Mirasex."
Joking is not a casual thing for Marc Jaffe. He has written for a number of television shows, including Comic Strip Live and most famously, Seinfeld, where his story credits include the episode in which Elaine sends a Christmas card without realizing that more of her is revealed than she had intended.
"That was based on a real-life story about Karen's brother, who sent out a Christmas card to many family and colleagues without realizing that his robe was open and … the stockings were hung." The Jaffes have laughed together throughout nearly 30 years of marriage, and Karen's long record as Ohio's only female mohel surely provided much fodder, as well.
According to Dr. David B. Samadi, the Chairman of Urology at Lenox Hill Hospital, "With Parkinson's, what happens is the center of the brain, substantia nigra, that releases dopamine stops or slows down…. So the amount of dopamine in your body starts to calm down and as a result you get all the symptoms of Parkinson's, the tremors and muscle issues and movement coordination, all that stuff. … Dopamine is the secret behind our inhibition. Dopamine, and serotonin to some extent, is a very complex and a very important neurotransmitter in our body. And a lot of people have called it the hormone of love. The reward center in the brain responds to dopamine. But also, when you overdo it, it increases the risk of gambling, alcohol addiction, and all of those things."
Dr. Samadi didn't think it likely that the sexual side effects of dopamine agonists would result in couples starting to gulp Mirapex in an off-label attempt to spice up their love lives.
---

'Our body is actually a very complex machine where you have inhibitory hormones. Inhibition and stimulation work against each other so you can function. Any imbalance in this could turn somebody into a rapist or could completely shut down your sex drive.'

---
"I found this study in 2007 in Neuro Pharmacology where they gave [levodopa] to patients with restless leg syndrome, and they also noticed increases in gambling. They found them behind slot machines. They were going to all these casinos and people have lost their life savings as a result of some of these medications. In this particular case, I guess it increased the sex drive of the lady and the couple were happy for a short while. But alcohol addiction, drinking, gambling addiction, there are a lot of negative side effects."
Mr. Jaffe agreed. He described to the Observer how his wife, during the early days of her diagnosis before she was telling people she had the disease, was experiencing this heightened libido and placed a call to the manufacturer of Requip. "She wanted to do it anonymously, not outing herself so she called and said, 'Well, I have a patient and she's having this unusual reaction to the drug…'" The idea was that she was going to ask whether she could prescribe it as an off-label Spanish Fly to patients who did not have Parkinson's. The plan went wrong when the drug rep started asking for the hypothetical patient's exact age and other identifying characteristics. "She realized she'd be busted. But the problem would be that hypersexuality is probably the least common of the compulsive behavior disorders that develop with this."
Dr. Samadi summarized the situation.
"Our body is actually a very complex machine where you have inhibitory hormones and whoever has designed this—we'll call them God—but whoever has designed this machine where, after all these years, we're still trying to figure out how inhibition and stimulation work against each other so you can function. Any imbalance in this could turn somebody into a rapist or could completely shut down your sex drive. So all these neurotransmitters, whether it's dopamine, serotonin, they also have other inhibitor hormones that keep it all in balance."
Balance is exactly what the Jaffes seem to have achieved. Even as Karen continues to struggle with PD, they've devoted themselves to their charity, Shaking With Laughter. They have raised some $700,000 through events like last year's gala, featuring the comic Brian Regan playing to over 2200 people in Cleveland. At the end of our interview, when Mr. Jaffe is trying to tell me his crazy email address, he shared Mr. Regan's joke about spelling something out loud: "k as in kite and p as in pneumonia." We laughed and then he got back to work raising money to cure his wife's disease.