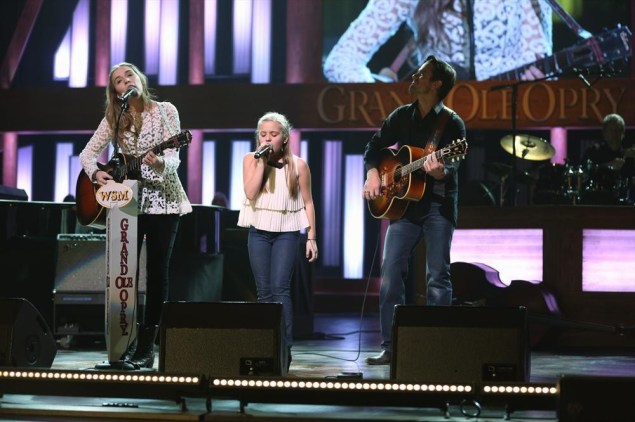 Juliette has gone through a full transformation– not only is she carrying the baby with the longest incubation period of all time, she has now, in an unprecedented Nashville sci-fi premise, become that baby! We don't see the new Juliette this episode, we know only that she's "kept Avery up all night", and are made to assume that she's behind the door, when a tired, alien-fighting looking Avery shouts at Gunnar, "I just got Juliette to sleep!" This might seem like weak evidence, but another way we know that Ms. Barnes is now a changeling is Avery's nonchalance re: performing with, and subsequently going on a six week tour with, his ex Scarlett. Only a non-speaking, baby alien version of Juliette would allow such to happen without demanding an explanation and throwing a fit. So, when will baby Barnes be unveiled? We can only hope that Avery will show up to the next Triple Exes show with his wife/child in a front pack.
Well, well, well, there's another gay Country star in Nashville. Not only is this guy out, proud and successful – but he's wearing stripes socks to boot! Just to stick it to closeted Will. The fresh meat is Kevin Biggs: songwriter to the stars. Biggs is played by Kyle Dean Massey. KDM is apparently a Broadway staple who has no where else to make good on TV since SMASH was canceled and GLEE is ending. Please, please, ABC do not cancel Nashville as well, where would all these actor/singers get their grocery money?!
Anyway, I found out in this interview with Rolling Stone Country that KDM Kevin Biggs would have made it big as a performer himself, if not for that pesky sexuality thing. Kevin will, I assume, act as counter point to Will in the "fame versus happiness" debate. On the other side of this coin is Gunnar, another songwriter to the stars, who would also rather be a performer. Yet, he too, is stuck in the million dollar songwriting ghetto, despite enough straightness to have been falsely accused of impregnating his HS girlfriend.
Oh Gunnar. Gunnar, Gunnar, Gunnar. The writers of this show really love to toy with your emotions. I wonder what kind of notes Sam Palladio makes in his actor's journal at night to get a handle on all the directions these feelings are supposed to sway him. From Micah, to Kiley, back to Scarlett – this guy is never sure who he's pining after. Don't worry, G, I'm not sure either. Don't get me wrong, I'm thrilled we didn't have to hear about Micah this episode. After that arc, we got a couple of, are you really still upset about this? Kiley episodes, and now, Gunnar sees Scarlett kissing the good doctor and there's that famous pout again. Guys, we know Gunnar is supposed to be sad and mopey. But, can we make up our minds about who all this moping is in relation to?? Is Gunnar's #tragicflaw that he simply loves to mope, regardless of cause?? If that's the case, I guess it's a good thing Will moved back in and they can mope together, because you know that if Will is working with a cute, out, confidant, striped-socks-wearing songwriting partner, it's going to be all kinds of difficult to keep it in his pants. Nashville loves to let us know that songwriting is the best foreplay out there. Personally, I hope that the relationship between Will and Kevin does not become sexual. It would be the storyline equivalent of setting up your only two gay friends and assuming they will hit it off just because they're both gay. At first, Will is not having any of what Kevin is selling. He's protesting way too much and running as fast as he can towards beers, trucks and babes lyrics. But Kevin is a pro. He knows that asking Will about high school and his relationship with his dad will open the water works. (Doesn't the high school question just do it for everyone?) In classic, not-so-subtle Nashville fashion, Kevin hands Will a guitar, just as he's starting to get misty, and oh man, I so do not trust these writers to keep this relationship professional.
In other news (my god this show has a lot of storylines!):
*Sadie becomes a voice for women of domestic abuse and takes her story public on GMA. Pete's watching and clearly planning something horrible.
*Layla and Jeff decide to add an element of S&M into their relationship.
*Bucky and Luke eat pancakes together (!!!)
*Colt wants to move home to Nashville and Luke is cool with it because he wants at least one man in the Wheeler family to get in on that sweet James-woman lovin'. If it can't be him and Rayna, might as well be Colt and Maddie.
Now let's talk about how great the music was this episode. K?
Lennon and Maisy Maddie and Daphne have never sounded better than they did at the Opry. This performance led me to their youtube channel and to this cover of BOOM CLAP which everyone should watch. The Triple Exes, used enough colored post-it notes to finally come up with a band name and then killed it opening for Rascal Flats!  And Rayna and Deacon's performance at the Opry made Luke cry, grew Colt's heart three sizes and let the Opry audience felt the presence of God!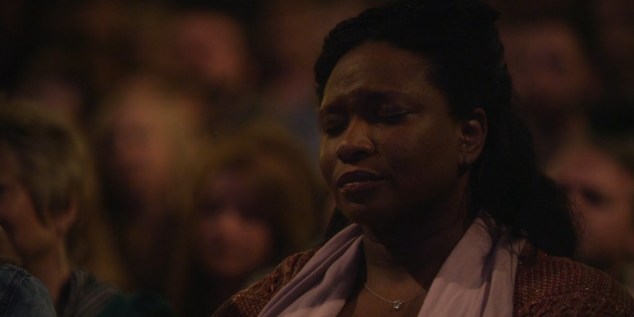 SING IT REACON!
Also, Teddy's lady friend let him know he's probably on tape with the feds re: paying for sex, but somehow, doesn't the Teddy storyline always feel like an after thought???
Hey! What do you wanna bet next week we're talking about who's gonna give Deacon that liver?!
See ya then.