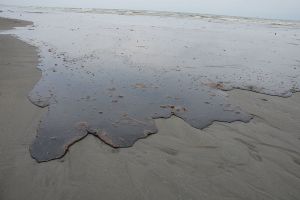 When BP's Deepwater Horizon oil rig exploded in the Gulf of Mexico in 2010, determining the amount of oil involved was the first step to cleaning the mess. But doing so accurately has always been one of the greatest challenges associated with oil spills, and the amount of toxic crude oil spilled into the ocean during those 87 days is still nothing more than an estimate.
Researchers just developed a new underwater robotic vehicle that will make it possible to accurately measure just how much oil is spilled during these disasters. The ROV (remotely operated vehicle) uses acoustic signals to easily locate the thickest part of the slick and gauge the volume of the entire spill.
Developed at the Virginia Institute of Marine Science at the College of William & Mary, the ROV is a much better alternative to the current method, which is nothing more than a visual evaluation.
"Gauging the volume of a spill and the extent and thickness of its surface slick are usually done by visual surveillance from planes and boats, but that can be quite difficult," project leader Paul Panetta told Phys.org.
It can lead to faulty estimations as well. And since even the slightest difference of only a few millimeters in oil thickness can translate into an enormous difference in spill volume, these methods often lead to the use of too little or too much chemical dispersant and overall supbar clean-up plans.
The ROV, however, functions by emitting sound waves from under the water and measuring the slight delay between the reception of the reflected echoes. This allows its software to measure the thickness of the slick and accurately determine the total volume of oil, not just the oil floating on the surface.
Because the ROV measures from below, it will work even if it's beneath ice, making this technology especially important as oil exploration and recovery moves into Arctic waters, where ice and weather can hinder access and visibility.