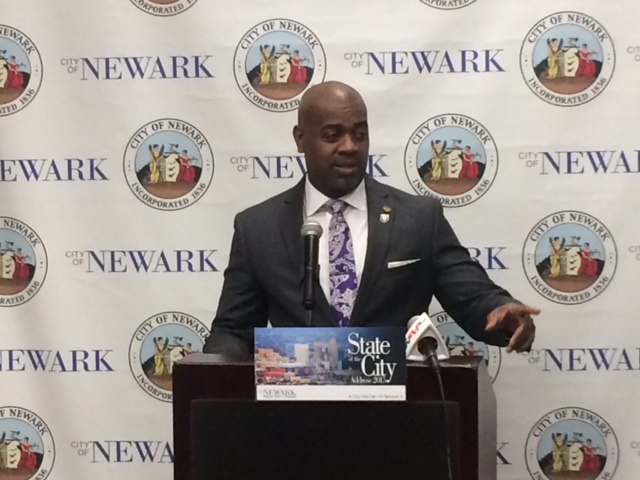 NEWARK – In his first State of the City address, Newark Mayor Ras Baraka took New Jersey Governor Chris Christie to task, demanding official approval so that the state's largest city can ultimately help itself.
"I want to say today to the governor, we have no sword up in Newark," said Baraka to a packed crowd on Tuesday night at City Hall which included prominent politicos such as Jersey City Mayor Steve Fulop and Essex County Executive Joe DiVincenzo, who sat together during the more then one hour-long speech. "We have forty percent of our children in poverty, high unemployment, dying children, crumbling infrastructure, and a superintendent of schools that you yourself know is not working," a reference to the embattled Newark Superintendent of Schools Cami Anderson, appointed by Christie in 2011 to lead the state-run school district.
Baraka then listed a litany of initiatives that he believes will give Newark an economic and governmental boost, including the introduction of a fee on containers in Port Newark, the establishment of a referendum on municipal tax options, a city tax on items sold at Newark Airport and a proposed measure to have police and fire officials live in Newark for at least five years.
"We don't want to fight, we need your help. We need your authority," Baraka said, continuing to harangue Christie. "And if that happens, we will never have our hand out again. We will never ask you for anything else again. We won't come down for municipal aid. You won't hear me talk about you in the press. I might even tolerate [Anderson] for a few more weeks. We just need the right to take care of ourselves. We need the right to govern ourselves."
Baraka also directed his rhetorical blasts at the agency that controls Newark's airport and seaport: the Port Authority of New York and New Jersey.
"We are continuing to push the Port Authority to be better partners and a better tenant. Either we get some serious relationship counseling or we have to seek a divorce," Baraka said. "We need the airport and the seaport not to just be in Newark, but we need them to be a part of Newark. We need transparency and oversight now. And if they cannot work with us in a way that is both fair and transparent, I'm prepared to out an RFP [request for proposal] on the street asking interested parties to buy our seaport. You cannot be in our home and cook on our stove, even if you did bring the food, and eat while we sit in the living room and starve. We want to eat, too."