NEWARK – On the day the Newark Saint Patrick's Day Parade marched through the downtown of New Jersey's largest city, many major political players marched through the city's streets, including state Senate President Steve Sweeney (D-3).
"The leaders in Essex County are strong. I'm not worried about any kind of fighting anywhere," said Sweeney when questioned by PolitickerNJ about the South Jersey political chieftain's appearance in North Jersey during Newark's parade on Friday. "It's obviously an important county, and a strong Democratic county."
To his credit, Sweeney appeared at the Newark parade, held continuously since 1936, unlike other potential 2017 Democratic aspirants to the gubernatorial nomination throne such as Jersey City Mayor Steve Fulop and former U.S. Ambassador to Germany Phil Murphy. But when asked if he can carry North Jersey despite his South Jersey provenance, Sweeney stood firm in Newark's streets.
"It's all about the economy," said Sweeney, "And I understand the economy."
There were voices in Newark's streets both for and against Sweeney on parade day.
"I sure as hell hope Sweeney runs for governor," said Mike Popik, 61, of New Providence, a retired 32-year veteran of the Newark Fire Department congregating with members of the Ironbound Irish-American Association in Krug's Tavern on Wilson Avenue near where he grew up before the start of the parade. "The middle class, which is getting squeezed, is our backbone of our state, and the Republicans don't even want to raise the minimum wage. You can't please everybody, but Sweeney is looking out for the middle class, and that's what endears me to him. Governor Chris Christie told us he'd help us with our pensions, and it may not turn out that way. Thanks a lot."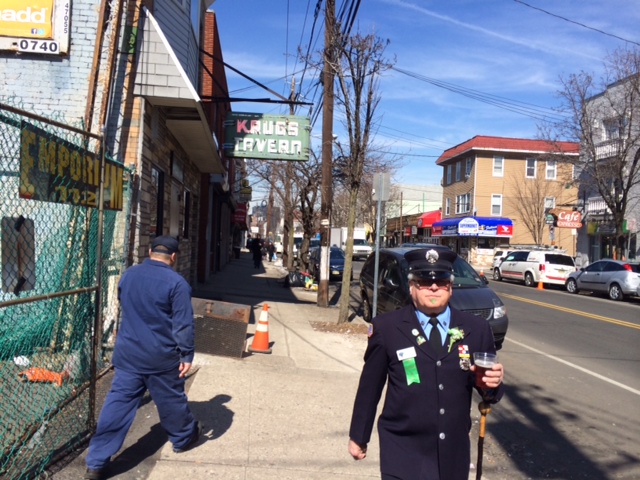 "Steve Sweeney can only win if he kisses labor's ass, because he turned his back on us," said another Newark firefighter who requested anonymity in Newark's Kilkenny Alehouse after the parade, a reference to Sweeney's support for Christie in 2011 regarding pension reforms. "Don't use my name – I'm Irish, he'll kill me."
"Steve Sweeney should be here. He's Irish, isn't he?" said Newark Mayor Ras Baraka, a Fulop ally. "Sweeney should be in Newark as much as he possibly can. If he wants to be the governor, he has to come to the state's largest city."
"I think Essex County will be united behind a single candidate," said Essex County Executive Joe DiVincenzo, a Democrat who grew up in Newark and a strong Sweeney ally. "It's an open race. There's a lot of people interested. We'll see what happens down the road. But Essex County will be united. There will be no civil war in Essex."