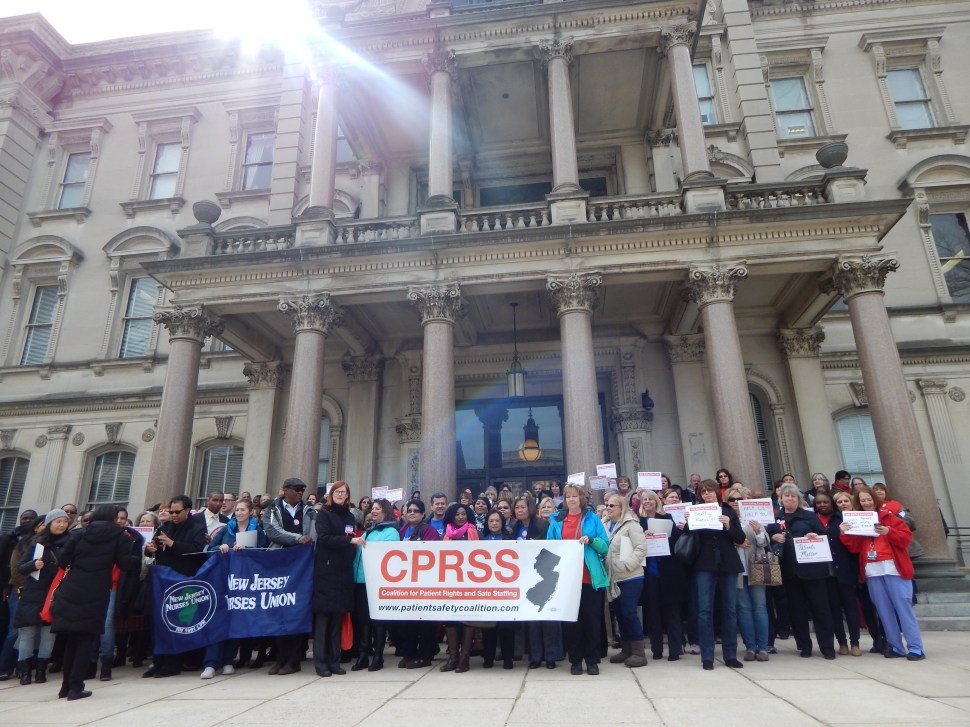 TRENTON — More than 300 nurses representing six different unions from across New Jersey mulled about the statehouse halls today in a lobby day rally to rouse support for a bill that would set nurse-to-patient standards for hospitals and allow flexibility to increase staffing based on patient needs.
"The point is we want to make sure each patient has more than one nurse to take care of them. We want to make sure we get the best care we can give to them — so that the patients can be taken care of properly, infections can be reduced. mistakes will be less, and the staffing will be better," said Elfrieda Johnson, a registered nurse at St. Michael's Medical Center in Newark and president of JNESO's board of directors, a professional health care union that represents over 5000 health care workers.
The legislation in question is S1183, which is sponsored by state Sen. Joseph Vitale (D-19) and aims to establishes minimum registered professional nurse staffing standards for hospitals and ambulatory surgery facilities and certain DHS facilities. Under the the bill, hospitals would be required to devout one registered professional nurse for every six patients on a medical/surgical unit for the first year after the regulations are adopted, and one nurse for every five patients thereafter.
Proponents of the bill say such requirements would help ensure safe care and improve hospital working conditions.
Arriving by busload this morning, the groups first gathered at the Masonic Temple at the corner of Front and Willow downtown before moving to the statehouse where they held over 20 meetings with various legislators. They later gathered on the steps of the statehouse for a 12 pm rally.
"Now, we have staffing ratios in place through the department of health regulations that are 27 years old. So it's time to update these regulations, bring them into the 21st century," said Bernie Gerard, vice president of Heath Professionals and Allied Employees.
Speakers today pointed to a recent poll by the state's largest healthcare workers union, HPAE, that found 73 percent of voters supported the measure. It also found that 81 percent of voters support requiring the state Department of Health to conduct annual inspections of New Jersey hospitals.
Members of the Senate Healthcare Committee debated the bill during their Feb. 9th hearing, and proponents are working to get it posted for a follow-up vote in the coming weeks.
"We know that conditions are unsafe right now. that quality care isn't being delivered, people are just getting by through the day. That shouldn't be the way we take care of people in this country," Gerard added.
While proponents of the new regulations say the bill has broad Democratic support, some remain opposed. That opposition includes the New Jersey Hospital Association, which estimates it would require the state's acute care hospitals to hire 2,054 additional registered nurses, at an annual cost of $159 million.
"There's a few people we still need to talk to, but Republicans have heard us today," Gerard said.