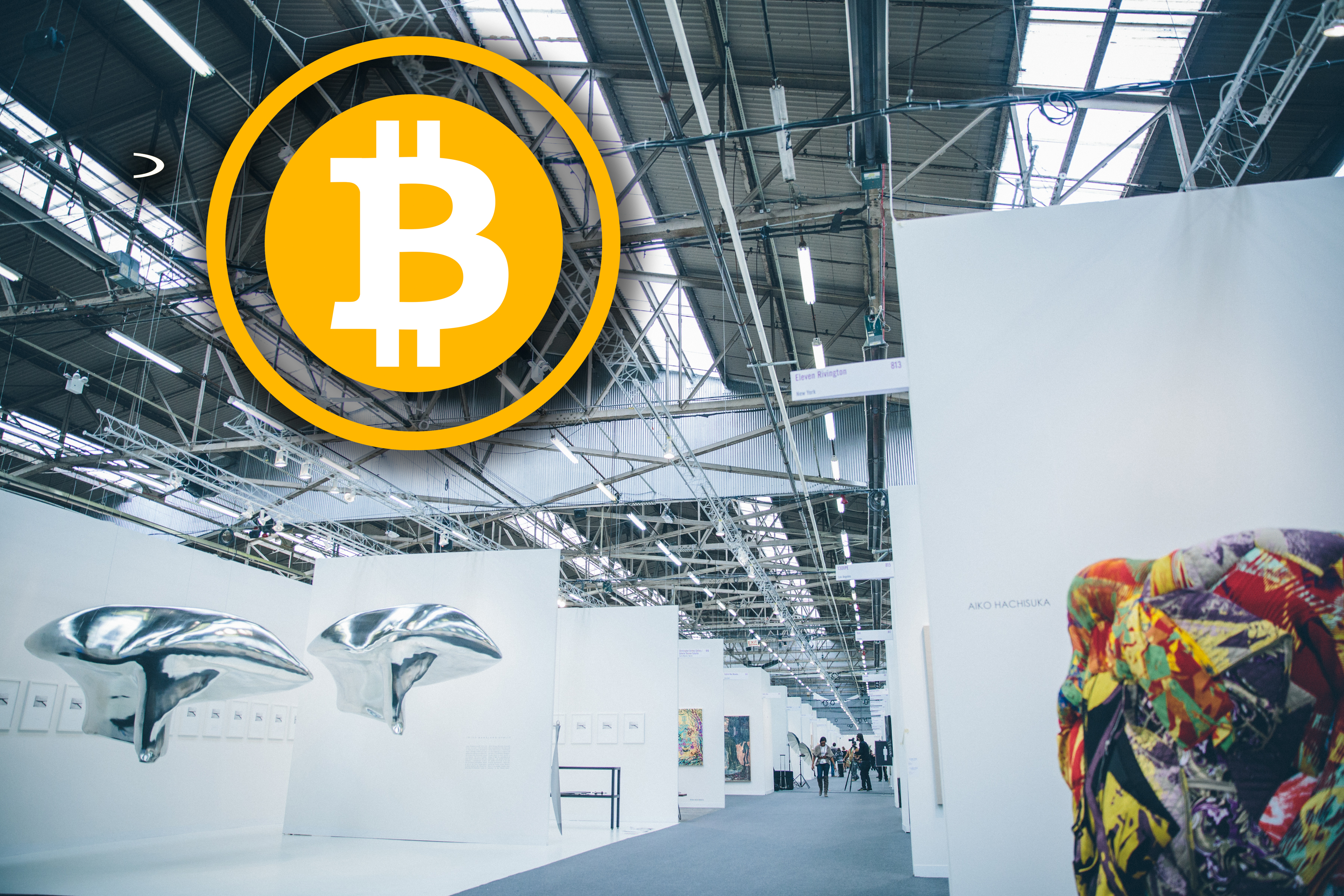 If technology is going to radically overhaul every industry on our planet and software is going to "eat the world"—as Silicon Valley investors are wont to say—the art world will be the absolute last to go, dragged kicking and screaming into the 21st Century.
But if you read the headlines, you'd think Bitcoin and other tech marvels are making a huge splash in the art world. The Winklevoss twins—who are serious Bitcoin enthusiasts— recently put their money behind online auction site Paddle 8, that would allow for cryptocurrencies to be accepted, and artist Sarah Meyohas has even created an alternative cryptocurrency called Bitchcoin, a speculative investment backed by the market value of her art by square inch. And what a natural fit for selling art: Bitcoin can send money anywhere the Internet reaches in enormous sums, often without the ability to trace where it's coming from or going to.
So we decided to ask the exhibitors at the Armory Show this week—where startup Artsy has bought up a huge presence—if any of them had actually used Bitcoin as a method of transaction.
"Never, ever," said João Paulo Siqueira Lopes, Associate Director at Lisson Gallery. "Ever, ever, ever, ever, ever, ever, ever."
---

One artist has created a digital currency called "Bitchcoin," a currency backed by the value of her artwork. Here's how it works.

---
It was this kind of stark reaction from everyone asked. Usually a look of surprise, a bewildered smile, and absolutely no memory of any Bitcoin transactions.
"Is that still a thing, Bitcoin?" Christine McMonagle, Director at Sean Kelly Gallery, told the Observer. "We haven't used it as far as I know, but I'd have to ask."
We sent her to check with her colleagues if anyone had made a purchase with Bitcoin. She returned quickly, and confirmed that no one had ever brought up the subject.
"Did the person you ask laugh?" we asked her.
"Yes," Ms. McMonagle said.
Well, maybe it was just those galleries—it was an enormous show, and you can't have a few dozen presenters speak for an entire industry. So we asked Ben Hartley, International Managing Director of another online auction platform, Auctionata, if he'd ever witnessed a major exchange of art for Bitcoin.
"We deal with about 100 countries, and in our two and a half years of existence, it's never even come up," Mr. Hartley told the Observer.
We chalked it up to the stuffiness of more classic galleries, and stalked out the booth for Upstream Gallery, which had come from Amsterdam to present a series of net art installations by Rafaël Rozendaal. Surely if anyone is at the edge of technology and art, it's the exhibitor selling artwork that comes with a contract imposing domain hosting responsibilities. Still no luck.
"No matter how forward or contemporary the art is, the market is still quite conservative," Upstream's Martijn Dijkstra told us.
Still, perhaps the biggest opportunity for Bitcoin adaption is international exchange. Shouldn't the geographically diverse collecting business flock to such a rapid, liquid form of exchange? No way—according to Mr. Dijkstra, Bitcoin is relatively unknown in Europe, to say nothing of the European art scene.
Alright, so nobody is asking about Bitcoin in the art world. What about, say, if a wealthy collector wanted to make a sizable purchase in Bitcoin?
"We wouldn't sell to them, especially if we don't know or trust them," said Jessica Fredericks of Fredericks & Freiser. "We just don't know how Bitcoin works."
Surely, this was just a show by wealthy gallerists uninterested in breaking with the pack and looking like fools in front of an enterprising journalist. So, we decided to pose as collectors—recent tech founders who just successfully exited, and were looking to spruce up a loft in Dumbo in advance of a new product launch. We spent some time convincing a few dealers we were seriously interested in closing about $40,000 in small works. And then, we broke the news. See, we have a wealthy VC who has a lot of stake in the cryptocurrency space, and we don't want to make a show of no faith by making any significant transactions that weren't in Bitcoin.
A staff member from Galeri Non, small gallery from Istanbul showing in the Focus: MENAM section, smiled brightly, took down my information, and told me they'd have to put me in touch with someone on the business side.
"I'm sure something can be done," we were told. We haven't heard back.