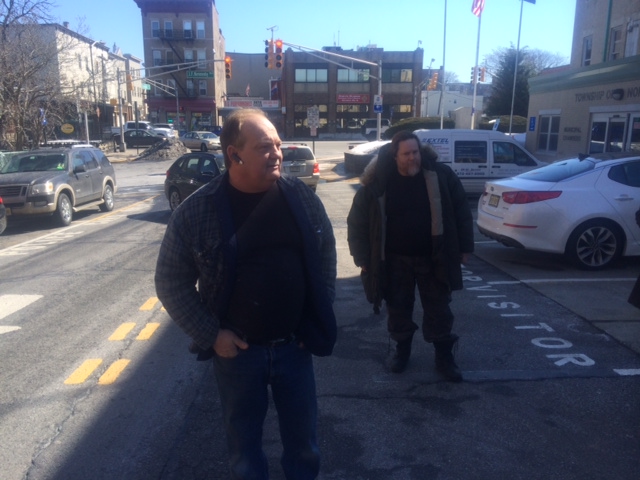 NORTH BERGEN – While the reason for the Monday morning raid by officials from the state Attorney General's Office on North Bergen Town Hall has yet to be determined, some North Bergen residents stood and watched as the raid happened, determined to express their outrage.
"I came here because I heard Town Hall was being raided again for about the thousandth time. I'm sick of it," said Thomas Iafelice, 57, of North Bergen, as the all-too-familiar parade of law enforcement personnel wearing windbreakers and carting boxes filed by, a political panorama part of New Jersey's historic culture of corruption. "I'm here because I don't like paying taxes, then watching them steal it."
A representative of the government of the Hudson County township, headed by North Bergen Mayor and state Senator Nick Sacco (D-32), offered a terse comment about the law enforcement raid.
"The Attorney General's office obtained records from the North Bergen Recreation Department today," said Philip Swibinski, North Bergen Township spokesman, in a written statement. "We have no other knowledge of this matter whatsoever and the township is cooperating fully."
Outside of Town Hall, Iafelice continued his invective directed at what he thinks goes on inside.
"They're making hundreds of thousands of dollars off the taxpayers, and the taxpayers aren't getting nothing back," Iafelice said. "I'm a contractor who refuses to do work in North Bergen because I don't pay nobody. It's got to stop."
Another man who requested anonymity watched the boxes go by and shook his head.
"I do floors for a living, but I don't do them here," said the man, who lives in North Bergen. "In North Bergen, it's all kickbacks."