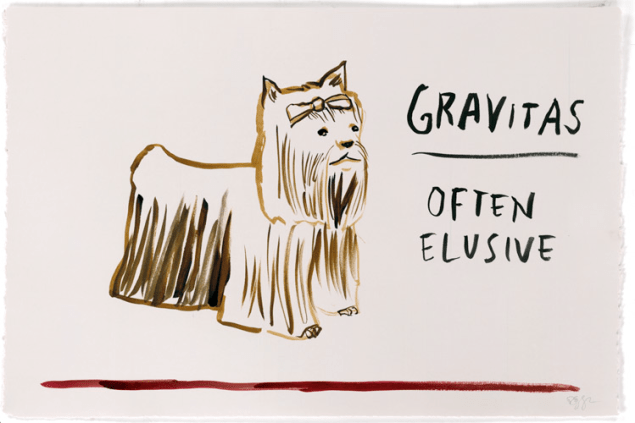 Dave Eggers, the literary world's precocious, card-carrying jack-of-all-trades, has written books, founded nonprofits, published literary journals, and given TED talks. But did you know that he also draws animals in conversation with God? You can see his drawings—many of which will be exhibited for the first time—at the inaugural Art on Paper fair on Manhattan's Lower East Side from March 6 through 8.
Mr. Eggers' 50-plus works at the fair will include original animal drawings accompanied by text, which were immortalized in a book published by McSweeney's and a gallery show in 2010. A 16-by-9-foot print of his piece Untitled, a drawing of a long-eared rabbit underneath the word "Glory," will also be installed at the fair's front entrance.
"I honestly can't remember exactly when it started, but I began drawing bison from photos I'd taken in Alaska and Idaho, and once I'd finished a given drawing, it seemed incomplete without text—and the text that seemed most appropriate usually involved the bison in dialogue with its creator," Mr. Eggers wrote in a statement for Art on Paper.
The fair will also debut a new series of drawings based on snapshots the author-cum-artist took while traveling the world.
"Nobody has seen these before, ever," said Noah Lang, owner of Electric Works, the San Francisco gallery that is partnering with Art on Paper to present the project, to the Observer.
The pieces all measure 16-by-22 inches, and they will sell for an average of $1,200 each, according to Mr. Lang. All sale proceeds will go to ScholarMatch, a nonprofit founded by Mr. Eggers that connects donors with students who need help paying for college.
Mr. Eggers might be best known for penning the memorably titled memoir A Heartbreaking Work of Staggering Genius, but it turns out he spent his childhood dreaming of being be a painter. He also worked as an illustrator and designer after college before turning to writing, according to Electric Works' biography of the artist.
But Mr. Eggers' recent return to art doesn't mean he's ending his nearly one book a year streak of literary productivity. His next project, a collection of travel writing called Visitants, is set for release later this year.
Art on Paper, one of the many fairs taking over New York for Armory Week, is produced by the organizers of the Miami Project. It's happening at the Pier 36 event space on the East River. Tickets are $25 each for a one-day pass, or $50 for a pass that gets you into the opening night party benefitting the Brooklyn Museum as well as all three days of the fair.