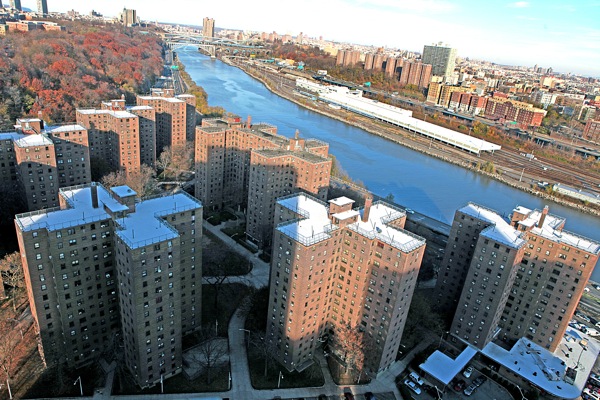 The financially strapped New York City Housing Authority has failed to avail itself of some $75 million in Section 8 funds from the U.S. Department of Housing and Urban Development, a City Council hearing today revealed.
Richard Couch, NYCHA's Executive Vice President and Chief Financial Officer, confessed to Councilman Ritchie Torres that the agency had left the dollars on the table by not converting 5,000 units to Section 8 housing. The units in question are part of a block of approximately 12,000 city- and state-subsidized apartments NYCHA took over roughly eight years ago in order to make them eligible for federal funds—but, according to Mr. Couch "4,900 and change" are currently receiving no subsidies at all.
Mr. Torres, who chairs the public housing committee, pressed Mr. Couch and Shola Olatoye—Mayor Bill de Blasio's Chairwoman and Chief Executive Officer for NYCHA—on why the infamously underfunded authority had not converted the units.
"That could generate tens of millions of dollars every year. A new stream of revenue for the housing authority," he said.
Mr. Couch and Ms. Olatoye stressed that Section 8 is a voluntary program, and residents would have to agree to sign themselves up for it. They said that the agency had converted 200 of the units last year, and was on track to convert 300 more this year, and is working on an outreach effort to get more tenants to volunteer.
"We are working actively with the administration to develop a plan to increase that number. It is voluntary, it does require assisting in engagement and a very focused effort," Ms. Olatoye said. "That is something that is under construction with the administration as we speak."
Cathy Pennington, NYCHA's Executive Vice President for Leased Housing, told the Observer the agency has converted 3,500 of the former city and state-run units to Section 8 to date and suggested federal cuts to HUD are to blame for the slow conversion rate. Ms. Olatoye testified to the council committee earlier that NYCHA was projected to run a $98 million deficit in 2015.
An audit last year by Comptroller Scott Stringer found NYCHA had failed to claim nearly $700 million in federal funds between 2006 and 2011, including $262 million in Section 8 monies.