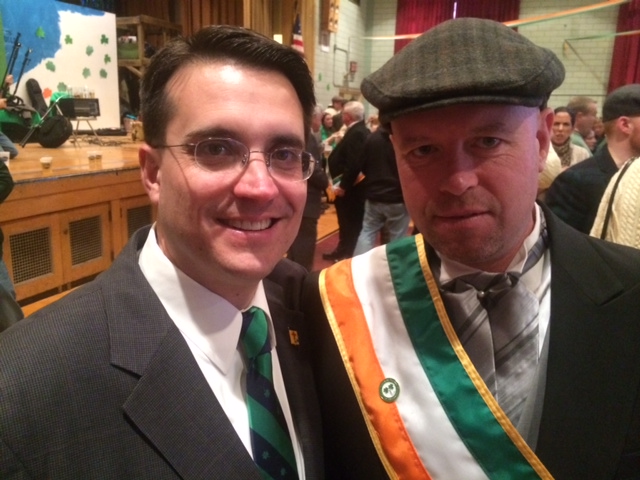 BAYONNE – State Assemblyman Jason O'Donnell (D-31), examining the ever-changing mood of Hudson County politics, officially announced today that he is moving in a different direction.
"I'm not going to pursue reelection," O'Donnell, 43, told PolitickerNJ on Wednesday. "At this time, it doesn't fit with my family and career plans. It's been five years, and we've gotten a lot of great things done. But given the current conditions that surround us in the 31st District, I think that it would be counterproductive for me to enter the race. It's time for me to come and concentrate my efforts here in Bayonne."
The conditions O'Donnell referred to have become increasingly chaotic in the 31st Legislative District, which includes all of Bayonne and parts of Jersey City.
The mayors of the two Hudson County cities traditionally choose one state Assembly candidate each. Bayonne Mayor Jimmy Davis coalesced relatively early behind the candidacy of Nicholas Chairavalloti instead of O'Donnell, who was a strong ally of Davis' opponent in last year's mayoral election, former Bayonne Mayor Mark Smith.
Jersey City Mayor Steve Fulop has had a more difficult time finding another candidate to replace incumbent Assemblyman Charles Mainor (D-31) on the line, the most recent candidate named being Angela McKnight. Mainor might still run off the line.
"I get the political theater, but to me at this point, jumping in would just add to what is already turmoil and chaos. My heart wouldn't be in it at this point," O'Donnell said, noting that he understood that elections have consequences. "I have no regrets. History will be Mark Smith's judge. It's the right of the mayor to support who he wants. That's the traditional system. But let's be clear – it's the people of the district who elect their representatives."
O'Donnell made a joke at the expense of the rough-and-tumble reputation of Hudson County politics when he talked about the beginning of his career as an elected official.
"I got the seat like most Hudson County politicians, My predecessor was indicted," O'Donnell joked, referring to former state Assemblyman Anthony Chiappone, who resigned in 2010 after he was indicted on criminal charges.
But O'Donnell's political career got tantalizingly close to travelling outside of Bayonne's boundaries. In 2013, O'Donnell, backed by then Democratic gubernatorial candidate Barbara Buono, came close to being named New Jersey Democratic State Committee Chairman before back room negotiations driven by intra-party fights led to the present chairman, John Currie, being named instead.
Some political observers have noted that O'Donnell suffered because of his loyalty to Smith. indicating U.S. Sen. Bob Menendez (D-NJ), still a prime Hudson County power broker, helped Davis in retribution for Smith supporting state Sen. Nia Gill (D-34) instead of U.S. Rep. Donald Payne Jr. (D-10) in the 2012 Democratic primary. State Senator Ray Lesniak (D-20) also wanted Smith gone.
O'Donnell, a firefighter and union member who has considerable labor support, was also hurt by one degree of separation when Smith fought during last year's mayoral campaign with the teachers' union over their contract, a matter that was resolved after Davis defeated Smith.
But O'Donnell shrugged when asked about the fickle finger of fate being foisted upon him.
"Look, I believe in the party, and I represent a wing of the party that has some different views than other people. That's politics, and I don' t think that contributed to anything," O'Donnell said. "It is what it is. My views on public employees, my wife Kerry, a teacher, being one of them, has never changed."
O'Donnell went on to defend Menendez, who is reportedly soon to be indicted on federal corruption charges.
"I have the utmost respect for Senator Menendez. Quite frankly, I'm disappointed in the Justice Department," said O'Donnell, referring to accusations that the agency leaked news of a potential indictment of Menendez to the press. "Leaking that information was a crime. What's being done to him, no citizen should go through. You're innocent until proven guilty."
"There are politicians that be, there are others that do. I hope to be remembered as somebody who did," O'Donnell said, pointing to his work on the passage of a bill for cardiac screenings for new-born children as something he is particularly proud of, as well as fighting for the members of public and private unions. "That bill saved a life the first day it was law."
As for the general atmosphere in Trenton, O'Donnell was blunt.
"We know what has to get done, and so does the public," O'Donnell said. "We have to fix the Transportation Trust Fund. We have to fully fund the pensions. School aid is a problem. New Jersey is lagging behind, whether it's unemployment or economic growth. This all has to be addressed if we want New Jersey to flourish."
O'Donnell talked about other states when asked how he felt the specter of New Jersey Gov. Chris Christie's potential 2016 Republican presidential nomination bid affects what gets done in Trenton.
"Anything [Christie] does has got to have an eye or a slant to what the voters in Iowa, New Hampshire and South Carolina are thinking about," O'Donnell said. "I get it. But we have real problems here that need real people to come up with real solutions. I don't care what the voters in Iowa think."
Judging from observations made during last Sunday's Bayonne Saint Patrick's Day parade, O'Donnell still cares what voters in Bayonne think, and some care about him, with several asking if he is going to run for mayor in 2018.
"I was born here and raised here. This city has been great to me. I live three blocks from where I grew up," said O'Donnell, sitting in the Braoadway Diner in Bayonne. "If I can help people in any way, shape, or form, that's the driving factor."
O'Donnell took a skeptical look at how Davis is running Bayonne so far.
"It's been eight months, and I haven't really seen any plan laid out. We'll see," O'Donnell said, noting Bayonne's relatively high unemployment rate and the need for jobs. "I hope for the best as a resident. But I haven't seen anything tangible to date to lead me to believe that we're on the right track. We need to start luring things here other than housing."
For the time being, O'Donnell is looking at what life will be like outside of everyday politics. Set to retire after 20 years as a Bayonne firefighter at the end of this month, he is planning on starting a non-profit organization in the fall focused on community service. He wants to spend more time with his wife and three kids, Jack, Caroline and Patrick, and coach a Little League baseball team.
Shaking hands in the diner on the way out, O'Donnell mused on how being a firefighter trained him for a life in politics, and for whatever else is to come.
"Being a firefighter and serving in the Assembly, I couldn't think of two more rewarding professions. You get to help people," O'Donnell said. "The currency that fuels me is that I can do some good. As a firefighter, you see people at their worst hour. Compassion is a byproduct of the job. You go into a burning building and you've got to put that fire out. It's your responsibility to make the situation better, no matter what. I've always said that politics is dangerous. But I ran into burning buildings for a living, which is a little bit more dangerous. I'm absolutely willing to run into burning buildings again. You don't need a button on your lapel to help people. It's who I am."