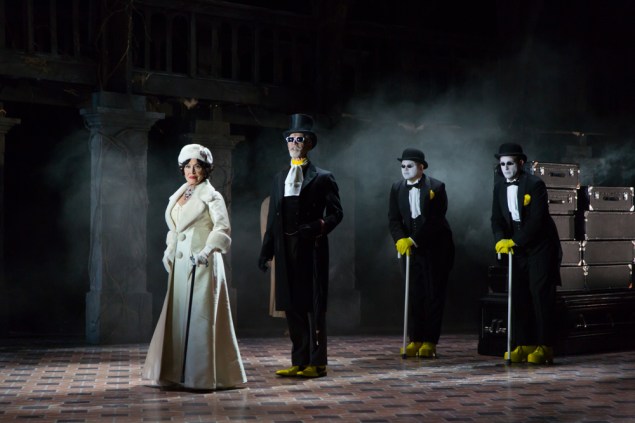 Dolores Conchita Figueroa del Rivero—Chita to you and the rest of the world—is closing out the Broadway season with The Visit she has been promising for 14 years. Believe it or not, Mr. Ripley, it is finally set to arrive April 23—the last major show of 2014-2015—at the Lyceum Theater.
Splattered with flecks of razzle-dazzle and all that jazz by Cabaret duo John Kander (music) and the late Fred Ebb (lyrics) and a book by Terrence McNally, this musical version of Friedrich Durrenmatt's grim 1956 play is a meditation on greed and revenge. It premiered at Chicago's Goodman Theater so close to 9/11 that New Yorkers had a genuine fear of flying in to see it. But those souls who ventured forth did see it in all of its grandeur, replete with the bells and whistles of a big Broadway musical.
Seven years later, it surfaced at the Signature Theater in Arlington, Va.; in 2011, it rose again, fleetingly—for a single night on Broadway—as a benefit for The Actors Fund, then went into mothballs until suddenly, last summer, when it sprang back into existence at the Williamstown Theater Festival, pared down to one act and radically retooled. Critics who saw it waved enough praise and palm leaves at it to warrant this trip to Broadway.
The star who twinkled determinedly through all these Visits is Chita Rivera. She's the show's one constant—aside from its creative trio, who, not so incidentally, wrote her two Tony-winning tickets (The Rink and Kiss of the Spider Woman). They didn't write The Visit as a musical for her, however. They wrote it to welcome Angela Lansbury back to Broadway after a dozen high-profile seasons of Murder, She Wrote, but in July of 2000, she withdrew from the project, citing her husband's failing heath, and Ms. Rivera promptly stepped up to the plate.
---

In The Visit, Claire returns to town trailed by eunuch yes-men, a butler, her latest husband and an empty (at least so far) coffin.

---
She has been there ever since. "There's nothing like giving birth to a teenager," she cracked, "but what are you going to do? You can't push the envelope when it won't be pushed. It has to be the right time, the right elements. I'm as ready as I'll ever be for this one."
She plays Claire Zachanassian, a femme as fatale as Spider Woman, who returns to the European village from which she was banished as a teenager, impregnated, betrayed and abandoned by her lover, Anton Schell. In the interim, the lady and the town have gone through extreme reversals of fortune: The town has fallen onto desperately hard times while she, much-married and well-widowed, has emerged one of the wealthiest women in the world. All is instantly forgiven and forgotten by the townsfolk, and she becomes her own homecoming parade, trailed by her eunuch yes-men, a butler, her latest husband and an empty (so far) coffin. You can't say she's not upfront.
The Visit gets down to business when the townspeople ask her to fill their coffers and she says sure—if they'll fill her coffin, specifically with Anton. Initially, everyone's appalled by the suggestion, but, gradually, on deeper reflection, murder for the common good starts making solid civic sense. Before you know it, yellow shoes (a metaphor for the conversion) are rampant in the community.
First and last, this is author Durrenmatt wrestling Musical Theater to the floor, insisting that in a corrupt society everybody has a price. That leaves little wiggle room for a happy ending (although a 1964 film version starring a miscast Ingrid Bergman offered one). Director John Doyle has cut the odds further by eliminating the intermission. "John's an amazing storyteller," said Ms. Rivera. "He just wants to get right to that story, and I agree. If you have the attention of the audience, you don't let it go—especially in a story like this where it's very dark and it should move.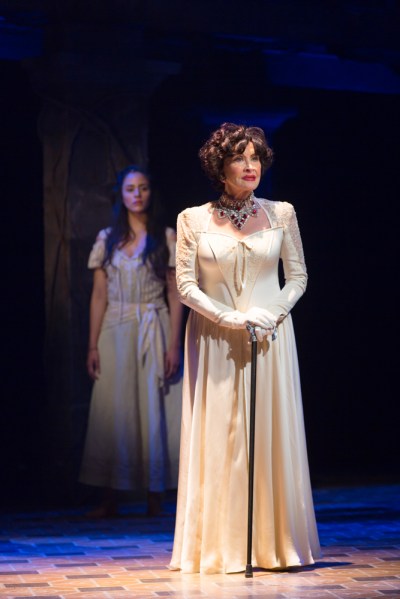 "Every once in a while, I bounce back to remembering why certain shows were constructed certain ways. When I think about it, that's why Officer Krupke was in West Side Story." [Ms. Rivera starred famously as Anita in the Broadway production.] "They knew that they had to give the audience some kind of relief from a show that was quite violent, so they threw in 'Gee, Officer Krupke.' We just keep it going. We want to keep you engrossed and not let you go to the bathroom."
It was Mr. Doyle's idea to park the coffin on stage as a reminder that death is always present. "It comes on with Claire's entourage and doesn't leave the stage," noted Ms. Rivera. "When you get used to seeing what's going on, you forget it's there—then, all of a sudden, it comes into focus again when you realize Anton is doing a song on his own casket! Now, that's theater!"
She has run through Antons like Kleenex—a new one every outing, from John McMartin to George Hearn to John Cullum—and now it's Roger Rees. In this latest reincarnation, the town is also peopled with Michelle Veintimilla and John Bambery, who play a pair of Doyle inventions: Younger versions of Claire and Anton who waft around the stage observing sadly where their love has gone.
"I think it's so smart to do this," contended Ms. Rivera. "It allows the audience to see what they were like when they were in love, and that contrasts with the characters now. It helps me, too. I hold on to the love story, and that makes me even angrier."
Homicidal rage would seem a massive reach for a notoriously nice person like Ms. Rivera, but she quickly pooh-poohed that. "Well, I hate to break this to you, but I completely understand where Claire's coming from. Everybody has experienced love so strong it turns into something else. Everybody gets hurt badly at some time.
"What I don't think the audience really realizes because she only says it in a song—she says, 'I'll take your coffin to Capri'—is this coffin will be on a mountaintop, and she will be beside it. They both will be overlooking the Mediterranean together."
"Love and Love Alone" is the show's "Some Enchanted Evening," a ravishing ballad in the same league with Phantom of the Opera's "All I Ask of You." Ms. Rivera gives it an exquisite accounting and then dances to it with the younger Claire. "When you think about it—her dancing with her younger self—it's very touching. I used to cry doing that song in my club act. I could see people in the audience holding hands—men and women, men and men. They'd reach for each other, and it just moved me."
Her other big dance is to the second song this season called "I Would Never Leave You." This one is a tango she does with her freshly dismissed entourage who won't budge from her side.
All in all, it's a rather light load for a dancing star of Ms. Rivera's caliber, but then her character of Claire has shed a hand and a leg in her travels—the hand in a car accident, the leg in a plane crash. "Terrence wrote me this wonderful line: 'My plane crashed in Tierra del Fuego. I was the only one who climbed out of the wreckage. I'm un-killable!' "
That goes for Chita Rivera as well. At 82, doing eight shows a week, Spider Woman is turning into Wonder Woman.
"I've tried to take care of myself through the years. My dance training helps. I've got a great family and great friends. All of that is food to me, and, believe me, I eat it up."