NEWARK – It took Rosemarie Mellody, the first female Grand Marshal of the Newark Saint Patrick's Day Parade, just a few seconds to remind those at Friday's parade about one link between Ireland and New Jersey that went back decades.
"James Connolly organized for labor in Newark in 1910," said Mellody, referring to one of the leaders of the 1916 Easter Rising, executed by the British while tied to a chair, hence etched into the Irish national consciousness. "We have a direct contact to the fight for Irish freedom."
The Irish came to New Jersey in the decades before and after 1916 seeking their own version of freedom. Several prominent Irish-American politicos from New Jersey spoke to PolitickerNJ about what being Irish means in the Garden State, a place where politics in often about relationships.
For Essex County Clerk Chris Durkin, this year's parade was personal: it was held in honor of his father, the late Ray Durkin, who served as both Essex County and the state Democratic chair.
"The greatest quality of the Irish is our affection for people. When you love people, it's natural to be involved civically," said Durkin, of West Caldwell, whose family built their political base in the Vailsburg section of Newark's West Ward, once predominantly Irish. "That's why we succeed."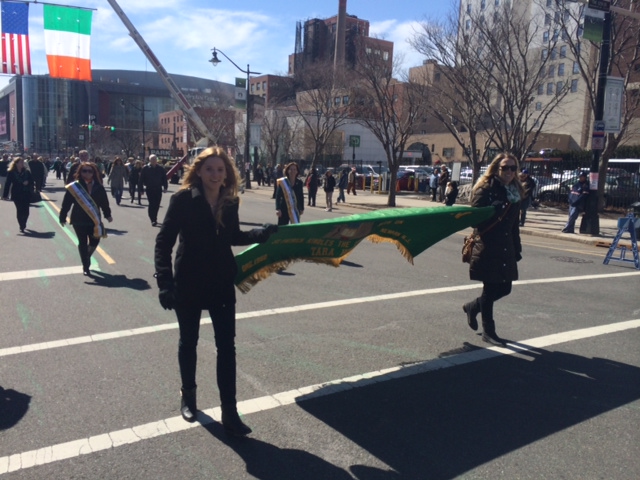 State Assemblyman Tom Giblin (D-34), also came straight out of Valisburg to the forefront of local and state politics.
"The Irish, like many other ethnic groups, came through the city. They made their presence felt in government, the labor movement, the business community, religious life. They ascended to the top," Giblin, of Montclair, said. "Even though our numbers are not as significant as they once were, there is still a cadre of people who have Irish-American lineage that want to see Newark succeed. We have a different face as far as new immigrants are concerned, but the values that they aspire to are basically the same as what my father, who came to this city in 1927, looked for: a better way of life and to capture the American dream."
A rising generation of Irish-Americans in New Jersey politics remembered the past as they look to the future.
"I think the Irish are well-integrated into the governing structure in terms of public service – police, fire, the highest levels of government, judiciary and the legal profession," said Essex County Freeholder Brendan Gill, of Montclair. "It's not that the Irish don't appreciate a good fight, because we certainly do, and we faced real discrimination. But I think we've done a tremendous job rising to the highest levels across the board in society."
"Whether it's leading one of New Jersey's many multinational corporations, running a local small business, keeping watch over our children in the classroom or waiting to respond to an emergency in a firehouse, there isn't a road that Irish and Irish-Americans haven't travelled down in New Jersey," said Steve Lenox, of Caldwell, the former state director for the late U.S. Senator Frank Lautenberg (D-NJ) and the co-president of Irish Network USA, a non-profit organization that encourages business and economic development between the United States and Ireland. "And in New Jersey there's no doubt all roads lead back to politics, so it's no surprise we have, do, and will continue to play a key role in shaping political dialogue and public policy."
"Irish-Americans are involved in all aspects of society, and we vote," added Deirdre Woodbyrne, of Ramsey, the executive director of Irish Network USA and a longtime Republican operative. "Whenever we have a parade or a festival, all of the political leaders attend. We stay relevant because we stay involved. Irish-Americans are, and will continue to be, an integral part of the process."
On the day when everyone is supposed to be a little bit Irish, one New Jersey politician reminded the public that being part of the process doesn't necessarily mean wearing a green plastic hat.
"I know a little bit about Irish revolutionaries. I was talking to these guys about the Easter Rising and Michael Collins," said Newark Mayor Ras Baraka on Friday during his city's Saint Patrick's Day parade, referring to the famed Irish rebel leader. "What the Irish went through is very similar to what African-Americans went through in this country and are still going through. There is some kinship there. James Connolly was from Newark, too."