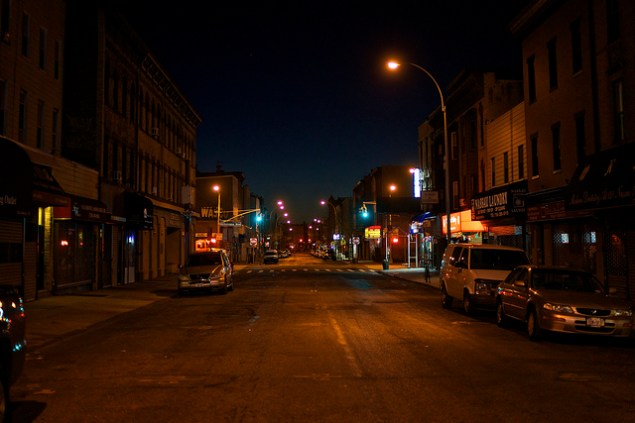 Greenpoint "has shed its sleepy image and emerged as a borough hot spot," claims the Post. Wasn't it already a hotspot? What about Girls? And its array of hip restaurants? And hipsters? But anyway, the mixed-use Greenpoint Landing will soon is underway and people are remembering that it exists.
To wit: the owners of four properties along Greenpoint's Manhattan Avenue are hoping that a buyer salivating after the next Bedford Avenue will pay $20 million for the package, according to Crain's. Retail rents in Greenpoint are currently "a steal" at $100 per square foot, compared to $300 or $400 in Williamsburg, the paper claims—though some might argue the discount is warranted by factors like distance from Manhattan and the not-yet-enhanced foot traffic.
Too bad it's still reliant on the G train…
Moving on: in Bed-Stuy, locals are pleading with developers to stop building "hideous" buildings, according to DNAInfo. "We're not against development, we're against bad design," says one.
Speaking of which, neighbors had feared that a new apartment building on the corner of Halsey in Howard in Bed-Stuy would be the worst kind of shoddy-looking Fedders house.Turns out it's not so bad—at least there are windows on the side! "While not great architecture, at least it's not a Fedders, as we all feared," a neighbor told Brownstoner. "I would be happier if the glass railing at the top had been a cornice instead, but overall it's not as bad as it could be."
It may not be advisable to drink like a writer, but at least you can drink where writers like to drink: Eater takes a tour of some of the city's favored literary watering holes. On the list: Chumley's (at the moment), Old Town Bar, the White Horse, a pre-McNally Minetta Tavern and for those with cash to burn, the Algonquin.
You may notice none of these are in Brooklyn, where "the best" new bars have games and DJs and other things that could make working hard for writers. Still, if you're looking for a spot, DNAInfo says that Project Parlor and the Emerson, both on Mrytle Avenue, are the two finalists for its best bar in Brooklyn death match.
The Downtown Brooklyn Alliance claims that now is the time to build more office space, citing the recent Quinlan Development Group and Building & Land Technology project to convert a storage facility into a 257,000-square-foot office building, according to Crain's. "While city-led mixed-use projects like City Point are also in the works in downtown Brooklyn, the partnership's development marks one of the first new office projects planned for the area in years, and is a sign that developers are making long-term bets on the neighborhood's commercial market."
The key assumption of de Blasio's affordable housing plan is that the power of the market can be harnessed to create affordable housing in down-at-the-heels neighborhoods like East New York, East Harlem and Cromwell-Jerome in the Bronx. But The Wall Street Journal cites a new study from the Furman Center at NYU that finds rents in those neighborhoods are too low for developers to justify the costs of high-rise construction, especially not with affordable components. "In much of the city rents are not high enough to generate high-rise development," says the executive director. Without subsidies, developers are unlikely to undertake major construction projects in such neighborhoods.
Finally, what's the only thing that could get cash-strapped millennials to enter the housing market? High rents. Bloomberg reports that soaring rents in cities like Denver have encouraged 20 and 30-somethings to save for a downpayment. "While limited inventory, tight credit and down-payment requirements make it hard for many millennials to achieve the American Dream, soaring rents and the likelihood the Federal Reserve will increase interest rates later this year may drive more of them to explore buying, said Stan Humphries, chief economist at Seattle-based Zillow Group."