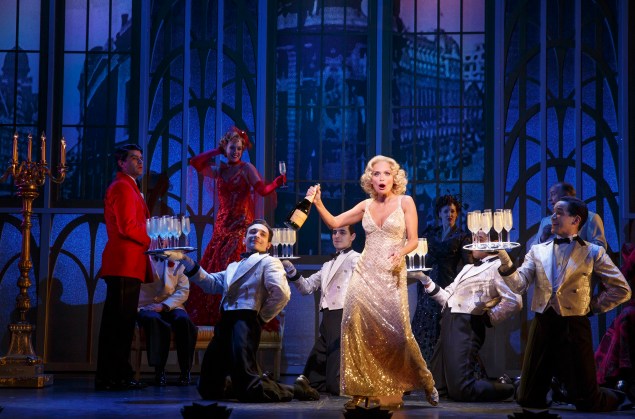 Take a ride on the Twentieth Century and you'll find out what a Broadway blockbuster is. The old streamlined train on the New York Central steamed and shellacked its way into the American Airlines Theatre on Sunday night with the speed of a flying silver bullet, and if it seemed at times to be running on rationed coal from Harold Prince's 1978 production instead of magic from the 1930s, its shortcomings evened out in the end, leaving this passenger exhilarated.
I knew the show only had one great song, "Our Private World," despite the combined genius of composer Cy Coleman and lyricists and book writers Betty Comden and Adolph Green. I heard the rumors: Kristin Chenoweth was undisciplined and Peter Gallagher was uneven; Mary Louise Wilson was wasted; the book sagged; director Scott Ellis would need a miracle to bring it up to date. And although some of the rumors were true, nothing prepared me for the sheer energy and spectacular style of the show. Whatever reservations I had (and still do have), I went away thoroughly entertained, and that's more than I can say for most of the drivel that's coming down these hapless days and nights on Broadway.
So if On the Twentieth Century is not declared by some to be the blockbuster it could have been, it is still the blockbuster we've all been waiting for. Be grateful for any blessing, large or small. Based on the old play and movie script by Ben Hecht and Charles MacArthur, the show travels from Chicago to New York in 16 hours, and if you love trains as much as I do, you'll be dazzled by the trip.
In Drawing Room A, there's flamboyant entrepreneur Oscar Jaffee (dashing Peter Gallagher), in debt to the tune of 250,000 smackers, leaving behind in Chicago a stranded troupe of actors and a production of Joan of Arc in flames. In Drawing Room B, there's Oscar-winning movie star Lily Garland (Kristin Chenoweth), born Mildred Plotka in the Bronx, and the necessary ingredient to get Oscar's new show in lights. She's accompanied by this year's 8-by-10 glossy named Bruce (a hilarious, nimble and well-oiled Andy Karl in the role a newcomer named Kevin Kline walked away with in the original production). Add Oscar's two shady employees (veteran comics Mark Linn-Baker and Michael McGrath), one adorable, old religious nut disguised as Mary Louise Wilson (in the apple originally polished by Imogene Coca), plus various and sundry senators, elegant passengers dripping with fox fur, tap-dancing porters, a conductor who has written a play and an assortment of zany and farcical characters who give the show the zest and timing of a Marx Brothers movie.
Steam rises from the orchestra pit as the overture signals "All aboard!" And then we're off, through an eye-popping maze of David Rockwell's art deco parlor cars, chrome and lavender-tinted drawing rooms and William Ivey Long's sumptuous '30s costumes in tones of pink, peach and rust. Visually, the show sparkles with freshness, and Scott Ellis' prancing direction is as inventive and snappy as the old Twentieth Century Limited itself. What could have been chaos is as cool and crisp as newly upholstered leather. The entire show has the inventive style of a room designed by Erte. And the score, with ambitious music by Cy Coleman and complicated, rhythmically intelligent lyrics by Comden and Green, compliments the concept of the show by turning the whole thing into something like a Gilbert and Sullivan operetta.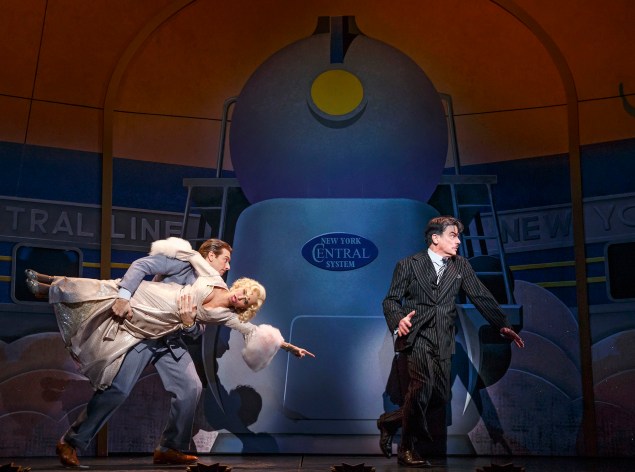 Critics have groused that there were no jukebox favorites in the score for a pop market. The early audiences had a point when they called it one of those musicals where you leave humming the sets. But that would be to miss the intention entirely. The point that Coleman, Comden and Green aimed for was always a fast-moving fare in the style of an operetta, eschewing hit songs in favor of plot-moving chants in the oratorical beat of Italian recitative. In the context of the show itself, the conceit works brilliantly. This is a show about style, and the score reflects that brass-plated, art deco embroidery in the way that Stephen Sondheim's haiku verse accented the Japanese décor of Pacific Overtures.
It would be nice to have a hit show with splashy sets that also included a lot of sing-able songs, but that kind of score would not contribute to the fabric of a show this uniquely original. Coleman, Comden and Green all knew how to write hit songs; they elected to write this show in a different attitude. If you can forget about trying to follow the melodies and concentrate on the wit and panache with which the musical numbers move the show along, you'll realize how much the score to On the Twentieth Century contributes to the entire effect of moving and building like a speeding train.
From the vast cast, the Roundabout revival has also extracted a bountiful group of daguerreotypes that add to the design and pacing of the enterprise. Andy Karl, who lit up Broadway in the title role of Rocky the Musical, more than lives up to his promise in a completely different kind of role—as Lily's vain, preening egomaniacal lothario, Bruce. His timing is impeccable, his profile always tilted for that possible Barrymore close-up, and much is made of a series of doors smashing his face that is worth the price of admission. It's a performance of athletic slapstick that steals every scene he's in. Of all the loonies aboard the Twentieth Century, he makes the most of the required style at hand and never drops the ball, even when he's standing still or taking a pratfall.
Mary Louise Wilson is a similar pro who owns the stage as long as she's on it, cavorting through the moving parts of the train. "She's a Nut" is an especially well-staged number that milks all the momentum it can from the entire cast, as they turn the train upside down searching for the old lady, who turns out to be not only the religious nut stamping "Repent" stickers all over the sets, but a real one escaped from a nut house. Groucho Marx would understand what she's all about, even if nobody else does.
Kristin Chenoweth is less strident and more assured than usual, and her flashback sequence as an awkward loudmouth from the Bronx who becomes a star by accident makes good use of her comic talents. Displaying very little originality or unpredictable phrasing, she sounds and acts uncannily like her predecessor, Madeline Kahn, but she has developed a more sensuous vocal approach to singing than her ratchety sound of the past. Her instrument is considerable, but she uses it with more restraint than she used to. Peter Gallagher charges the role of Oscar with a balanced charisma that is distinctively his own and a way of serving up a line that leaves it fried. Reading the Bible for ideas, he sighs, "They don't write dialogue like this anymore," and brings down the house. In the vocal department, he sings right on the nose. He's come a long way since Guys and Dolls.
So forget about why they didn't insert a Hello, Dolly! number. Director Scott Ellis, choreographer Warren Carlyle and their fellow travelers have stuck to their streamlined vision and seen it through. I admire and respect what they've done enormously and predict a long and jubilant journey for all.