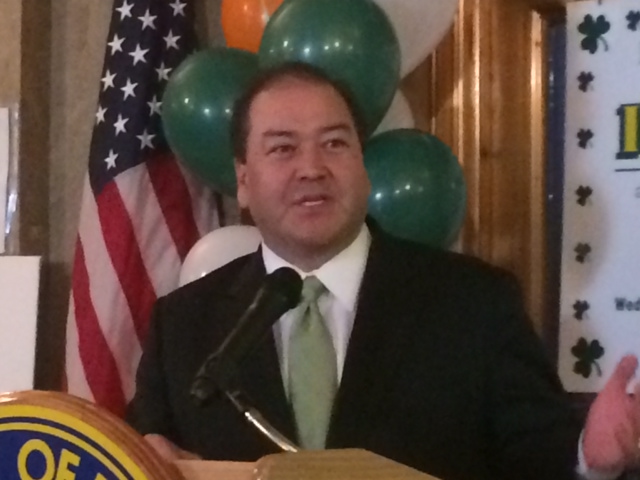 NEWARK – There was a bit of friendly sparring between a Democrat and a Republican at the annual Essex County Irish Heritage Celebration on Wednesday.
"I sat down with Kevin O'Toole when I came into county government," said Phil Alagia, Essex County Executive Joe DiVincenzo's chief of staff, when state Senator O'Toole was honored as one of Essex County Irishmen of the Year along with his father, Cedar Grove Councilman Robert O'Toole. "Kevin said 'Keep a book of everyone you've ever helped, so if anyone does anything bad, you know exactly who to fire.' That's not the happy Irish side. That's not even the friendly Korean side."
"It's not the Korean side, it's not the Irish side – it's the North Korean side that gave me that," O'Toole (R-40), whose mother is Korean, zinged back.
All kidding aside, there have been recent examples in the Republican state legislative caucus of members zinging each other.
On Monday, state Senator Kip Bateman (R-16) spoke out against the appointment of Robert Barr, a proponent of putting a natural gas pipeline through the Pinelands, to the Pinelands Commission. The Senate ultimately approved Barr, who was supported by Christie, by a slim 21-17 margin.
On the same day, state Senator Joe Kyrillos (R-13), a close Christie ally, derided the absence of leadership by New Jersey's governor and New York Governor Andrew Cuomo on Port Authority reform after the failure to override Christie's veto of state Senator Bob Gordon's (D-38) bill to reform the bi-state agency.
But O'Toole, another longstanding ally of Christie who often defends the governor's record, called the recent Republican rumblings "par for the course."
"I think the Republican caucus works collaboratively with the governor," said O'Toole inside the Essex County Hall of Records in Newark. "At some point, there are going to be some disagreements. I wouldn't read more into it than that."