Must the gastronomical superstars of Passover forever be the traditional dishes? Tzimmes, kishke, Matzah ball soup, gefilte fish, horseradish, karpas, chopped liver, Moroccan spiced short ribs (I have Sefardi friends) and, of course, plain old matzah have earned their rightful places on the list of beloved holiday foods. But what about beverages? Passover's liquid highlights tend to be Manischewitz, Dr. Brown's Cream Soda and at my Seders, that questionably "kosher" bottle of Chardonnay that Cousin Charlotte insists on bringing every year.
This is so wrong.
---

DISCLAIMER: Some of these recipes are not even close to being kosher for Passover, although I've asterisked the ones for which it's possible to use strictly kosher-for-Passover liquors and other ingredients.

---
So I've compiled, and in some cases created, some cocktail recipes that will hopefully add a new dimension to your Passover observance, inspire you on your symbolic Exodus and keep you well-watered just as Miriam's well did as it followed the Israelites through the parched desert for 40 years.
(DISCLAIMER: Some of these recipes are not even close to being kosher for Passover, although I've asterisked the ones for which it's possible to use strictly kosher-for-Passover liquors and other ingredients. I would never suggest that anyone observing Passover should violate the laws of the holiday. So maybe the best way to establish a new tradition focused on Passover potent potables would be to enjoy these recipes just before or after the 8 days of Passover, or even during Pesach Sheni, the one day holiday held a month after Passover, during which there are no special dietary restrictions.)
I present these mixological wonders in an order (a Seder, if you will) that should keep the events of the Exodus in their proper chronology.
BRICK MAKER
* 2 oz L'Chaim Kosher for Passover Vodka
* 2 oz Coffee Liquer
* 2 oz Irish Cream
Mix with cracked lice—er, ice—in a shaker. Serve in a chilled highball glass.

You may recognize this as your basic Mudslide. That's because it is…until you add the straw.
RED SEA
* 2 oz Zabib (Egyptian anise liqueur)
* 4 oz cranberry juice
* Salt
Rub rim of cocktail glass with lime juice, dip rim in salt. Shake all ingredients with ice, strain and serve.
For this wonderful concoction, I use a specially made cocktail glass that allows liquid to collect on different sides of the glass, but not in the middle. If you don't have a dependable neighborhood glassblower, you can pour the mix into two separate glasses and arrange them as close together or as far apart as you wish. Garnish with miniature chariot wheels.
RIVER JORDAN*
* No. 209 Kosher for Passover Gin
* Dr. Brown's Cream Soda
Warm ingredients to the current temperature of the Jordan River and serve in whatever gold or silver Egyptian goblet you might have lying around your wet bar.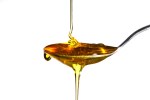 PROMISED LAND
* 2 oz Almond Liqueur
* 2 cups Milk
* 4 tsp Honey
Place all ingredients in a blender. Cover and mix on medium speed. Pour into tall glass. You'll enjoy it…I promise.
If this drink is to be enjoyed with a meal featuring meat, simply substitute your favorite non-dairy creamer for milk. Passover veterans won't even notice the difference.
ELIJAH FIZZ*
* Concord Grape Wine
* Lemon Seltzer
Shake ingredients with ice and pour into a Collins glass.
The ratio of ingredients depends on your tolerance of the traditional, sweet Passover wines. For fans of the syrupy stuff, go with a just a spritz of seltzer. For non-fans and/or diabetics, try just a splash of wine. If the wine misses the glass altogether, well…that's understandable. Orange juice can be used as well, which changes the name of the drink to the "Elijah's Currently in Fort Lauderdale Fizz."
It's fun to be creative, but Passover is about tradition. One of the obligations of all present at the Seder is to acknowledge the symbols of Passover found on the ritual Seder plate. Some of the more well-established cocktail recipes can help do that.
1)  Egg
Ruby Fizz *
* 3 oz. Vodka
* 1 egg white
* 1 teaspoon raspberry syrup
* 2 tablespoons lemon juice
* 3 or 4 ice cubes
* Club soda
Combine all ingredients except the soda in a cocktail shaker and shake vigorously. Strain into a highball glass and fill with soda.
It's ruby red, just like the Sea. Which isn't actually red, but it's called the Red Sea and…why the heck is it called the Red Sea, anyway?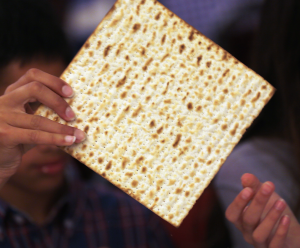 2) Matzo
ANGEL'S WING
1/3 oz creme de cacao
1/3 oz brandy
1/3 oz sweet cream
Layer ingredients carefully, in order given, into Pousse Cafe glass so each ingredient floats on the one preceding it. Do not mix.
A delightful, colorful and, most importantly, layered addition to the Passover table, a liquid metaphor for the three matzot. But don't try to hide this liquid afikomen…the kids will get too sticky. Use grape and other juices for the Four Questions crowd.
3) Shankbone
LAMB BROTHERS
In a shaker half-filled with ice cubes, combine all of the ingredients. Shake well. Strain into a cocktail glass.
A bit of a stretch, perhaps, but what did you expect from a collection of Passover recipes…a meat-infused drink?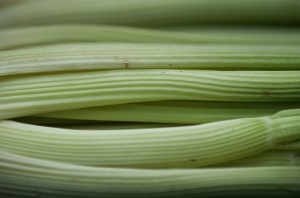 4) Horseradish/Celery
BLOODY MIRIAM
Shake all ingredients (except lime wedge) with ice and strain into an old-fashioned glass over ice cubes. Add salt and pepper to taste. Add the wedge of lime and
serve with celery stalk.
5) Celery
See: Bloody Miriam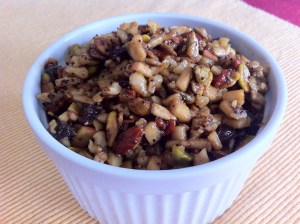 6) Charoseth
LIQUID MORTAR
3 oz Apple cider
1 ½ oz walnut liqueur
1 dash of honey
Shake with ice and strain into a highball glass.
Makes the construction and eating of the Hillel "sandwich" extremely messy, but by now everyone is tipsy and who cares?
Again, please remember that most of these drinks are NOT KOSHER FOR PASSOVER. But there are more kosher for Passover liquors than ever before, and it should be easy to find mixing ingredients that meet kosher standards and help you craft a few memorable Passover cocktails worthy of the holiday. And remember: if you must drink on Passover, please allow a designated leader to conduct the Seder.
Gary Waleik is Senior Producer of NPR's Only A Game, and a founding member of the bands Volcano Suns, Big Dipper and Mars Classroom.