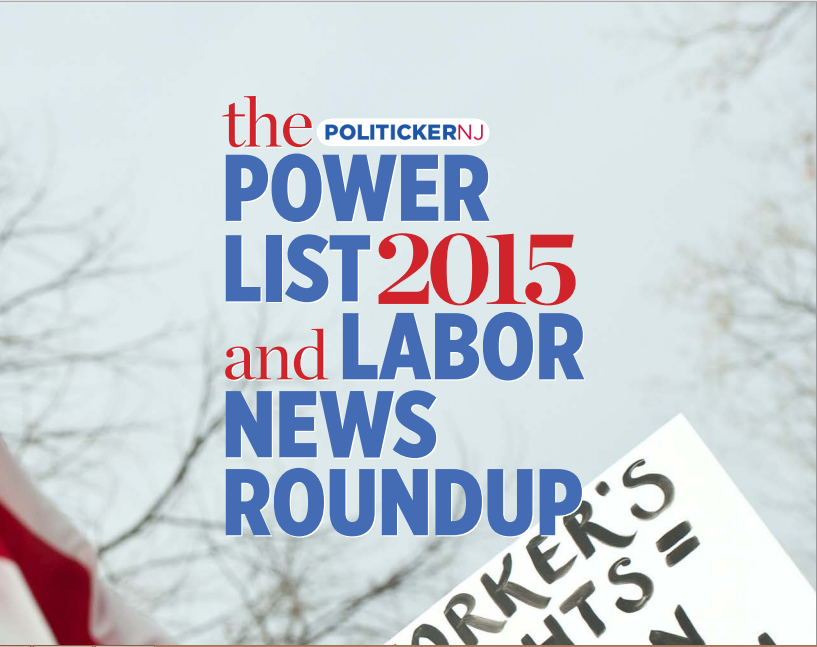 Welcome to another PolitickerNJ Labor Power List, where we rank the strongest people in the labor movement in New Jersey.
It's an interesting intellectual exercise, in part owing to the thorny relationship unions have with themselves in the typically transactional Garden State. There's also the grassroots power of local labor unions versus the perceived top-down internationals. Given the complexity of labor's power structure, we chose to cull players from all strata of the movement for an emblematic examination of labor influence more than a scientific power ranking.
Following the list, we invite you to the accompanying articles and interviews that round out this PolitickerNJ special edition for a more in-depth look at pertinent 2015 labor issues and trends at this time when New Jersey unemployment stands at 6.3%; or 7.9% if you are a military veteran, the second highest in the country; and in the double digits in many of New Jersey's cities, including Newark and Camden.
SEE ALSO: PolitickerNJ's 2014 Power List and Labor News Roundup
Between an insolvent state Transportation Trust Fund (TTF), a dearth of big, high energy labor projects in the state and leadership defined more by upwardly mobile politicians and their relationships than immediate jobs creation, longtime labor leader Assemblyman Wayne DeAngelo (D-14), Hamilton, doesn't see much to celebrate right now.
Since the last legislative election, the state lost two rock solid Building Trades labor votes in the New Jersey Legislature: Assemblyman Nelson Albano (D-1) on the Democratic side and Assemblyman John Amodeo (R-2) for the GOP. The Assembly also lost two strong public sector labor advocates in Joe Cryan (now sheriff of Union County) and Bonnie Watson Coleman (now a congresswoman from the 12th District), and stands to lose another two in Jason O'Donnell and Charles Mainor, neither of whom received the Hudson County Democratic Organization line this year toward their 2015 reelection.
Republicans earlier this month formally tapped Atlantic County Freeholder Will Pauls, an ironworker by trade, to run against the Democrats in battleground LD2; and retired state trooper David Jones to vie with DeAngelo.
Whatever happens, this much is true: don't discount the relevance of labor in New Jersey politics, and never doubt PolitickerNJ's commitment to be there between elections and on Election Day.
Download it here.