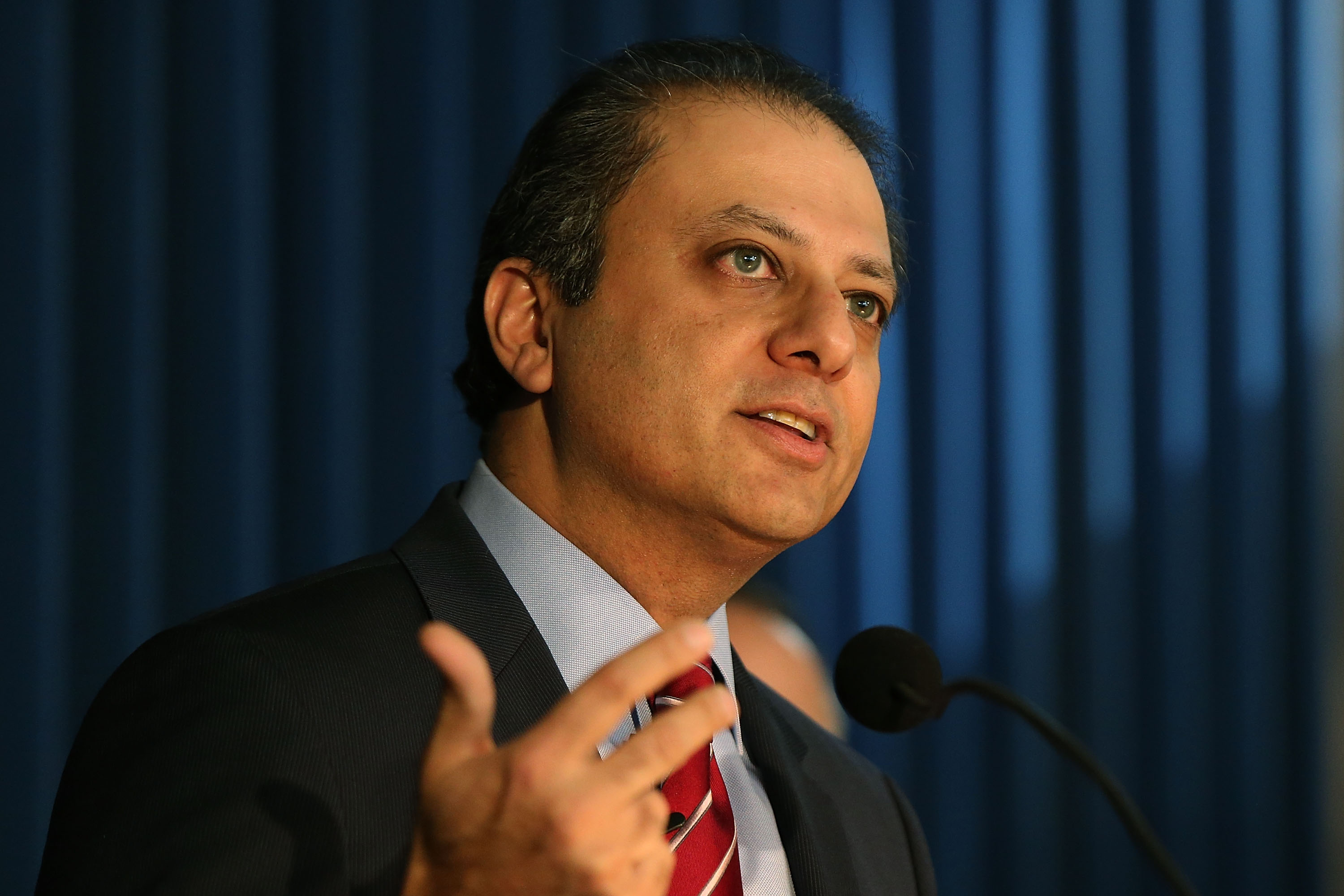 U.S. Attorney Preet Bharara rebutted criticism today of his high-profile speeches and media spots at a Fordham University symposium organized by Gov. Andrew Cuomo's 2014 primary challenger, law professor Zephyr Teachout.
Mr. Bharara told the filled room at the law school's Lincoln Center campus that his public denunciations of Albany's "culture of corruption" are intended to raise awareness of the ethics dilemmas facing the state government, to deter potential bad actors and to encourage well-intentioned public officials to push back against the problem. The remarks followed claims by former Assembly Speaker Sheldon Silver's lawyers that he had made "improper statements" that will bias the public against Mr. Silver in his fight against corruption charges, and a Slate piece by Pace University Professor Bennett Gershman that Mr. Bharara's critiques of New York's state government are inappropriate for his role. (Mr. Gershman also has ties to Mr. Silver's attorney, the Daily News reported.)
"Part of the reasons to have discussions like this, to talk about the problem, is not just to excoriate and warn people who might commit crimes," he said, noting that wrongdoing and malfeasance is a problem in many organizations. "But it's to direct my words and exhortations to the ears of the of the vast majority of people, in any institution whether it's a school, or a bank, or it's a hedge fund, or it's a Council leader's office, or it's a legislature, who are good and honorable and honest and decent and want to do the right thing."
Prosecution, he argued, is insufficient alone to eliminate unethical activity.
"It's not enough to simply make sure we're getting rid of the bad folks. We want to make sure we are empowering, or sometimes embarrassing, good folks at any institution that exists to do something when they see something bad," he said. "And everyone who is in a position to do something about it bears a responsibility to help cure the problem. And that includes prosecutors, and the public and the press and the politicians themselves."
The former aide to Senator Charles Schumer noted that many federal prosecutors—including outgoing U.S. Attorney General Eric Holder—have made public statements on policy issues like criminal justice reform. He asserted his remarks about the need to address corruption thus falls under the purview of his job as an arm of the Department of Justice.
"Part of your job as a law enforcement official, whether you're a prosecutor, or the Attorney General, or the FBI director, is to help prevent crime and deter crime," he said. "I think I'm careful not to have any particular reforms about things that do not apply to criminal justice."
Mr. Bharara said numerous New Yorkers had reached out to him to express appreciation for his work against corruption, and thus argued he had already succeeded in improving public awareness of the issue. He also noted that he was called to testify before Gov. Andrew Cuomo's short-lived anti-corruption Moreland Commission, and argued his address today was no different.
"It's appropriate not to decline invitations to events like this, to talk about your experiences," he said. "Anytime you address any policy considerations, you want to confer with people that have been in the field."
Mr. Bharara subpoenaed the files from the Moreland Commission—which Mr. Cuomo abruptly scuttled as part of a budget deal with the legislature—and used Mr. Silver's non-cooperation with the panel to help build his case against the former speaker, who was forced to resign his powerful perch in February. It is unclear how much information about Mr. Silver's outside income as an attorney, which Mr. Bharara has alleged constituted "bribes and kickbacks," came from the U.S. Attorney's office independent inquiry and how much was a result of the commission's investigations.
Updated to clarify what information from the Moreland Commission Mr. Bharara used in his case against Mr. Silver.