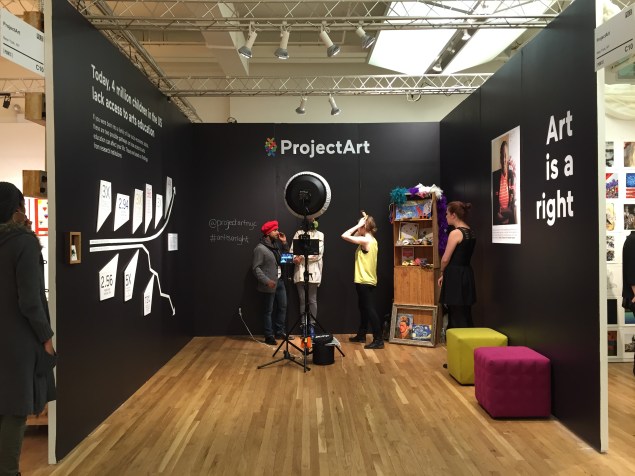 Art fairs are primarily thought of as the trade floor of the art market, a place to buy and sell art, even discover the next art market darling. Rarely are they thought of as a platform for helping New York City school kids receive an adequate arts education. But at Pulse New York's Points section, a specially curated selection of booths for non-profits and alternative arts organizations, the fair is highlighting exciting projects that are just as vital to the life cycle of the art world—and their booths just as engaging.
On the black walls of ProjectArt's booth (C10) is a bright white infographic that charts the staggering differences between kids with access to arts education and kids without. Blurbs attaching to an arrow sharply dipping towards the ground read "5X More Likely to Drop Out of Highschool," and "2.56 Median High School GPA." Meanwhile, blurbs branching from an arrow careening up toward the ceiling read "96 More Points on the SAT on average," and "3X More Likely to Be Elected to Class Office."
"The data is all there," said Adarsh Alphons, founder and executive director of ProjectArt to the Observer. Mr. Alphons started the organization in 2011 using only his savings. The goal was to provide New York City kids with an arts education they weren't getting from a burdened and under funded school system. In a report released by Comptroller Scott Stringer, 28 percent of New York City schools lack arts teacher who are employed full-time, and 20 percent don't have any arts teachers at all. Mayor Bill de Blasio has pledged $23 million to hire new teachers and support arts education, but as Mr. Alphons pointed out, that may not be enough.
And so Mr. Alphons recruited friends and started getting funding. He has been able to create a series of art classes run through the Public Library System. The classes are held in libraries that are in close proximity to schools with some the least access to arts programming in the city. He uses research data to stay up to speed on the school system's progress, and how its students are fairing. He's been able to hire and pay teachers—many are artists themselves—to run classes, and currently has a dozen library locations up and running.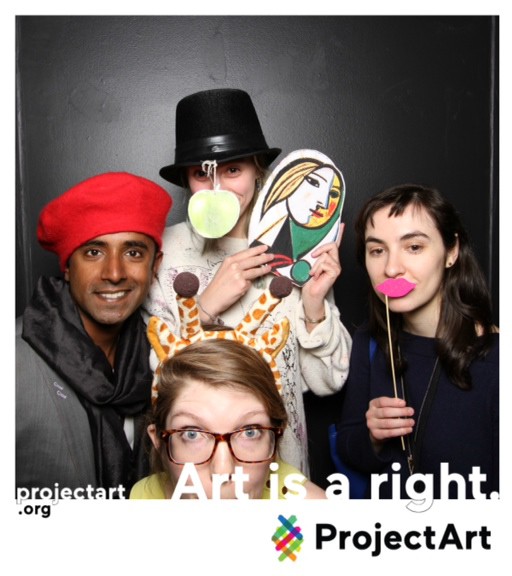 As I was speaking with Mr. Alphons, who happened to drop by ProjectArt's booth? Donald Rubin, who co-founded the Rubin Museum of Art with his wife Shelley and happens to be one of ProjectArt's earliest and most important funders.
"I think it's great what they're doing," he told us.
Mr. Rubin recounted the early inspiration he found in watching local kids paint murals on the sides of buildings in the South Bronx, imagery that enlivened the neighborhood he described as filled with empty lots and brownstones.
ProjectArt's booth also drew large crowds at the Young Collectors cocktails party at Pulse on Thursday night. The group is using a photo booth and social media to spread awareness about their project, and the success they've had so far. Visitors can pose for a photo, props are provided if you want them, and the final image framed with the message "Art is a Right."
So how many people have seen their message so far? Mr. Alphons said about 500 photos were taken last night alone. And the real success stories are the proof that the group is on to something. He said two of their alumni now attend LaGuardia High School for Music and Art and the Performing Arts in Manhattan, one of the premier public arts high schools in the country.
"We're just looking at one community right now," he said. "But this could be a national solution."