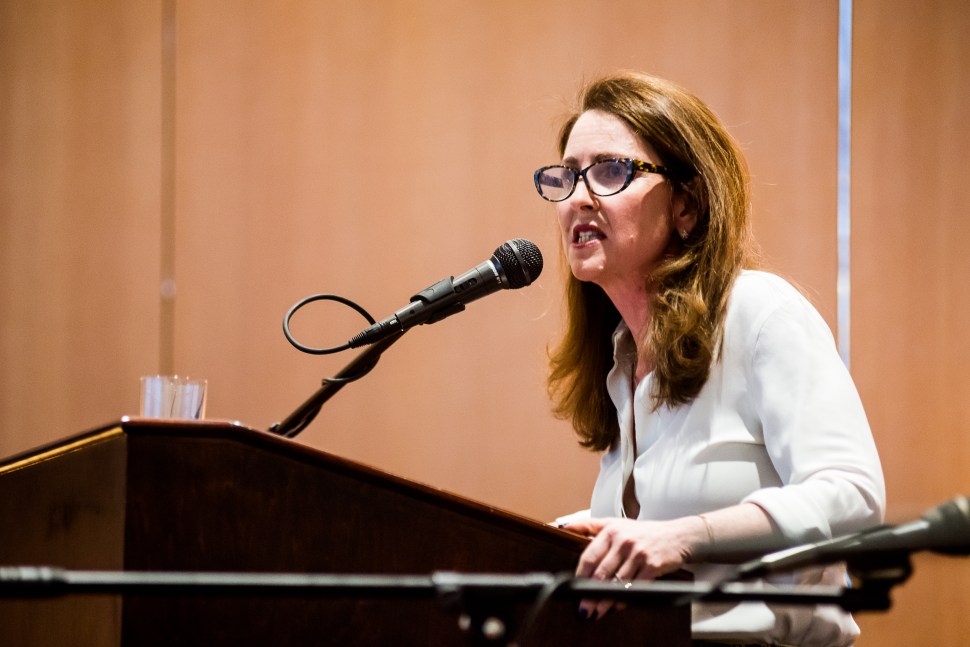 This morning at the 101 Club on Park  Avenue, the New York Observer and Cozen O'Connor hosted the latest installment of their popular breakfast talk series. What could have been a rather drab 8 am breakfast quickly turned into a lively panel discussion when the guest, Success Academy founder and charter school activist Eva Moskowitz, took the stage.
Introductions were made by Cozen partner Stuart Shorenstein, who noted that Ms. Moskowitz has become so highly associated with her cause that one need only mention "Eva" with no surname needed, making her "The LeBron of charter schools." Ms. Moskowitz's opening statement was passionate and informative, and her demeanor was poised, her bright blue nail polish flashing as she emphasized the startling growth of Success schools, which are rapidly expanding to meet unprecedented demand.
The moderators were Ken Kurson, Editor-in-Chief of the Observer, and Ken Fisher of Cozen O'Connor. This is not the Kens' first rodeo, having jointly moderated two debates during the 2013 mayoral campaign plus several recent breakfasts featuring guests such as Connecticut Governor Dannel Malloy and Port Authority Executive Director Patrick Foye.
The discussion began with Ms. Moskowitz outlining the goals, successes, and challenges the Success Academy has had since its inception in 2006. Many of those challenges include political pressure, primarily from advocates for the city's unionized teachers. In fact, Mr. Kurson's first question for Ms. Moskowitz involved a photograph that had been emailed to the Observer just before the breakfast began showing a teacher's bulletin board in a traditional New York public school, filled with flyers urging teachers to contact the governor to oppose the expansion of charters.
The charter schools of Success Academy are public schools, paid for a combination of taxpayer funds and privately raised donations. Ms. Moskowitz explained that, contrary to frequent attacks from charter opponents, charter schools in New York do not "cherry pick" only the brightest, best-behaved students. In fact, she says that they are required to select from a lottery system and actually bounce fewer students from school than ordinary public schools.
Ms. Moskowitz proudly touted the success of Success, noting with real joy how three students at the school in Bed-Stuy had achieved a perfect score on an international math test "out of 30 or 40 worldwide" and taking particular pride in how many of the schools' high achievers are "black and brown" and from neighborhoods that face enormous disadvantages.
She also noted that, while off to a great start, the program is still a "work in progress." And she lamented the amount of energy that has to be expended fighting political battles, claiming to be puzzled that anyone would oppose an agenda that includes "chess in every school." She mentioned that Success has spent time defending itself from lawsuits sponsored by opponents of school choice—19 to be exact. And the inability to serve all parents looking to send their children to a Success Academy school—there are currently 19,000 applicants for 2,688 open seats this fall, which translates to seven applicants for every open seat—she dubbed a "tragedy" that leaves thousands of families disappointed, left to seek out supplementary schooling options in their zoned district.
Ms. Moskowitz, who served on the city council, expertly dodged the inevitable question about whether she is planning a run for mayor in 2017, citing her monomaniacal focus on her schools and revealing that she thought she was "done with politics" after a bruising 2005 run for Manhattan Borough President, in which she unsuccessfully sought the Democratic nomination. "Even then, the teachers union spent $1 million against me."
Mr. Fisher ended the event with "a pop quiz," asking for a show of hands (literally) to demonstrate who walked away with knowledge they had previously not had about charter schools and Success Academy. With nearly every single hand raised in the packed crowd, it became clear that, agree with her or not, Ms. Moskowitz and her message will not be ignored.