PORT ST. LUCIE, Fla.—Hours before nearly 7,500 fans and a small army of media will pack the New York Mets' spring training home, Jacob deGrom emerges from the home clubhouse at Tradition Field on a dank morning and settles his long, lanky self onto a black pleather dugout bench cushion. The ballpark is quiet, save for the occasional maniacal yelps, in Spanish, of excitable 25-year-old closer Jenrry Mejia, deGrom's polar opposite, who is taking an early morning jog around the field.
All the attention today will be focused on the return of the Mets' ace, Matt Harvey, who hasn't pitched a game since blowing out his right elbow in 2013, and whose potential return to All-Star status is a big reason for the buzz now surrounding the Mets. Even the low-key deGrom is stoked.
"I've never seen Harvey throw in a game in person," says the 26-year-old converted shortstop. "I'm pretty excited about today, as are a lot of Mets fans."
But as thrilled as he is to watch his teammate, it is deGrom, the reigning National League Rookie of the Year, who may be the harbinger of better things to come for long-suffering Mets fans, a team that last played in the postseason in 2006.
Since the birth of the franchise in 1962, three legendary pitchers, Tom Seaver, Jon Matlack and Dwight Gooden, earned the league's highest honor for first-year players (one Mets position player won the award—Darryl Strawberry in 1983).
And then there is this.
Each time a Mets pitcher was crowned Rookie of the Year, the team wound up in the World Series within two years. While hardly a guarantee of long-overdue success, one of those award winners sees a pattern that could inject some hope into the most cynical fan.
---

'DeGrom grew up idolizing Mets' killer Chipper Jones—who was raised "right up the road from where I'm from," he says.

---
"The confidence that having an award winner in your midst and someone else you can rely on other than your No. 1 or 2 guys makes the whole team feel strong," says Jon Matlack, who won rookie honors in 1972 and then played a huge role on the ya gotta believe Mets World Series team of 1973, which surprisingly took the juggernaut Oakland A's to Game 7. "Maybe," Matlack allowed, "some good things will happen this year and next."
Like Matlack, Gooden and Seaver see correlations between their pitching-rich teams and this year's squad. And each tell the Observer they gotta believe in what might be called "Harbinger Theory."
"I hope that's true," says Seaver, now a vineyard owner in Napa. "The Mets have a lot of good young pitching on the team. I'm still a fan and I would like nothing more than to see the Mets back in the World Series."
Hearing what's happened each time a Mets pitcher has the kind of season he just logged, deGrom smiles and his eyes widen.
"I was not aware of that until just now," he says, his scrubby, bearded face betraying the easy-going nature that lies beneath the calm exterior of one of the game's most level-headed, cold-blooded young pitchers.
Not that deGrom, born nearly two years after the last Mets World Series celebration in 1986, has time to read through stacks of old yearbooks and scorecards or wallow in nostalgia for a period he never knew. He doesn't even really fathom what it means to suffer like a Mets fan.
"Honestly, should I know?" he asks with a puzzled look about whether he understands the frustration that comes with rooting for the Mets, a team that hasn't seen the playoffs since 2006, and the World Series since 2000.
DeGrom's limited comprehension of the woes of Metsdom won't matter to fans if his 2015 is anything like last year's campaign. After earning a reputation for the astounding (two different fastballs in the mid-'90s, changeup, slider and an emerging curveball), terrific command, and an unflappable mound presence, deGrom is focused on forgetting the award, proving it is no fluke, but most importantly, joining the roster of Mets with postseason experience.
"Everyone expects to be in the playoffs," says deGrom, whose light brown, flowing locks make him stand out even in a clubhouse full of curious coifs and a collection of guys who look like they are on Duck Dynasty.
But as important as pitching is, and the Mets are blessed with many fine young arms, it will also take improved hitting and defense and—like 1973, the ability to overcome health woes—to catapult the team from four games under .500 to playing past October 4, the regular season finale against what may be the league's best team, the Washington Nationals.
And as much as deGrom, who was named as the starter for the team's home opener, may be a harbinger for a brighter Mets future, injuries such as the one that already ended pitcher Zack Wheeler's season could be an omen of a different kind.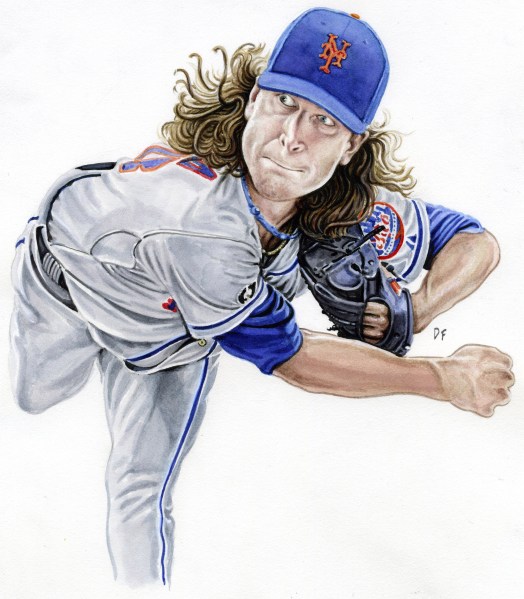 Jacob deGrom grew up quite unlike most who root for the orange and blue. "He learned to drive at 5," reminisces his mom, Tammy deGrom.
Well, sort of.
"The car was parked in the garage," notes her son. "I had the key in the ignition and I drove through an alley into the dining room. Thank the Lord no one was hurt."
It was the kind of incident that if it took place in Brooklyn or Queens would have attracted news crews. But this happened out in the Florida countryside, a long way from the nearest neighbor.
And it happened to the deGroms, who don't make a fuss over things, not a car into the house, or even a son who has achieved the dream of most kids who pick up a baseball. Composure is a family trait that serves deGrom well.
It is a trait, says deGrom, honed by growing up having to rely on yourself.
The immediate family, says deGrom, lived on 10 acres in the rural east Florida community of De Leon Springs, about two hours north of Tradition Field. That expanse is part of a much larger, 70-acre compound owned by deGrom's grandparents, an aunt and uncle and a family friend.
"They grew up in the gate," says his mother Tammy deGrom of life inside that tract of land where her son and his two older sisters could do the kinds of things most New Yorkers experience only through the Sportsman Channel. "Not a lot of kids had that opportunity."
Her son, she says, didn't spend much time inside playing video games.
"He still enjoys being outside," she says.
The Mets' phenom, who spent a lot of time fishing and hunting growing up, still bears the scars of his days spent out in the hot Florida sun.
"I used to ride fawlers a whole bunch," he says.
Fawlers?
"We would have tracks, fawlers and dirt bikes," he says.
Ah, four-wheelers.
"We would build some pretty big jumps," he reminisces, "The days I wasn't playing, I would definitely ride."
But before you have a heart attack, Fred Wilpon, know this. The kid is over fawlers.
"I don't think it's a good idea," he says with a mischievous grin. "I had my fair share of getting injured." Pulling up his pants legs, deGrom shows off the battle scars on his right knee. "I busted up my knee and had to get 20 stitches in that," he says. "The back of my leg had to get stitches. I'm lucky I never broke anything, but I was always having to get stitches."
Despite his fondness for ATVs, deGrom says his real passion has always been baseball.
"Whenever we had career day at elementary school and we could dress up like what you wanted to be, when I got on stage, mine was playing major league baseball," he says, pausing, as if it still hasn't sunk in yet what he does for a living.
DeGrom grew up idolizing Mets' killer Chipper Jones—who was raised "right up the road from where I'm from," says deGrom, a bit sheepishly—but he credits his father with developing his baseball chops.
When deGrom was about 11, his dad, Tony deGrom, did something most kids who play little league can only dream about.
"My dad built a batting cage right there in the backyard," says deGrom, flashing another big smile at the memory.
It was the material embodiment of a father's commitment to a son's desires, exceeded only by the hours the elder deGrom spent playing ball with his son, coaching his Little League teams, teaching him the game's fundamentals. They were lessons the pitcher says he can still hear, through his father's voice, sometimes on the field.
Try to keep it all under control, the voice reminds him when things are getting shaky. Or going too well.
"He is not," says deGrom of his dad, a "real emotional guy."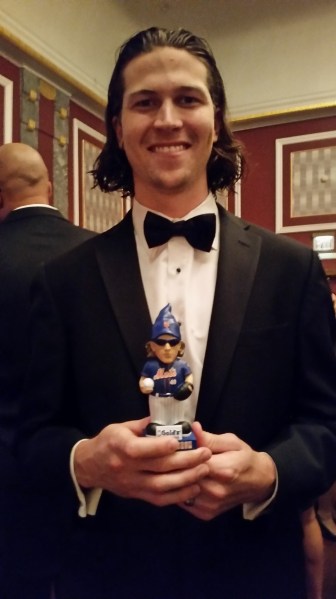 The pitching mound is a lonely place where a man stands with a nine-inch sphere in his hand, then goes into ligament-stretching (sometimes busting) contortions in an effort to induce guys with wooden clubs to either miss it completely, or hit it to someone with a glove.
As a result, one of the most difficult parts of pitching is the battle that takes place between the ears. It is a battle that many a golden-armed young man has lost.
But for Jacob deGrom, performing in front of tens of thousands of screaming fans is not unnerving.
"One of his best qualities is his command is off the charts," says Travis d'Arnaud, the Mets starting catcher.
DeGrom gives a lot of credit for his unshakable demeanor to his dad.
Like his son, Tony deGrom grew up playing baseball, up until high school.
"His dad always had a job for him to do," says the Mets' phenom about his father. "He worked when he was really young and didn't go to college, because he had a job."
DeGrom says his dad imparted unto him that same no-nonsense work ethic, which this spring included a simple admonition.
"Dad told me that last year is over with," says deGrom. "This is a new year. Work on getting better."
It's the same advice offered by pitchers who have been there before.
"Be yourself," says Dwight Gooden, who won  Rookie of the Year in 1984. "Don't get caught up in the award. Just try to get better with each start."
"Forget about the award," Seaver, who won the award in 1967, concurs. "Just keep working on pounding the strike zone and trying to get better. You can lose it in a hurry. I enjoy watching Jacob pitch. He has a lot of intensity. I think his sophomore year will be as good, if not better than his rookie season."
The ascent to Queens was rapid for deGrom, who received a modest $95,000 signing bonus from the Mets in 2010. A total of 271 players were drafted ahead of him, including Harvey (the Mets' No. 1 pick) as well as the likes of Barret Loux and Hayden Simpson, two right-handed pitchers chosen in the first round who each flamed out after three years.
But the fact that deGrom has enjoyed such success after subsequently losing most of the 2010 season and the entire 2011 season to an elbow injury like the one that kept Harvey on the shelf last year, is remarkable.
---

'I might throw it a little more this year. I am feeling really comfortable with it.'—Jacob deGrom on his emerging curveball.

---
About a month into his professional career, while pitching for the Kingsport Mets in the Rookie League, deGrom felt something that makes all pitchers queasy.
"I couldn't straighten or bend my arm all the way," he recalls. Even after resting it, his elbow started getting worse and worse and eventually he shut it down, opting for the now-ubiquitous Tommy John surgery, replacing the ulnar collateral ligament in his right elbow.
With a repaired elbow and less than three seasons in the minors, deGrom got the call. Only, instead of breaking in as a reliever as expected, an injury to his fellow pitcher Dillon Gee set the stage for deGrom's first Major League start.
But it wasn't just any start. It was against the Yankees.
Welcome to the Big Leagues, Jacob deGrom.
Welcome to New York!
Called up from the Mets' Las Vegas farm team two nights earlier, deGrom was able to witness a rivalry that is the closest New York gets to Sunni-Shia sectarian strife.
On May 15, it was his turn. More than 40,000 filled Citi Field, by far the biggest crowd of his career.
In true deGrom style, there was no pre-game vomiting or buckled knees on the mound.
"I was just like, 'Oh, this is going to be cool to pitch in front of this many people,' " says deGrom. "'They are excited. I am going to enjoy this.' "
And so he did, giving up a two-out double in the first inning to Jacoby Ellsbury before striking out Mark Teixeira on a 95 mph fastball. In his first Major League at bat, he lined a 0-1 pitch into short centerfield for not only his first hit as well.
---

'On the field, you don't know if he is winning 4-0 or losing 4-0 and that's a great trait to have as a starting pitcher.'—Ron Darling, SNY color commentator

---
The Mets went on to lose 1-0, but deGrom pitched seven solid innings, giving up one run on three hits, two walks and six strikeouts. He was well on the way to going 9-6, with 144 strikeouts and only 43 walks and seven homers given up in 140 innings and a 2.69 ERA—good enough for Rookie of the Year.
New York "took some getting used to,"
deGrom acknowledges. The country boy's only previous visit to the city was a short, rain-soaked trip with his then-girlfriend, now-wife Stacey, who he met at a rodeo while in high school.
Last season, he lived in the Upper East Side, exactly where, he does not remember. He roomed with backup infielder Eric "Soup" Campbell.
"He had a car," says deGrom. "I didn't pay attention to where we were driving to."
Things have changed since deGrom first arrived in the city. He used to ride the subway in blissful anonymity. Not anymore.
"Last time I was on it, I got noticed quite a bit," says deGrom, who at 6-foot-4 and with that mane stands out. "I could probably still ride it as long as I get in a corner and hide."
The adjustment to New York's pace proved more difficult for Stacey, he says.
"She enjoys it," he says. "But … it's a lot different than where we are from."
The newlyweds, whose Hawaiian honeymoon was delayed a few days to accommodate the ROY ceremony, are thinking about moving to the city "because that's where everyone else is," says deGrom. "She can hang out with the other wives."
Besides, it gives deGrom more opportunities to eat at his favorite restaurant, Beauty & Essex.
"It's a pretty cool place," he says
As a tourist destination, deGrom's parents enjoy New York, too. So much so that, after the ROY awards ceremony, they stayed on a few extra days to enjoy their first city blizzard.
"The hillbillies have met New York," Tammy deGrom says with a chuckle.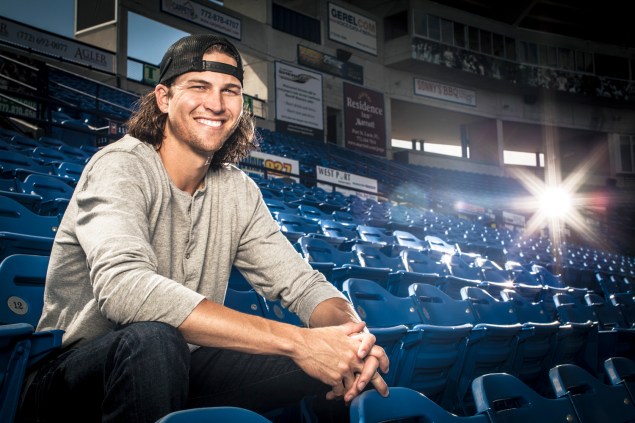 Saturday morning, before deGrom's first Grapefruit League outing, has a different feeling than the circus-like atmosphere for Matt Harvey's triumphant return the day before. Gone are most of the media and for deGrom, who was playfully stuffed into his locker the day before by his good friend, pitcher Jonathon Niese, there is less horsing around. He sits at a card table with a few other pitchers before heading out for stretching and bunting practice.
Third baseman and team captain David Wright has a foot on a stool peering over Campbell, who holds his cellphone up to display his Clash of Titans score. It is a game a good chunk of the Mets play as a team on their cellphones. Wright, who describes deGrom as "one of my favorite people to be around," praises his teammate for being serious but not taking himself seriously: "[Jacob] stays loose and you can get on him in a joking way and is very receptive to learning and getting better and that's what you want out of a teammate, someone who isn't complacent about winning the Rookie of the Year and wants to do more."
DeGrom says he is doing more, adding a curveball to his repertoire.
It's a "semi-new pitch," deGrom explains, something he picked up at the end of 2013 when pitching coach Ron Romanick visited Las Vegas and asked him if he threw a bender.
He didn't, so Romanick taught him.
"I started messing with it," he says. But it wasn't until last season, spending time with Mets starters Dillon Gee and the now-injured Zack Wheeler, that deGrom learned to stop worrying and love the pitch.
"I probably threw it 10 times a game," he says. "I might throw it a little more this year. I am feeling really comfortable with it."
A short while after Wright's analysis, and after the clubhouse is closed to the media, Ron Darling pulls up into the home parking lot and, after signing some autographs, gives the kind of debrief on deGrom you would expect from the Yale-educated former Mets hurler, who was around for Dwight Gooden's rookie season and the World Series champagne two years later.
"[DeGrom] had as fine a rookie year as I have ever seen, and I was lucky enough to have seen Gooden in '84," says Darling, now a color commentator on SNY. "He is as mature as any young pitcher I have seen in quite some time for the Mets. It was a pleasure doing his games. I know what it is like to be a young pitcher in the Major Leagues. Boy, I wish I had his maturity."
DeGrom's secret, notes Darling, is not just his arm, but his head.
"I don't know him well enough to know if he is level-headed," says Darling, "but on the field, you don't know if he is winning 4-0 or losing 4-0 and that's a great trait to have as a starting pitcher, because body English is a big part of what we do and if the other team never knows they cracked you that's important."
A few hours later, deGrom takes the mound and lives up to Darling's expectations.
His mother, and his father—who in family tradition fiddles with a ball given to him by his son who used it during his pre-game bullpen session—sit in the second level behind home plate. A perfect perch to watch their youngest child more than pick up from where he left off last year, using just 19 pitches to mow down the first six Braves.
In the third inning, the sophomore pitcher runs into trouble, giving up two singles before inducing what appears to be an inning-ending double play by ex-Met Eric Young to second baseman Dilson Herrera. But shortstop Wilmer Flores' throw doesn't quite make it to first and with John Mayberry Jr. unable to scoop up the ball, former Yankee Eury Perez scores.
Befitting his style, during his post-game interview, deGrom ignores the miscues. That's the past.
"I was very pleased," he says, after throwing 23 strikes out of 28 pitches over three innings. "There is one pitch I was not pleased about, an 0-2 slider (to Perez for the first hit of the inning). Otherwise, I was really pleased."
So too are his parents, whose son is so nonplussed about what happens on the field that he neglected to tell them he is new the face of the team this year, appearing along with speedy centerfielder Juan Lagares on the cover of the Mets' media guide.
Many an athlete has caved to the pressures of playing in New York. But no matter the upper-deck expectations, deGrom does not appear to be such a player.
"The fans were supportive last year," he says. "I felt like every time I walked off the field, whether it was a good start or a bad start, they were cheering for me. My experience with them so far has been great, and I am hoping they'll really have something to root about."