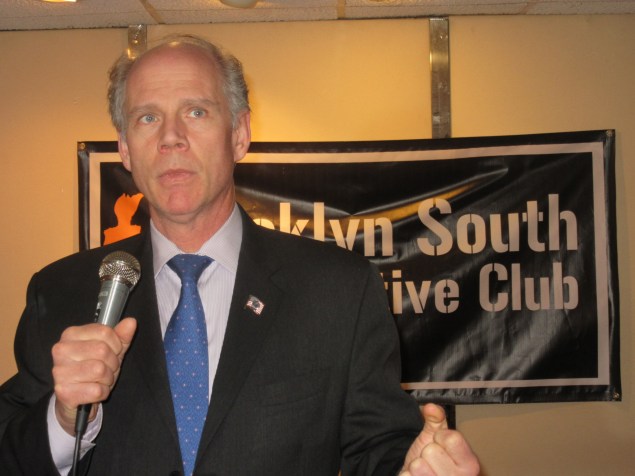 Daniel Donovan, the Staten Island district attorney and front-runner for an open House seat in the borough, has nearly $200,000 in campaign debt from a race he ran five years ago, according to a January filing with the State Board of Elections.
Mr. Donovan's unsuccessful 2010 campaign for state attorney general owes $173,884.48 to several consultants, an unusually large figure for a campaign account that has long been inactive. Typically, local and statewide campaigns pay down debts in the months after election season and don't have sizable outstanding liabilities years later.
Tusk Strategies, the firm that guided former Mayor Michael Bloomberg's winning 2009 campaign, is owed $109,924.95. Mr. Donovan's campaign also owes consultants Edward Lurie and Timothy Carie $10,000 each, and veteran GOP fund-raiser Cathy Blaney $43,959.53.
A spokeswoman for Mr. Donovan, a Republican, said the only cash Mr. Donovan still owes is to Tusk Strategies. "The remaining amount will be paid off, which will close out the account and be reflected in the next filing," said the spokeswoman, Jessica Proud.
The founder of the firm, Bradley Tusk, confirmed in an email he hadn't been paid. (Mr. Lurie, Mr. Carie and Ms. Blaney did not return requests for comment.)
"It's certainly top of mind to him because he raises it every time I see him. But given Dan's fundraising track record isn't as good as his other skills, so his desire to pay outweighs his ability to pay," Mr. Tusk said.
Winning campaigns tend to spend more and owe more and a few fund-raisers can take care of the bills. In the case of Mr. Donovan, a candidate given little chance in 2010 against Democrat Eric Schneiderman, the current attorney general, his debt is more notable and reflects his aversion to fund-raising, observers say.
The 2014 GOP candidate for attorney general, John Cahill, does not have any campaign debt. Mr. Schneiderman, who defeated Mr. Donovan and Mr. Cahill, also owed no campaign cash as of January.
Mr. Donovan is the front-runner in the special election for the 11th Congressional District, which ropes in Staten Island and southern Brooklyn. His opponent, Brooklyn Councilman Vincent Gentile, is an underdog in what is expected to be a low turnout race.
Assuming Mr. Donovan triumphs in the May 5 election, the debt from a long-concluded campaign could foreshadow trouble for the Republican in 2016, when he will be up for re-election. National Democrats are likely to make the swing district a top target–with turnout expected to surge in a presidential year, Mr. Donovan will have to spend much of his time in Congress raising cash.
Mr. Tusk, however, doesn't expect a check anytime soon.
"Typically if they can't pay it during the campaign, it doesn't happen," he said.