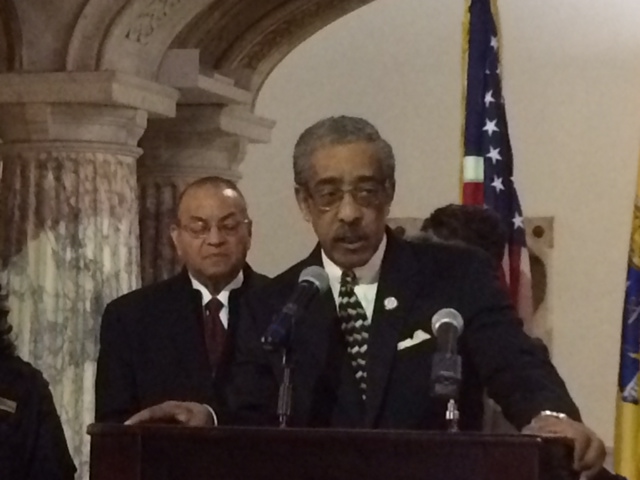 NEWARK – State Sen. Ron Rice (D-28) said that he is considering a run for the Democratic nomination in 2017 to be New Jersey governor, citing a need for bold leadership that reflects the interests of New Jersey's urban communities.
"I may run myself. I may run for governor. I don't need to win to carry a message," Rice told PolitickerNJ on Tuesday after speaking at a Newark City Hall news conference outlining the intentions of a city delegation he will lead to Washington, D.C. on Wednesday, seeking to redress problems stemming from the debate about the direction of Newark's public schools. "I have no problem picking up petitions to run if, in fact, we don't have a meeting of the minds. One thing they always tell you about running for governor is that it costs a lot of money. Well, I've read the state statute, and it costs you 100 signatures on a petition to run. Running does not always mean that you're going to be victorious at the end, but it gives you the opportunity to be heard on behalf of the people you represent and be critical of the other candidates and hopefully get into debates on substantive issues that they don't want to discuss."
The pool of potential Democratic gubernatorial candidates in 2017 has grown over the past several months. Jersey City Mayor Steve Fulop, state Senate President Steve Sweeney (D-3), former U.S. Ambassador to Germany Phil Murphy, state Assemblyman John Wisniewski (D-19), state Senator Ray Lesniak (D-20) and former Governor and state Senator Richard Codey (D-27) are all reportedly considering a run at Trenton's top spot.
But an already crowded field did not stop Rice for throwing elbows at the potential 2017 competition.
"I've said to several [potential] candidates, including Mayor Fulop, that if you think the members of the legislative black caucus, and other black elected officials and community and civil rights leaders, are going to be excluded and just wait for the party to tell us who we're going with, you better go look at the movie Selma," said Rice, the leader of the legislative black caucus."We're getting patronized."
Rice's tune about a potential 2017 gubernatorial run changed only when the name of another African-African politician was suggested as another possible entry in the race.
"If we're going to be ignored as a people, then someone who looks like me may have to get into the mix to make sure that we are heard. That's the only way you get anything done," Rice said. "If [state Assemblyman] Troy Singleton (D-7) runs, we'll sit down and talk to Troy. He's a good legislator. He understands where we're coming from. We're going to be heard at the right time, I'm going to make sure of that."