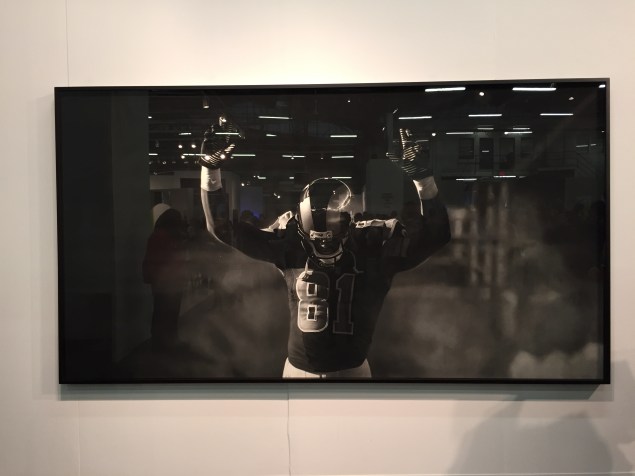 In case you haven't seen it all on Instagram already, I'll tell you about the first few works that greeted the cleaned and monied masses at the VIP preview of The Armory Show, which takes place each year on Manhattan piers that once ushered immigrants to the New World. At Lehmann Maupin, there's a giant Nari Ward installation that looked like it came from an ancient liquor store—"LIQUOR" it proclaimed to the tall, suited entrants prior to noon, the letters stacked vertically and upside down, as if daring the collectors to drink up and buy big right out the gate.
There's a Peter Liversridge at Sean Kelly, a neon work that proclaims as if for the first time ever "everything is connected," and of course this revelation is then disseminated out of social media at light speed. There's the Artsy booth, which is really called the #ArtsyTakeover booth, where Hank Willis Thomas reminded us of the fluidity between the creative and the monetary, the revolutionary and the expensive, with a column activated when you take an iPhone picture—the flash lights up words so the words "life" "ads" and "art" become "Life Imitates Ads Imitate Art Imitates Life Imitates…" which makes sense, as on Artsy, the editorial flows into the marketplace flows into the advertorial and as an app it just flows back to the iPhone that took the picture. You follow?
Well, the next thing you see, at Metro Pictures, is a bit more intuitive: it's a striking, powerful Robert Longo called St. Louis Rams (Hands Up), a photorealist rendering from this year of a football player with his arms in the air. It's an obvious nod to the "Hands Up, Don't Shoot" protests and Michael Brown's killing in the St. Louis suburb of Ferguson, all the more remarkable because, as far as I can tell, it's the only such nod here at the fair.
At one point, I saw a dealer at Metro Pictures pushing a collector toward a sale.
"It doesn't have to be political," said a Metro Pictures dealer to a collector in front of St. Louis Rams (Hands Up). "You can just really like football."
The collector nodded silently. (We heard it was sold at some point during the day.)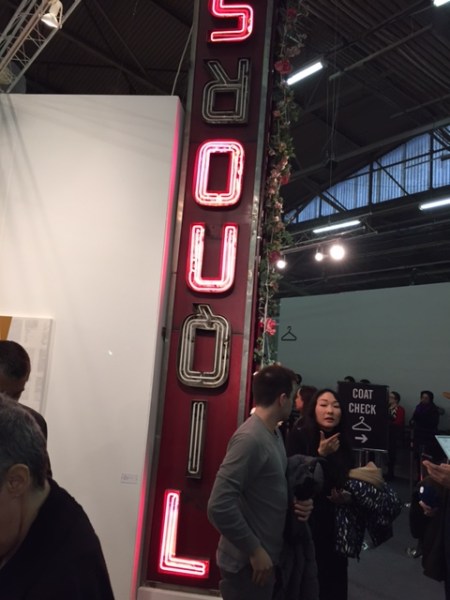 There's celebrities. Neil Patrick Harris looked at a Frank Stella installation at the Marianne Boesky Booth and told us, with absolute seriousness, "There's a lot of great technology at the fair." There's John Waters at the Spruth Magers booth checking out a Barbara Kruger. There's Maurizio Cattalan at the Galerie Mitterand booth checking out the Richard Pettibons. There's Michael Stipe with a bearded entourage, and there's Tobey Maguire with no entourage at all.
(There's also a man rolling around on a magic carpet-type thing. My colleague Alanna mentioned him earlier. At one point, I was talking to Armory Show director Noah Horowitz when he rolled on by. Mr. Horowitz put on a puzzled look. "That's not anything we did," he said, denying collusion with the magic caret man. "He just really wants to be seen, I guess.")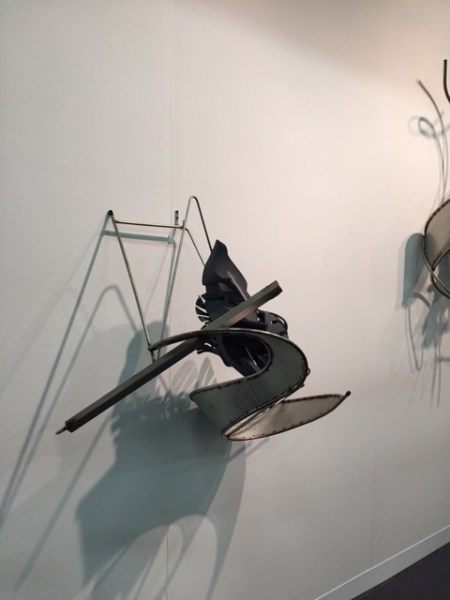 There's a very loud mobile by Glenn Kaino at the booth of Honor Fraser, the Los Angeles gallery. It's 100 copper arrows all held in place, suspended in air, leading to a common point. If someone you don't like stands in front, and you stand in the back, it looks like they're about to be hit by 100 copper arrows. An unknown collector put it on hold for $130,000, and presumably that collector has enemies.
And that's all great, but the fair left me wanting another viewpoint, another vantage on the whole thing. For instance: There's a tiny dog with a videocamera strapped to its back, perhaps a foot off the ground, and after seven hours looking at the fair six feet off the ground, I'm curious about the view from down there.