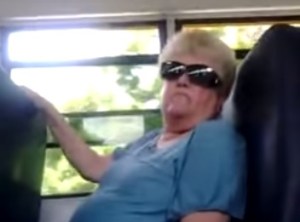 Here we go again.
A student at Greece Athena High School in Rochester who, along with two friends, allegedly forced a special needs classmate to take off his pants, grab his penis and drink urine from a toilet before posting the footage on Snapchat, has been in the news before.
The bully, whose name was not released because he is a minor, was involved in the 2012 hazing of a school bus monitor. He and his malicious classmates called 68-year-old Karen Klein a "fat-ass" and said that her family "killed themselves because they didn't want to be near you." Ms. Klein's son committed suicide in 2002.
A video of the incident has more than nine million views on YouTube.
Ms. Klein was sadly not surprised that the students had not broken their bad habits.
"They didn't learn any lessons from the other ordeal," Ms. Klein told a Rochester TV station. "I don't think they ever will."
Greece Athena principal David Richardson sent a letter to parents Thursday night, confirming that the incident was under investigation and asking students to be more aware of the dangers of social media.