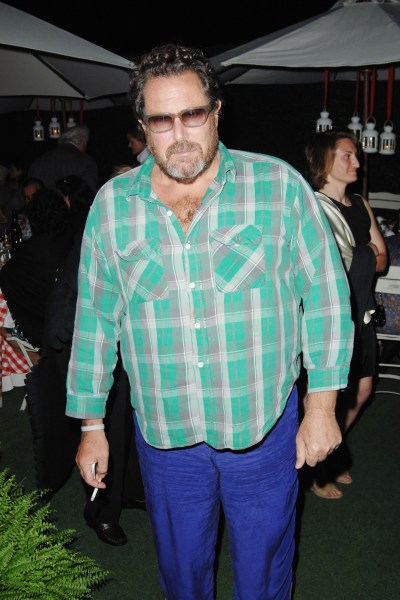 They must be really living it up at Palazzo Chupi this morning. Last night, at long last, the Museum of Modern Art announced that it has finally acquired a painting (St. Sebastian, 1979) by the extremely famous 1980s scene-making artist and film director, Julian Schnabel. To provide some justification, because apparently someone has to, Ann Temkin, MoMA's chief curator of painting and sculpture, said that he's all the rage among the young guys these days, and that "We're always looking at art, inevitably, with today's eyes."
The article in The Times announcing the historic acquisition (MoMA also added a 1960 Jasper Johns, Painted Bronze, from the Henry Kravis collection) felt the need to provide some context to explain just how unlikely it is that the Schnabel has made it to the big leagues.
William Rubin, who was for many years the Modern's powerful curator of painting and sculpture, had a position against Mr. Schnabel's painting so fixed that he wrote a 1984 letter to The New York Times suggesting a correction to a sentence in an article that said "the Modern has not yet acquired" a Schnabel. He said the sentence should not have included the word "yet."
Burn!
Also, Calvin Tompkins went in on The Schnabel in Lives of the Artists, which is his pretty much the definitive tome on all this stuff.
A Schnabel retrospective, organized by the Whitechapel Gallery, in London, came to the Whitney Museum in 1987. The airplane carrying the paintings broke down in Abu Dhabi, and Schnabel pitched in to help Lisa Phillips, the Whitney curator, pull together a temporary, alternative exhibition in time for the opening; the substitutions didn't particularly upset him, since he tends to think everything he does is pretty marvelous. The Museum of Modern Art, however, has consistently shunned him—its Schnabel holdings today are limited to two drawings, three prints, and the promised gift of a plate painting.
Man, Schnabel, the guy could not catch a break. And then let's crack open our dear friend Anthony Haden-Guest's stupendous take on the art scene, True Colors, for his anecdote regarding the relationship between Mr. Schnabel and MoMA.
Others were unbeguiled. Bruce Wolmer, then at MoMA, remembers a first meeting with Schnabel in "pink jelly glasses." Wolmer's date admired them. "Right away he offered to find her a pair. He was almost too obliging. I felt his hunger. I felt, I hope he doesn't get anywhere." Wolmer admits that he remembered Schnabel now and again, a bit smugly, because he did indeed seem to have disappeared. "I thought, Well, that's the last we'll see of him."
But now here we are, in 2015, watching Schnabel get the last laugh. And if you want to whet your whistle for Schnabel at this very moment, he has works in a group show at Andrea Rosen Gallery.