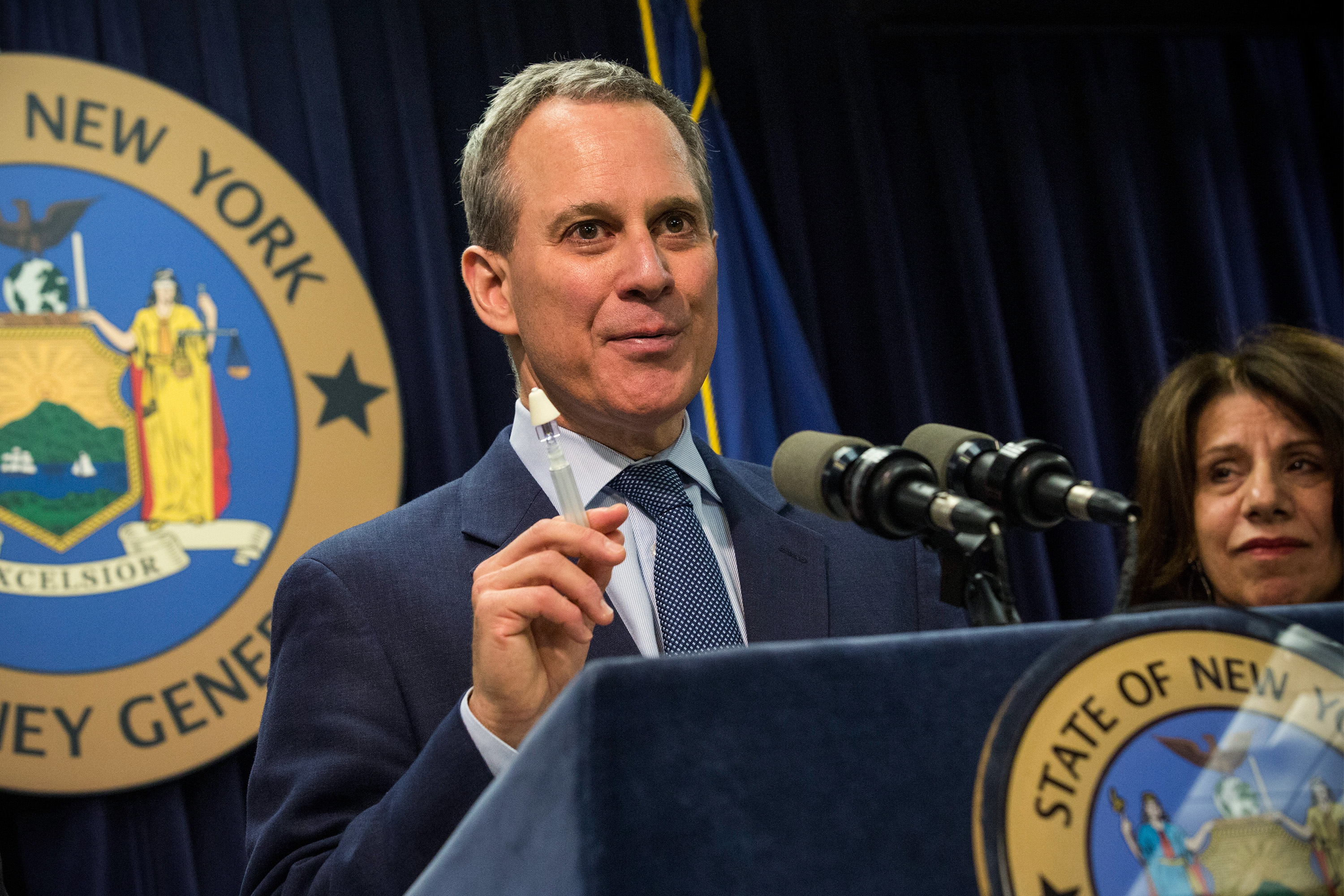 Saying incremental attempts at reform had not been enough to stave off corruption in Albany, Attorney General Eric Schneiderman today called for the end of all outside income and per diem payments for members of the State Legislature.
"Outside employment income must be banned," Mr. Schneiderman told the crowd at a Citizens Union event at New York Law School this evening. "Ladies and gentlemen, in the 21st century it is impossible to avoid conflicts or the appearance of conflicts if legislators have outside employment. The time has come to end it."
Mr. Schneiderman's call comes after the state's former Assembly Speaker Sheldon Silver was arrested on charges of fraud and extortion by U.S. Attorney Preet Bharara, who alleged that the longtime power broker had used his influence to inappropriately earn attorney referral fees for work he had not done, disguising what amounted as "kickbacks" and "bribes" as legitimate income. Currently, lawmakers in Albany are allowed to hold outside jobs, but must report the income.
Mr. Schneiderman said that arrangement invites public corruption. His call for a complete ban on outside income goes further than the ethics plan proposed by Gov. Andrew Cuomo, with whom Mr. Schneiderman has a testy relationship. The governor has called for enhanced reporting and disclosure of outside income. New Assembly Speaker Carl Heastie, meanwhile, has said he would seek to cap outside income and would be open to banning it entirely.
In his remarks today, Mr. Schneiderman slammed the culture of Albany dating back to the days Theodore Roosevelt encountered graft and corruption when he served in the State Assembly. He said previous plans simply had not done enough, and despite then the state capital seemed to be in a "golden age of graft."
Mr. Schneiderman pointed to ethics reform packages passed in 2005, 2007, 2011 and last year, saying they appeared to the people of New York "like one charade after another."
"Every time incremental reforms have been called 'sweeping' or 'groundbreaking,' billed as a solution to the problem, those words have been proven false," Mr. Schneiderman said, going on to say many had been too easily pacified with more marginal attempts at overhauling corruption.
In addition to ending outside income, Mr. Schneiderman also called for an end to per diem payments to Albany legislators—$172 a day  doled out to lawmakers to cover their expenses for traveling to Albany, without receipts required. Some lawmakers bunk up in cheap hotels to make the money stretch.
"We should end per diem payments. Legislators should be reimbursed for their actual costs of travel," Mr. Schneiderman said.
With cuts to outside income and the per diem, Mr. Schneiderman said a higher salary would be necessary to draw good people to public office—he proposed a salary somewhere between the New York City Council and the United States Congress. The wage would automatically rise with cost of living, he said.
"This will remove the future pay raises from the vicissitudes of Albany sausage-making, which treats legislative pay a soothing more than a bargaining chip at the end of every other legislative session," Mr. Schneiderman said.
The attorney general also called for more power to be delegated to individual members of the legislature, in a strike at Albany's "three men in a room" culture, and for longer terms for Assembly members to cut down on time spent campaigning and fundraising—the latter requiring an amendment to the state constitution. The state's notoriously high limits on campaign donations should be drastically reduced, he said, and rules about people with business before the state donating to campaigns should be tightened.
"It is time to bring public matching funds to New York State elections," Mr. Schneiderman added. "The cost of the program is nothing compared to the costs of public corruption."
Mr. Schneiderman took a little swing at the governor, noting that as attorney general, he does not have original jurisdiction to investigate corruption cases, but that they must be referred to him. He asked Mr. Cuomo for a general referral to go after public corruption in the state—something he said Mr. Cuomo backed when he himself held Mr. Schneiderman's job—but was denied. Mr. Schneiderman has instead been working with State Comptroller Tom DiNapoli, who also has referral power.
The attorney general also made note of the governor's plan to use the budget process as leverage in getting concessions from the legislature—something Mr. Cuomo's promised to do in seeking ethics and education reform. Mr. Schneiderman said he thought that was just fine.
"In fact," he said, "I would urge the governor to hold out for even bolder reforms, including the proposals I have outlined tonight."