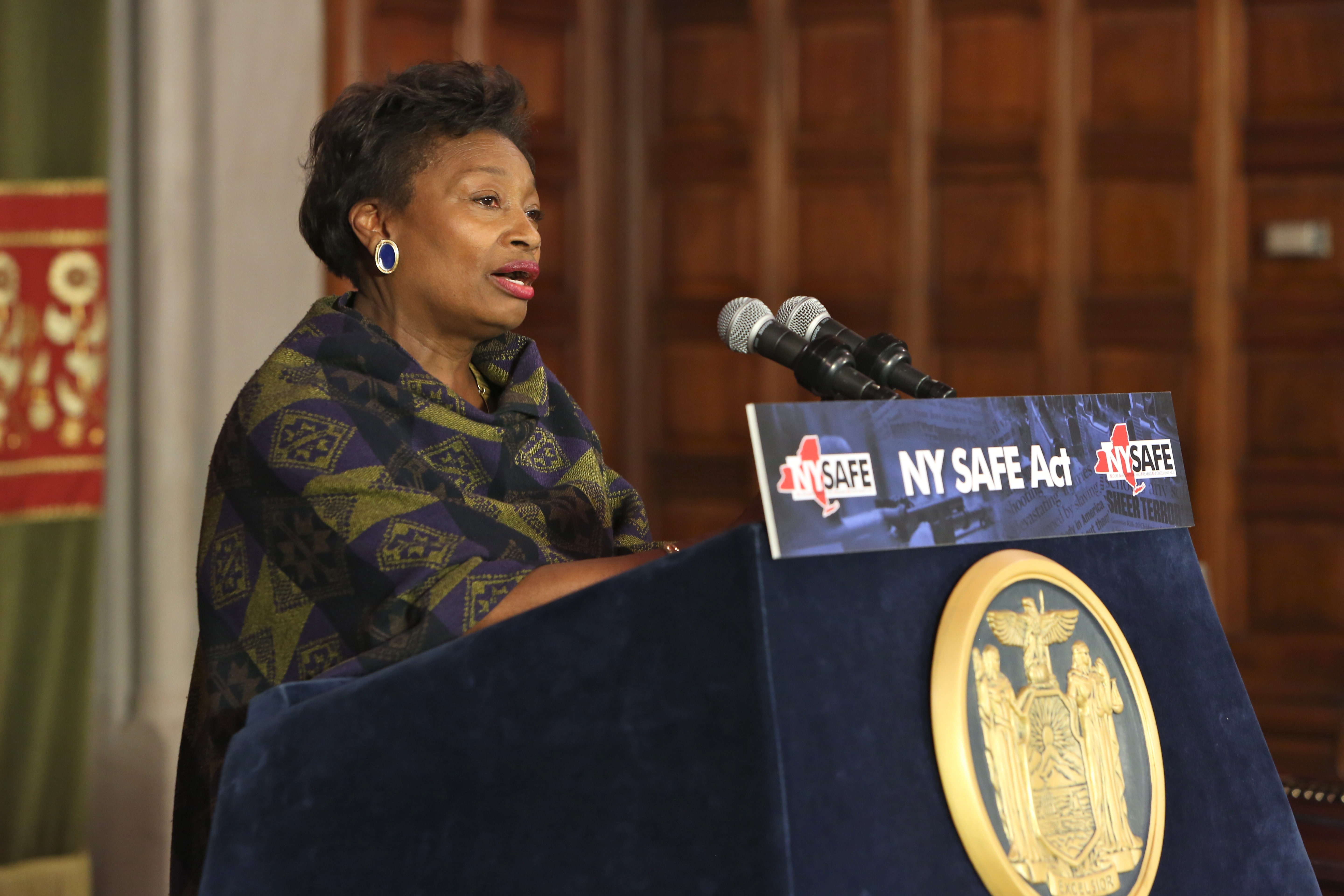 Andrew Stewart-Cousins, the State Senate Minority Leader, took to the airwaves this morning to argue that she should be part of the state budget negotiation process if the leader of the Independent Democratic Conference, Jeffrey Klein, negotiates the budget too.
Speaking on the Brian Lehrer radio show on WNYC, the Westchester Democrat claimed she would bring an essential perspective to the "three men in a room" bargaining process, which would normally only include Gov. Andrew Cuomo, Assembly Speaker Carl Heastie and State Senate Majority Leader Dean Skelos. Mr. Skelos has agreed to allow Mr. Klein, whose five-member breakaway faction has caucused with the Republicans since 2012, to take part in the dealings.
"His conference has five people, my conference has 24, 25 people," she said, noting her Democrats represent some eight million New Yorkers. "It became apparent to me that this was an opportunity to say, 'Look, we're talking about transparency in Albany, we're talking a $142 billion budget that affects all the New Yorkers, and now we've deviated from the normal paradigm.'"
"The paradigm that used to exist has been broken, because now someone other than a majority leader is in the room," she added.
Mr. Klein and Mr. Skelos forged a coalition deal in 2012 which allowed them to run the State Senate as co-majority leaders, after elections that year left the Republican conference short of a majority. The 2014 elections gave the Republicans the 32 seats they needed to control the chamber outright, and Mr. Klein was stripped of his title—but Mr. Skelos, perhaps anticipating his conference will again be in the minority by 2017, has permitted the IDC leader to retain many of the trappings of his old role.
Ms. Stewart Cousins, an African-American, noted she is the first female to lead a legislative conference in New York State history, and argued she would bring a crucial voice to the otherwise male-dominated process.
"There is an opportunity, for the first time, because there is a woman in a leadership role, to have a woman in these negotiations," she said, pointing out that women make up more than half of all New Yorkers, yet have never had a representative of their gender in budget negotiations. "We sit and we talk about women's agendas and women's rights, and the reality is we have come a long way, but there is still a wage disparity, there are things we can and must do."
Ms. Stewart-Cousins also pointed out that State Senate Democratic conference votes have proven crucial to passing some of Mr. Cuomo's initiatives, including gun control and same-sex marriage.
"We do have leverage, we always do. Because he reality is that we have been, in many cases, that margin that have allowed the issues that so many New Yorkers care about to be passed," she said.
The budget deadline is April 1. It appears unlikely that Mr. Skelos will extend an invitation to Ms. Stewart-Cousins to be involved in the deliberations.