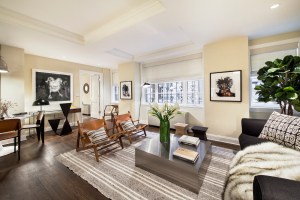 The last of the sponsor units at Devonshire House—the Emery Roth-designed rental-to-condo conversion at 28 East 10th Street that went live in 2009, luring the likes of Alec Baldwin and Amanda Seyfried—occupies just 770 square feet on the ground level, the former place of business for an antiques dealer. It's a one-bedroom affair, recently listed with Stribling brokers Robert McCain, Chloe Rosen and Kristina Wallison for $1.595 million, and closely resembling the 10th-floor apartment Mr. Baldwin purchased two years ago to supplement his three-bedroom penthouse.
Some speculated that the relative modesty of that unit might make for practical staff lodging. But when the Observer visited the newly listed condo with Mr. McCain and Ms. Rosen not long ago, we found little to suggest proletarian pandering.
Mr. McCain assured us that efforts were made as a part of the conversion to relieve the building's lobby of what one doorman confirmed had been considerable gloom. Still, stained-glass windows, plaster walls tooled to resemble wood grain, rich leather armchairs and a floor refinished in black-and-white granite give the entryway the look of a Tudor lounge, alluring and dim. (The recurrence in the decor of the Devonshire family crest, which features a pair of rearing stags and the Latin motto Cavendo Tutus—"strength through caution"—heightens the effect.)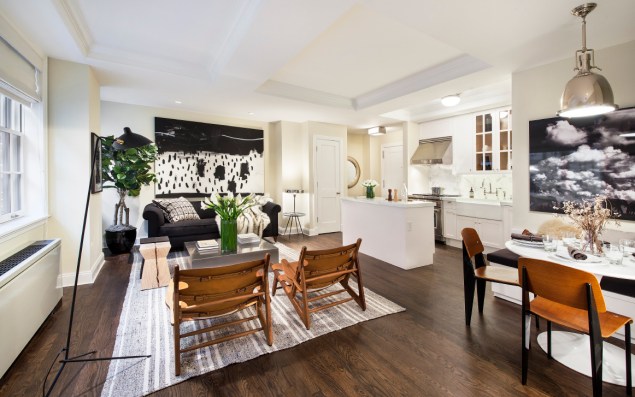 Off an eastern hallway, apartment 1G awaits behind a door carved thick with doves and vines. Inside, things are less self-consciously stylized, though not without style. Imagined by the lauded interior designer Victoria Hagan, the home's appointments are quietly refined, calming, cozy and modern. New arrivals are greeted by an open kitchen with white oak floors in a rustic hue, a farmhouse sink and an island topped with a softly glistening crystal-glass composite. Off the living room, a corner banquet might serve, Mr. McCain mused, as both homework station and dining area. Ceilings coffered in light custom millwork lend the space a little stretch.
From here, the apartment proceeds. But not far. A trio of fogged-glass doors slides in grades across the bedroom's threshold to create a hallway leading to the bathroom, lending privacy to sleepers and bathers alike.
At the time of our visit, snow was falling fast outside. The living-room blinds were drawn in such a way that walkers on 10th Street were visible only from the shin down, fluffy flakes whisking past Hunter boots. Inside, the home felt warm and solid and bright. And from the frosted hurly-burly beyond, we could hear not a sound.