With a new Shindigger columnist out on the town, it was time to celebrate the Chinese New Year at The New York Philharmonic.  Guests ushered in the Year of The Sheep while rock star cellist Yo-Yo Ma led the program with phenomenally emotive playing that led us upward with every pull back of his bow. He was joined by sheng player Wu Tong in an inspiring piece aptly entitled Duo by composer Zhao Lin. The party later erupted into a full-on, New Year's blowout when a set of dragon dancers snaked through the black tie crowd.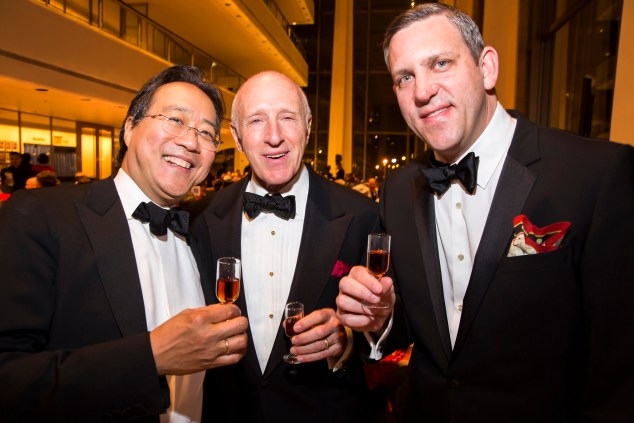 Later that evening, while some celebrated the New Year, others celebrated hot new real estate. Martha Stewart rounded up a crowd including interior designer Tony Ingrao for a preview of the Baccarat Hotel & Residences at 20 West 53rd Street. The building, spearheaded by crystal-making giant Baccarat and designed by Skidmore, Owings, & Merrill, is appropriately emblazoned with a crystal facade and is slated to open later this month. If you would like a piece of the Baccarat pie, have your checkbook ready. The Penthouse Loggia, which is just one of the buildings' 60 residences, is listed for a cool $60 million. 
A couple of days later, The Waldorf Astoria's Starlight Room hosted the inaugural Taste of Waldorf dinner. Waldorf Astoria master chefs including Michelin-starred Pierre Gagnaire and Heinz Beck debuted dishes created with James Beard Rising Star chefs to assembled foodies.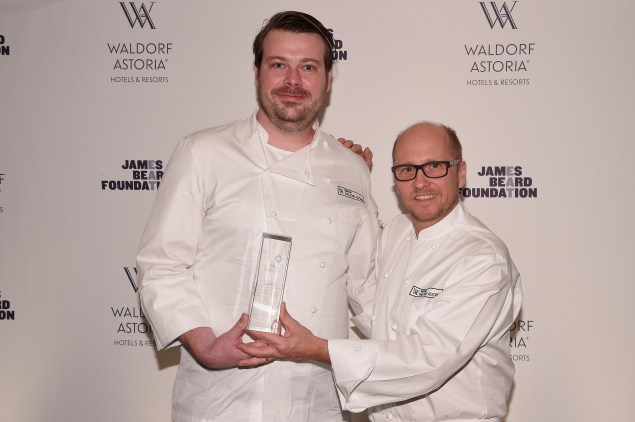 A panel of voters for the top dish included Bon Appétit magazine's Andrew Knowlton, the James Beard Foundation's Yvon Ros, Hilton's Marc Ehrler, and culinary expert Nilou Motamed. They ultimately awarded a win to Heinz Beck and David Posey who turned out a "Celery Risotto alla Waldorf," which guests and foodies alike can now order at 26 Waldorf properties.
The noshing continued at Ladurée Soho where Coco Rocha  and HSN's Mindy Grossman hosted an intimate dinner celebrating the unveiling of "Modern Princess," a collection of items designed by Ms. Rocha in line with the release of the most recent adaptation of Disney's Cinderella set to hit theaters March 13. The two hosted a screening of the film earlier in the evening and raved about the modern interpretation of the classic tale. "First of all, the cinematography was—it was heroic! It's so well done," Ms. Grossman said, sitting at a table lined with her biggest HSN sellers including Hal Rubenstein, Julie Macklowe and Danielle Schriffen. "We've been working with Disney for a number of years, and each time it becomes more and more inspired. This collection brought so many things together. Working with Coco on the idea of a modern princess was perfect. I think she really is the edification of that." Guests, including the glowingly pregnant Ms. Rocha and husband James Conran, ended the evening by snacking on the restaurant's sprawling selection of desserts on offer—including, of course, Ladurée's famed almond and fresh creamy-dreamy macaroons.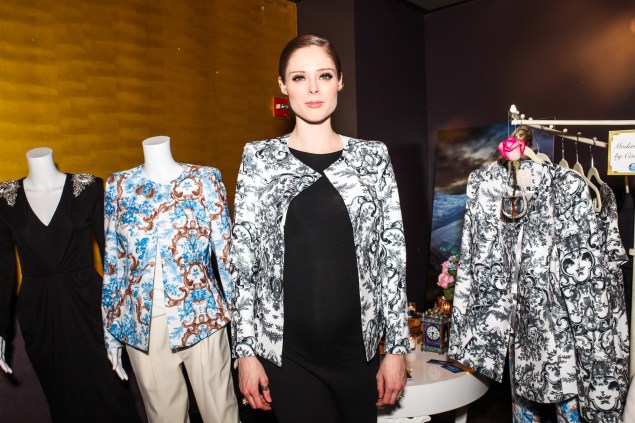 Friday was decidedly grungier thanks to Kelly Brady, the public relations powerhouse behind Brandsway Creative, who hosted her company's fifth anniversary at Webster Hall in the East Village. Up-and-coming family pop act Echosmith delighted the crowd with their radio hit "Cool Kids" before a stack of artisanal pizzas from Neapolitan Express were paraded through the dance floor. Even Jessica Hart, the supermodel BFF (and client) of Ms. Brady, had a slice or two before carrying on across the street to keep the party going with tequila and a game of billiards against photographer Ben Lozovsky.