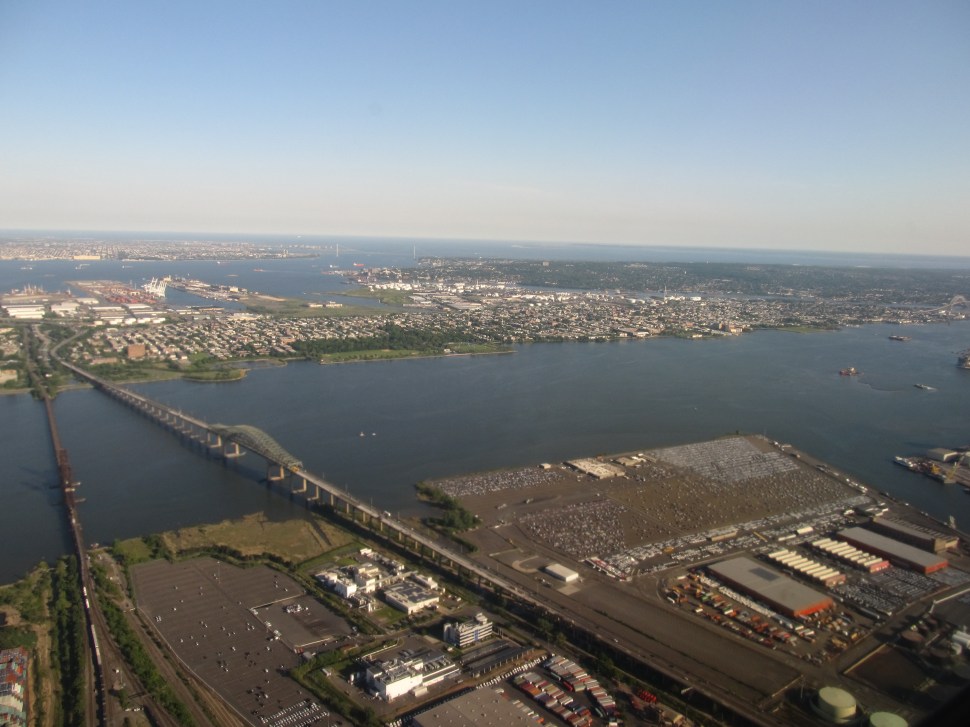 The director of one of New Jersey's largest environmental advocacy organizations slammed acting Attorney General John Hoffman over news today that the Christie administration has settled a series of environmental damage lawsuits with Exxon Mobile for $225 million out of a sought after $8.9 billion, calling the case a "bigger scandal than Bridgegate."
"Attorney General Hoffman should be ashamed of himself. This is more spin and misinformation than we've ever seen. He's trying to justify the unjustifiable. This case not only hurts the environment, but it rips off the taxpayers of New Jersey. It is the biggest giveaway of taxpayer money in state history," Jeff Tittel, head of the New Jersey Sierra Club, said in a statement.
Tittel's comments come hours after Hoffman and Department of Environmental Protection Commissioner Bob Martin announced that Exxon Mobil had agreed to pay the state $225 million to resolve its liability for damage to the environment and injury to natural resources caused by contamination from its refinery operations in Bayonne and Linden, as well as from company service stations and other facilities located throughout New Jersey.
The final number comes in $25 million short of the figure first reported by the New York Times, which broke the story about Gov. Chris Christie's decision to bring the case to a close after years of negotiations.
The paltry settlements — on a handful of lawsuits originally filed in 2004 by the DEP over contamination and loss of use of more than 1,500 acres of wetlands, marshes, meadows and waters in North Jersey — has many lawmakers and state conservationists fuming. Senate President Steve Sweeney (D-3) and state Sen. Ray Lesniak (D-20) have vowed to challenge Christie's settlement in court, with Lesniak calling it "grossly inadequate."
Earlier today, Lesniak called for Hoffman's resignation, should a follow-up op-ed in the Times by former DEP Commissioner Bradley Campbell alleging Christie's chief counsel "elbowed" his way into the case prove true.
Assembly leaders have also announced a date for a hearing on the issue.
"The Attorney General's statement is a snow-job in a middle of a blizzard. This is outrageous abuse of power by the administration selling out the environment and the tax payers of New Jersey," Tittel added. "This is a case that New Jersey was going to win, but the Christie Administration decided to sell out the people of New Jersey. They settled this case for pennies on the dollar."
Critics say the settlement is particularly fishy in the context of Christie's presidential ambitions: according to multiple reports, Exxon contributed $500,000 last May to the Republican Governors Association that Christie chaired last year, a post which many believe helped him lay the beginnings of a potential 2016 campaign.
And at home, some question whether money from the settlement will even find its way toward environmental clean-ups of the contaminated areas. They point to  a provision in Christie's latest budget that requires the state to use a minimum of $50 million from each settlement for purposes of cleaning up the respective contaminated sites, while anything else can be diverted into general funds and used to the administration's liking.
"This is a bigger scandal than Bridgegate," Tittel said, referring to the ongoing controversy surrounding the closing of commuter lanes by top Christie staffers at the George Washington Bridge in 2013. "Bridgegate was about retribution: this settlement is costing the taxpayers billions of dollars. When you sell out the public and let the polluters off the hook, it sends a message that you can get away with anything in the Christie Administration.  There needs to be an investigation because it looks like the Attorney General is involved in a cover-up not a clean-up."
"With this settlement, Governor Christie is saying to polluters it is open season in New Jersey. Under the Christie administration enforcement has gone done by 60% and fines have been cut by 2/3. The Governor is more concerned about taking care of corporate polluters, his national political agenda and the Koch Brothers than he is about the people of New Jersey. This looks like Governor Christie's push to run for President since he cares more about Big Oil than the environment or taxpayers," he added.
The governor's office did not return a request for comment.