There's nothing like the loud, grungy reverb of a guitar to wake you from your winter slumber. Here are seven not-to-be-missed New York rock shows that will jolt you into spring.
Action Bronson
March 24, Terminal 5
To support the March 24 release of his Mr. Wonderful LP, the Flushing-based rapper Action Bronson will celebrate his major label debut at Terminal 5, where there's sure to be mischief, mayhem and hip-hop. (We also recommend Fuck, That's Delicious, Mr. Bronson's culinary web series, if you're not familiar with the breadth of his work.)
Deerhoof and Perfect Pussy
March 28, Webster Hall
Indie-punks Deerhoof will join noise-punk band Perfect Pussy in the East Village, which should make for an energetic show, especially with support from Zula, a psychedelic pop band. We recommend a sturdy pair of tennis shoes for this one.
MisterWives
April 7, Music Hall of Williamsburg
Dance the night away to indie-pop outfit MisterWives and electro-pop duo Marian Hill, which provides the opening beats. Both acts are on the up-and-up this year, with a bunch of new music coming out in the coming months.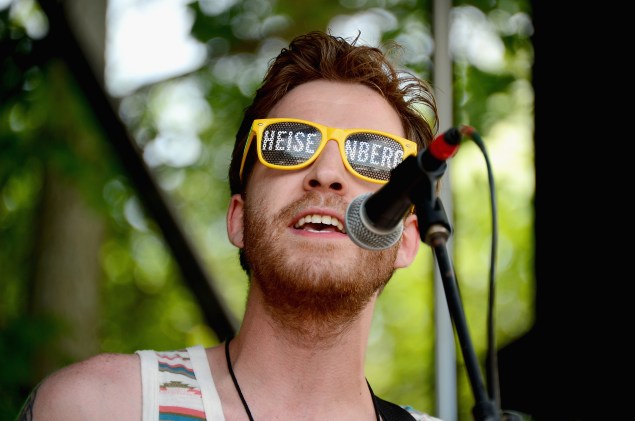 Toro y Moi
May 1, Terminal 5
Chaz Bundick, a.k.a. Toro y Moi, will ride the chillwave to New York following the release of his forthcoming record What For?, out April 7. Los Angeles-based experimental/psychedelic pop band Vinyl Williams opens.
Courtney Barnett/Chastity Belt
May 20-21, The Bowery Ballroom
The rock world erupted when Courtney Barnett announced that she'd release her debut album via indie label Mom + Pop this month. Her grungy sound, and rambling yet melancholy lyrics, garnered notice at CMJ in 2013. Her shows in the city in May, which will feature the buzzy, Seattle-based band Chastity Belt, are sure to attract a hungry indie-rock crowd.
Björk
June 5-7, The Governors Ball Music Festival
at Randall's Island Park
On the heels of Vulnicura—the recent musical chronicle of her breakup with Matthew Barney—as well as a MoMA retrospective of her work, the Icelandic-born icon (who now lives in Brooklyn) performs  at one of the city's most popular summer festivals.
Belle And Sebastian and Real Estate
June 10, Radio City Music Hall
Five years after 2010's Write About Love, Belle and Sebastian has returned with a new album and a new tour. This show—although happening at a grand venue—may prove to be one of the band's most intimate yet. The six-piece's latest record, Girls in Peacetime Want to Dance, mixes a familiar soul-pop feel with some darker subject matter (lead singer Stuart Murdoch's struggle with chronic fatigue syndrome). With the help of Real Estate's guitar-pop melodies, which will open the set, this show should be at the top of your list.