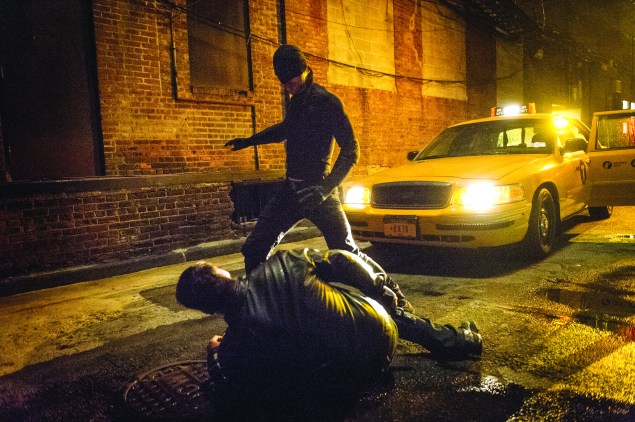 From a blind crime-fighting lawyer to M. Night Shyamalan and back, here are the top seven TV shows coming this spring.
iZombie
March 17, The CW
So (deep breath) Rose McIver plays Olivia Moore, a half-zombie who happens to work in a morgue, which supplies her with the fresh brains she needs to survive but also gives her the memories of the deceased, which she uses to solve murders. Complicated? Yes. But, iZombie is based on the popular comic of the same name by Chris Roberson, and will be helmed by Veronica Mars creator Rob Thomas. So just picture those Veronica Mars episodes you loved, but imagine Kristen Bell craving human flesh.
Odyssey
April 5, NBC
Early buzz on NBC's Odyssey reveals that it is more ambitious than your average network drama. The premise makes the case. From Adam Armus and Kay Foster, who wrote The Following, it tracks a female soldier, a political activist, a corporate attorney and the interweaving ways they are all pulled into the same military conspiracy.
The Comedians
April 9, FX
FX greenlit The Comedians for a full, 13-episode season order almost immediately after seeing the pilot, which isn't a shocking decision when you measure the comedic talent both behind and in front of the camera. Larry Charles, famous for his work on Seinfeld, Curb Your Enthusiasm and Entourage, directed the pilot from a script he co-wrote with Burn Notice creator Matt Nix and none other than Billy Crystal. Mr. Crystal himself will star as an aging comedian paired with a younger stand-up, played by Book of Mormon and Frozen's Josh Gad.
Marvel's Daredevil
April 10, Netflix
I know it's still early in the year, but I'm calling it now: The most beautifully choreographed fight scenes of 2015 will be on Netflix, courtesy of Marvel's Daredevil. We've seen the first four episodes, and this show is like no other comic book adaption on the small screen yet. The beauty of Netflix is the freedom it allows—Daredevil gets as dark as the source material requires. It's so dark, it's almost a better Batman show than Gotham, and that show actually has Batman in it. If nothing else, Daredevil will rule the comic book TV landscape for years to come.
Happyish
April 26, Showtime
Showtime's Happyish was originally meant as a vehicle for the late, great Philip Seymour Hoffman. With the actor's untimely death, the show seemed doomed to never see the light of day. Somehow, Happyish was re-piloted and Showtime managed to tap multi-talented Brit Steve Coogan to star as a 40-year-old struggling to adapt to the digital age in this darkly funny look at what it means to be truly happy.
Grace and Frankie
May 8, Netflix
If you want proof that even the most seasoned of comedy veterans are bringing their talents to Netflix's streaming services, look no further than Grace and Frankie. Bona fide legends Jane Fonda and Lily Tomlin are set to star as the titular characters, two rivals brought together after their husbands confess they are more in love with each other than their wives. Playing the husbands? Long-timers Martin Sheen and Sam Waterston.
Wayward Pines
May 14, FOX
Wayward Pines is almost like if Twin Peaks and Lost had a baby. A weird, freaky baby that also happens to star Matt Dillon. Based on what I've seen of this show so far, Wayward Pines is just the right mix of strange and compelling to elevate it to Signs-era M. Night Shyamalan, and not everything-else-era M. Night Shyamalan (Mr. Shyamalan will executive-produce, by the way.)