There's a big hullabaloo about the slew of art fairs taking place this week in New York (March 3-8) but some of the more interesting artworks to be seen are actually on view (for free) in a tight five-block radius of New York's Chelsea Gallery district.
Here, some fine art far from the madding crowds:
"The New York School 1969: Henry Geldzahler at the Metropolitan Museum of Art"
Paul Kasmin Gallery, 293 Tenth Avenue
Through March 14

Nearly a half-century ago, a curator at the Met took over 40 of its galleries and showed 20th-century art. The works were by relative unknowns then, at least to the general public, like Robert Rauschenberg, Joseph Cornell and Alexander Calder. That show is recreated here, with some of the same works, for a bracing and beautiful trip in a time machine. The gallery promises (and delivers on the promise): "If you were not yet born in 1960, this show is a reminder that a great curator can change the way the future sees."
"On View: Selections from the Troemel Collection," Brad Troemel
Zach Feuer Gallery, 548 West 22nd Street
Through March 28
Fans of this artist's work are as likely to pull out Time magazine's list of "Best Tumblrs in the U.S.," (which Mr. Troemel made in 2013) as they are poetic screeds by art critics. Here, the "New Media" artist and micro-blogger assumes the pose of an art collector. The witty conceit of this show is that he has amassed his own collection of works by "CTAs," or "celebrity-turned-artists, a developing arts economy."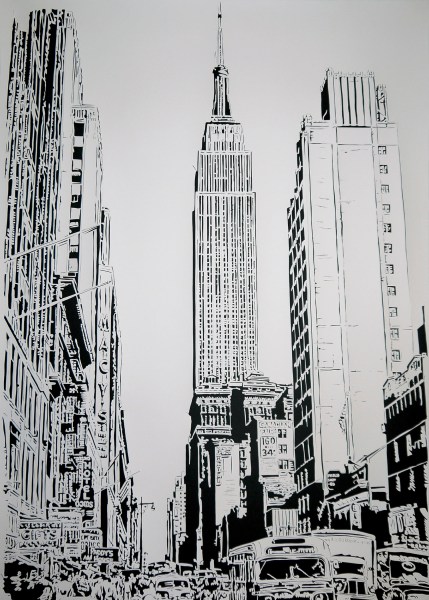 "Thomas Witte: Anonymous Population: New York 1951-1980"
Davidson Contemporary Gallery, 521 West 26th Street
Through March 21
Artworks by this New Jersey artist look like no one else's in the world: Slicing into huge sheets of white paper to make areas of light and dark, he creates scenes so intricate and detailed they seem like photographs. This particular series by the so-called "paper cut" artist recreates archival, mostly mid-century images of New York, from the Central Park boat pond to a Fifth Avenue parade.
"Shadows," Alfredo Jaar
Galerie Lelong, 528 West 26th Street
Through March 28
This artist's work has always been refreshingly political in an era when easy-to-digest abstraction is far more saleable, but his career has nonetheless spanned three-plus decades. A Chilean native who has lived in New York much of his life, Mr. Jaar's work is often about the so-called "third world" and "first world," and how the gulf between the two is isn't as wide as some might wish to believe. This unusual exhibition is based on a 1978 photograph, not Mr. Jaar's own, of two women in Nicaragua learning of their father's death.
"Julie Mehretu: Myriads, Only By Dark"
Gemini G.E.L. at Joni Moisant Weyl, 535 West 24th Street
Through March 28
Born in Ethiopia and raised in Michigan, this artist's often large-scale work has won acclaim and awards ranging from the so-called "genius" grant to prime placement for her 80-foot-long Mural in the Goldman Sachs lobby. But perhaps no distinction has generated more talk than her inclusion in the Museum of Modern Art's current survey of Contemporary painting, "The Forever Now." (Ms. Mehretu is one of the 17 chosen few featured in the controversial show.) This gallery show features aquatints more than six feet high that still manage to evoke a quiet delicacy.
"Charles Ray" and "Tony Smith"
Matthew Marks Gallery, 523 West 24th Street (Charles Ray); 522 West 22nd Street (Tony Smith)
Through April 18
Within the art world, this gallery's program probably generates nearly as much heat and interest as Larry Gagosian's, but is much quieter about it. This month, two powerhouse sculptors are featured: Pioneering Minimalist Tony Smith and the fiendishly inventive Charles Ray, who does mostly figural sculptures that play havoc with the viewer's perceptions. Ray has the unusual distinction, in a faddish Contemporary art world that disposes of artists like gum wrappers, of being featured in five Whitney Museum of Art Biennials over 17 years.