PHILADELPHIA — Try getting into the Union League in downtown Philadelphia without a suit and tie — or a six figure salary and family pedigree connecting you to one of America's founding fathers — and you might as well have shown up in nothing at all. The place is exclusive, in the most literal sense of the word: founded in 1862, the League is one of the oldest "legacy clubs" in the country, a time-honored watering hole for some of the most important and elite members of Pennsylvania's (and probably beyond) political society. Anthony Drexel, the notable philanthropist and financier, once stalked the halls here — as did, no doubt, too many other famed leaders and lawmakers to name.
The building itself, a massive brick-and-brownstone structure done up in Second Empire architectural style and occupying an entire square block off Broad Street, conjures up the very idea of money and prestige.
All of which, of course, makes it the perfect testing grounds for future presidential candidates. More recently, the League has played host to prospective candidates for the 2016 Republican nomination, who have come to vet themselves in front of some of the country's top GOP leaders and donors. Last night, Jeb Bush, the former Florida governor, younger brother and son of two former presidents, and would-be candidate for the post himself, was here.
Tonight, it was Gov. Chris Christie's turn. Preceded by a protest earlier in the day of paid sick leave advocates demanding the governor take up the issue in their own state, Christie's own event turned out several powerhouse Pennsylvania politicians, including Congressman Pat Meehan of Pennsylvania's 7th District, Pennsylvania businessmen Frank Giordano and John Silvi, and Montgomery County's Robert Asher, who serves as the state's committeeman on the Republican National Committee and hosted the event. The minimum donation was $1,000 per person; maximum of $5,000 per person.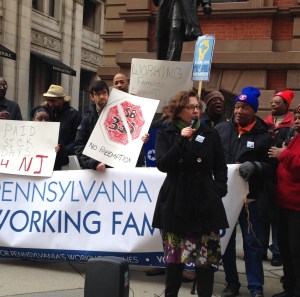 Christie, himself mulling a presidential bid, was the special guest.
Under a chill drizzle, a few desperate reporters posted up outside the League's side entrance to — hopefully — glean some idea of what went on inside the private affair from willing guests. At half past five they began to arrive: some of the area's biggest Republican movers and shakers in suits and evening gowns, spilling out of black Cadillacs and SUVs onto the sidewalk, walking briskly into the building. There was Jon Runyan, the former Eagles offensive tackle and congressman from South Jersey's third district; there was Greg Osberg, former chief executive of the Philadelphia Inquirer. Christie's own entourage, two black SUVs manned by the New Jersey State Police, idled outside the back entrance.
The event was quick, over almost as soon as it began. One departing guest, who requested to remain anonymous, said Christie talked extensively about President Barack Obama and his policies at the national level, which the guest said was mostly negative in nature. He added: "I like [Christie]. He's a tough talker."
Despite numerous attempts, few others opted to spill details.  But trailing the very last attendees leaving the dinner was — lo and behold — Asher himself, whom PolitickerNJ did happen to talk to about how the whole thing went.
"The turnout was excellent," Asher told PolitickerNJ, as he made his way into the parking garage across street. "The governor was very much on target, the things that he felt America had to do going forward, and he articulated them very well. He was well-received, and we all think that he's one of the people in play going forward for the potential big prize — if he so desires doing so."
Asher was here last night, too, for what he called the "personal meeting" portion of Bush's visit. He and 12 of his "associates", he said, sat down with the former governor. That event also doubled as a fundraiser, turning out people like Carl Buchholz, managing partner of DLA Piper law firm, businessman Manny Stamatakis, and Charles G. Kopp, senior counsel at the Cozen O'Connor law firm.
---

"'Ted Cruz,' Asher began with a smirk, 'is Ted Cruz.'"

---
The default favorite for the establishment wing of the GOP, Bush has been quick to make inroads among donors and bundlers over the last few months. He's made easy work of scooping up cash and commitments with the help of his leadership PAC, Right to Rise, and he's done it often at the expense of Christie's own burgeoning campaign: Bush has held multiple events in and around the tri-state area in recent weeks, encroaching on the kind of support experts say would otherwise go to Christie, the other establishment candidate considering a run.
But Christie also has been working hard to secure his own spot in the race. He's founded his own leadership PAC, called Leadership Matter for America, which he chairs and appeared on behalf of at the League tonight; he also now has a Super PAC backing him, called America Leads, founded by his allies earlier this month. And he'll follow up today's fundraiser with two others on Thursday, when he'll travel to Huston and Dallas (Bush also has a fundraiser, to be attended by his older brother and former president George W., scheduled in Dallas later this month).
Asher, when asked, wouldn't say which Republican made the bigger splash. He said he has "not yet committed" to either's presidential run. Pennsylvania's Republican Party, he stressed, is still shopping for the right candidate—a list of which also includes Wisconsin Governor Scott Walker, who's emerged as somewhat of a frontrunner these last few weeks, and Florida Senator Marco Rubio. Both will visit the League in the coming weeks.
"I support the governor, but I have not yet committed to his presidential run," Asher said of Christie. "We had Governor Bush here yesterday, we'll have Governor Walker here next week, and then we're going to bring up Senator Rubio. So we're talking to all the candidates, but certainly Governor Christie is an outstanding representative of our party."
And what about Texas Senator Ted Cruz — the first candidate to officially jump into the 2016 race?
"Ted Cruz," Asher began with a smirk, "is Ted Cruz."