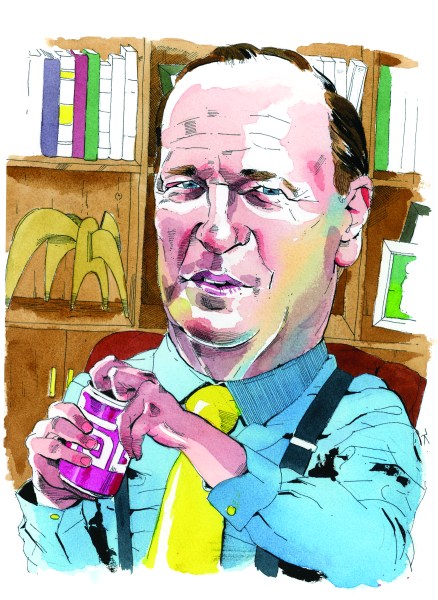 Steve Brill, 64, has the air of an old-school media mogul despite his less than impressive, standard-issue office. When we walked in last week, the founder of Court TV and author of the best seller, America's Bitter Pill: Money, Politics, Back-Room Deals and the Fight to Fix Our Broken Healthcare System, was wearing blue-and-white suspenders and a yellow tie. On the walls were framed stories he had written. Nestled among family photos, we spotted the National Magazine Award he won for a 2013 Time magazine story, a precursor to his latest book. He unwrapped a cigar and fiddled with it during the interview. He sipped a can of Tab. When it was empty, he replaced it with a fresh can from his mini-fridge.
In your book, you write about health care costs as both a reporter and a patient. As I was just beginning to think about how to sit down and write it, I was told by my doctor during a totally routine checkup that I had this bubble on my heart and every year it has a 17 percent chance that it will burst. I said, "Oh, what happens if it bursts?" He said, "You don't even get to the emergency room. You just die." So three days later, I was in the hospital and it became the first scene in the book.
After doing so much research on health care bills, did you expect your heart surgery to end up costing $190,000? I remember telling my wife that the whole thing will be $150-$200,000. I got it about right.  
You wrote a 24,000-word cover story about health care costs for Time. But the story was originally slated for The New Republic's re-launch issue. What happened? [Then-TNR editor] Frank Foer and Chris Hughes came to see me. Chris said he just bought this magazine and was planning to relaunch it in January as a serious magazine of long-form journalism, not your old-school Washington wonky magazine. I told them I'd been thinking about why health care costs so much in this country and they offered me a pretty large amount of money to write it for the cover of the relaunch issue. I went home and told my wife that I was going to do that health care thing for The New Republic. She said, "God, are you a schmuck. You should give it to Remnick." That summer, we went to a dinner party. Ken Auletta was there and he asked me what I was working on and who I was doing it for. When I told him, he said, "You're out of your fucking mind. Why didn't you give it to Remnick?"
Six days before the story went to press, I got a call from Chris Hughes. He said he had good news; he had gotten an exclusive interview with President Obama in the Oval Office. I said why is that good news? Obama's giving interviews out like candy and presidential interviews always suck. He said no, it's an exclusive interview in the Oval Office. He must have repeated Oval Office nine times, like he couldn't believe he was getting to go to the Oval Office. But, of course, that meant that he couldn't give me the cover he had promised me in September. But don't worry, he said, it will be on the cover of the second issue. I said, "No it won't." So I messengered back the check and sent the article to other magazines, and Rick Stengel said he would do it in Time. Frank Foer later told me the thing that stunned Chris Hughes was that he didn't realize I could just write a check and messenger it over that day.
In light of that experience, were you surprised about by what happened at The New Republic in December? Not at all. I was just surprised it took that long. In defense of Chris Hughes, I remember thinking to myself, that is exactly the kind of rookie mistake I would make at 29. So the mistake was easy to give him a pass on. But lying to me wasn't. And it was also a mistake to promise someone a cover sight unseen. But it was just that he wasn't honorable that really pissed me off.
What's going on with the new journalism venture that you and Jill Abramson are starting? When Jill and I announce who our partner is, it's going to be a big deal. We'll probably announce in three or four weeks. We almost did a deal with somebody else about two months ago but they started changing the terms of the deal after they agreed to it. I said to Jill it was like a Chris Hughes thing. Sometimes when you think you have really bad luck, it's actually good luck. Thank God that this guy Chris Hughes is not a man of his word, or I would have been stuck having it published in The New Republic.
You founded Court TV in 1991. With the success of Serial and The Jinx, do you think that there has been a resurgence of interest in true crime? I take issue with your notion of a resurgence of interest in true crime. People are always interested. It's why Court TV worked. It's natural drama, there's a beginning, middle and end, and people want to know what happens.
What did you think of Serial? I was bored to death by it. Am I going to get lynched or something for saying that? I would much rather have read it, because it just takes too long to listen.
What about The Jinx? I thought it was well-done except for one basic, crucial, fatal lapse in journalism. Once they catch him at the end muttering to himself, if you're a journalist, you go back and ask him what he meant. The basic rule of journalism is you ask people for comment.
How many cans of Tab do you drink a day? I just read something this morning somewhere that said that if you drink diet soda, you actually get fatter. I didn't read why that is, but I think I'm going to start cutting down. But I probably drink three or four a day.
I haven't seen Tab in a while. You gotta know where to look. It has the highest profit margin of any soft drink because they don't advertise.