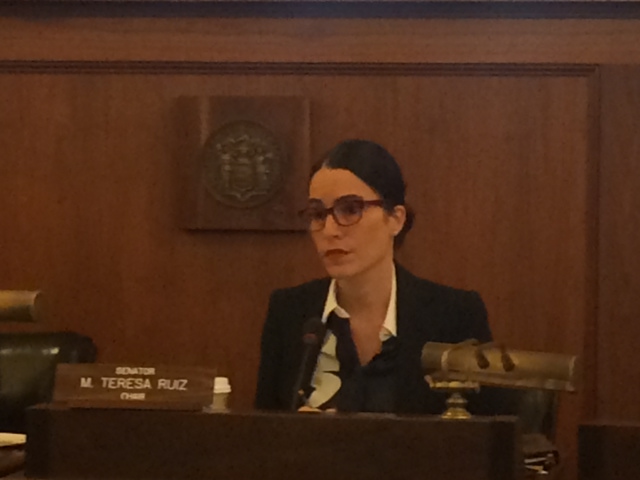 TRENTON — Following testimony from Department of Education Commissioner David Hespe on the ongoing roll out of the state's PARCC examinations here today, state Senator and chair of the Senate Education Committee Teresa Ruiz (D-29) said she thinks there are still "a ton" of questions to be asked and answered.
Speaking at a hearing of the Senate Education Committee, Hespe sought to clarify a flurry of questions and "misinformation", as he called it, that has surrounded the exams in recent weeks. Hespe said while there has been some opposition to the exams, which are taken on computers and aim to meet "Common Core" standards promoted by the federal government, participation so far has been "very strong."
It was the first time the DOE addressed the legislature on new standardized tests, now a few weeks into their implementation in New Jersey, where they're already causing some serious controversy among parents, teachers and lawmakers.
"There's a ton of questions still to ask," Ruiz told PolitickerNJ following the two-hour hearing. "I think that everyday, (from) some of the parents that were here and that I have spoken to, there will be more questions. Anything that is new and that we're implementing – until we get used to what those new processes are, and how we're going to strategically do it throughout our districts and what policies [polices] are in place — we're going to have questions all the time, and should have questions all the time."
While lawmakers during the hearing thanked Hespe for his testimony, many questioned its timing, wondering why the commissioner choose to address the legislature after, and not before, testing schedules had already started. There were also complaints about a lack of answers to questions about the exam's ongoing impact and reception among schools, which Hespe suggested he did not yet have because testing hasn't ended (another exam period is set to take place in May).
Ruiz, for her part, called it a "good opportunity to quell" negative sentiments that have surrounded the exams in recent weeks.
"We were able to address a lot of the subject matter that were asked in both houses of the legislature. But it's the first time they came in, I'm sure we could've been here for another eight hours talking about the same thing," she said.
Ruiz said she hopes to have Hespe back after the next round of testing concludes, so lawmakers can get a better sense of "opt-out numbers and hear from parents.
"This is not the only time this committee will be discussing PARCC," she added.