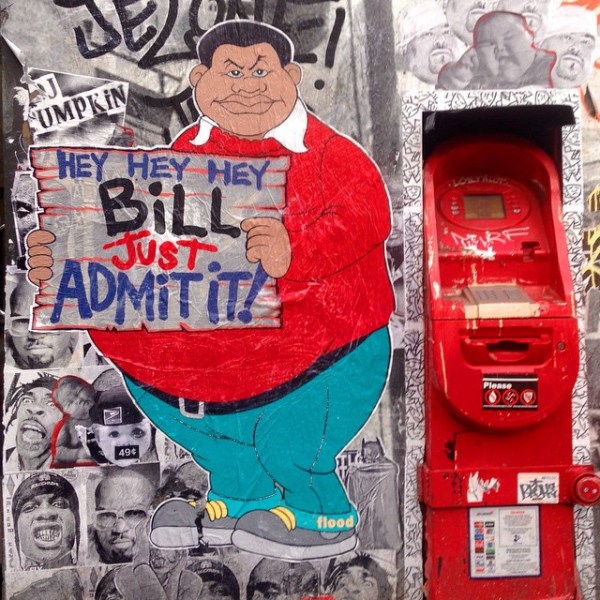 Bill Cosby has even got Fat Albert annoyed. After new alleged victims of sexual assault came forward against Mr. Cosby last Friday, pressure continues to mount on the comedian. Mr. Cosby has routinely denied allegations directed at him, but street artist FLOOD has made sure New Yorkers are reminded of the numerous claims made against the entertainer.
Earlier this year, FLOOD pasted a piece in Manhattan showing Mr. Cosby's creation, the usually jolly Fat Albert, with a stern look on his face, holding a sign asking for the comedian to admit his guilt. Aside from the character's atypically somber facial expression, the piece is a spot-on homage to the character, and even includes his catch phrase, "Hey Hey Hey."
And FLOOD hasn't stopped there, he expanded his paste-up campaign to include one of Albert's companions, Mushmouth. The artist shows Albert's quiet friend holding a sign that reads in the character's signature muddled dialect, "Hey Ba Bill Just Ubah Admit it!," which is featured—along with the Fat Albert work—on the artist's Instagram, artnet News reported.
While Mr. Cosby may continue to deny his wrong doings as more accusers come forward, FLOOD isn't letting him off the hook and he's keeping the subject front and center for New Yorkers.
FLOOD sent the following statement to the Observer about the ongoing project:
I plan on bringing this campaign to Philadelphia as well as drawing all the Fat Albert characters in many ways protesting n prodding their creator to just admit it. — Flood Rock
https://instagram.com/p/0065GTP-rJ/?taken-by=floodclub