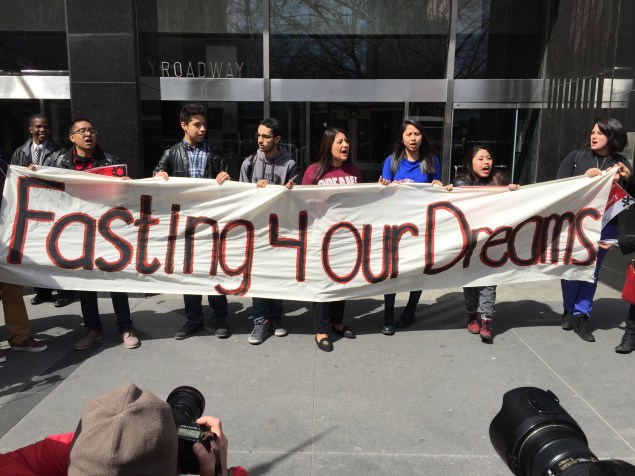 Advocates for the DREAM Act woke up to bad news Tuesday when Governor Cuomo announced that the immigrant friendly reform could no longer be involved in the proposed budget for New York State. The DREAM Act, which intended to provide undocumented immigrants who are high school graduates the ability to earn financial aid for college, was dropped after Democrats and Republicans could not agree on a proposal linking education tax credit with immigration reform.
In response, dozens rallied outside of 250 Broadway in downtown Manhattan on Wednesday to support the inclusion of the DREAM Act in the upcoming budget.
"Knowing that the New York State Dream Act was not included in the budget was shocking, a lot of us were in classes, so we literally ran out find out what was going on," Monica Sibri, founder of the program CUNY DREAMers at the City University of New York, told the Observer. "We decided to organize a hunger strike to send a very clear message: that Carl Heastie our speaker needs to step up, and needs to be make sure the New York State Dream Act is in the budget."
Assembly Speaker Heastie, met with the DREAMers on several occasions and pledged his support for the act, even though a Republican majority Senate is proving to be unwavering on the issue. Advocates for the act argue that it would only be worth $27 million of the state's projected $150 billion budget.
Manhattan councilman Ydanis Rodriguez believes the state has failed from an investment perspective.
"Investing more than $200,000 in a child that went to a school from first grade to high school, and then [not investing] an additional $27 million so that they can become the next doctor, engineer, architect, it doesn't make sense," Mr. Rodriguez, who immigrated from the Dominican Republic when he was 18, told the Observer. "Every year we go to Asia, Europe, Latin America, to recruit… and here we have a group of students that are ready to be the next work force of the city."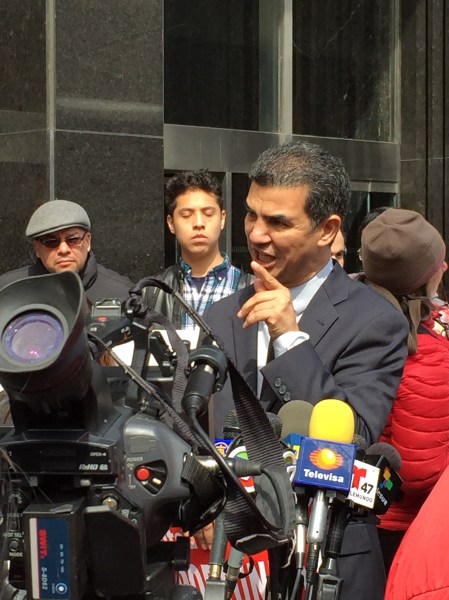 One of those students is 18-year-old Guadalupe Muller, who is a freshman at Guttman Community College located near Bryant Park. Ms. Muller came to the United States shortly after her first birthday and is part of the CUNY DREAMers. Despite living in the United States virtually her entire life, Ms. Muller was unable to receive financial aid for college, nearly forcing her to drop out of school last semester. She hopes the hunger strike will draw the attention of Albany and attract other  undocumented immigrants to join the cause as well.
"We are really here to advocate for others that are doing midterms or are afraid to speak up," said Ms. Muller, who lives in Sunset Park, Brooklyn. "We really want the DREAM Act.. not only for us but for millions of others that are like us in this situation. We need the politics to feel the effect, to feel that it's not just a couple of us, that it is many of us."
While negotiations on the new state budget expect to come to a close on Friday, the DREAM Act was not the only immigration related issue in the news this week. Yesterday afternoon outside of the Federal Plaza, many rallied to condemn the United States' use of detention centers for refugees trying to enter the country. Many times the families are separated as a result of these facilities, and the predominantly women and children who inhabit these centers are exposed to dirty water, inadequate food, and overall poor living conditions.