Oh no, there's a blizzard during Armory Week, quelle horreur! I mean, people came in from around the world for this, a few flakes aren't stopping anyone. The show must go on. And so, tonight, Andrea Rosen Gallery will have an opening reception for "Enigmas," a group show of Martin Barré, David Ostrowski, Julian Schnabel, Reena Spaulings, and curated by Alison Gingeras. But nowhere in the ample press materials is anything said about Ryan Trecartin. And there's no mention of an exhibition on the gallery's website.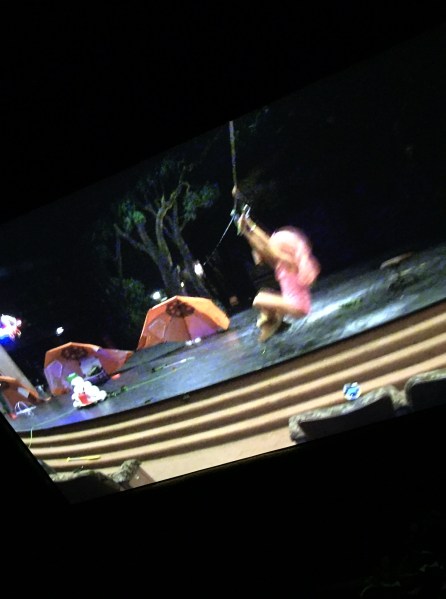 There is no opening, no press release, no fanfare, but there is indeed a new installation by Lizzie Fitch and Ryan Trecartin in a hidden back room of the gallery.
I was tipped off to it earlier today, and thought it was odd no one had mentioned it before. With the New Museum Triennial that he co-curated alongside Lauren Cornell earning raves on the Bowery, his profile is as high as ever. You'd think everyone would be talking about a new show of his, no matter how small it is.
And so it was on to Andrea Rosen, and I walked through the gallery to the back, where there was a room covered by a black curtain shivering, rumbled by a noise, and when pushed away there's written on the wall "Lizzie Fitch and Ryan Trecartin: Yielders Path." I walked inside to see, in the shadows, seats seemingly ripped out of a movie theater, a futon unfurled beside them, some trees that could have been real or fake, and some things that appeared to be thermal blankets, along with a log, and some carpeting. Here it is—the cracked-out, anti-domestic bedroom perfect for Mr. Trecartin's quest to demolish the notion of the nuclear family. Oh, and on the ceiling is a brand new Trecartin film, with the sound hooked up to unseen speakers so powerful the walls and floor shake when it gets loud. It gets loud a lot. Screams punctuate a scene where otherwise peaceful quadcopters float around a room. Chandeliers explode. Lil John's signature exclamation, his barbaric yawp—"YEEE-AYYAHHH!"—gets sampled and dropped quite often into the mix.
I had to lie down and take it all in.
There were guys in drag with painted faces riding zip lines. There were crude computer-generated trees wrapped in Coca-Cola logos floating through like sky like a '90s screen saver. There were more scenes of quadcopters.
I was alone until a photographer friend of mine happened to come in. She was just stopping by the gallery and heard noise—she had no idea there was a Trecartin video.
So, it's a typically engaging, hilarious, horrifying, technologically savvy and eye-opening work from Ms. Fitch and Mr. Trecartin. And it's hidden—for now. It's always fun to feel like you're discovering something secret, but once word gets out about this installation, that tiny room will be packed all the time.