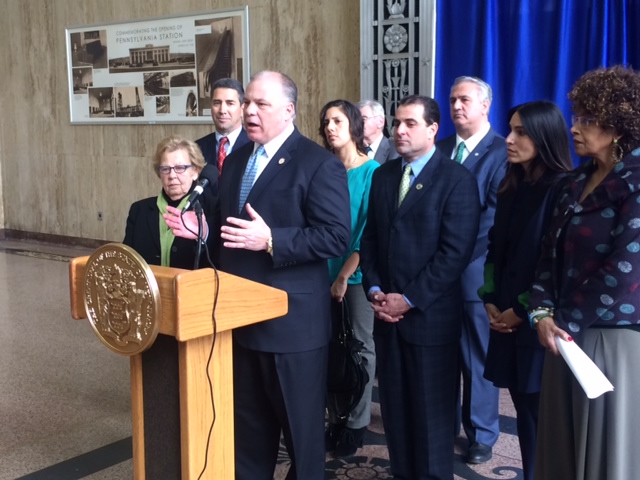 NEWARK – State Senate President Steve Sweeney (D-3), flanked by ranking Senate members, business and labor leaders, called on the Port Authority of New York and New Jersey to sell some of their considerable real estate holdings to pay for the construction of a new railway tunnel between the two states.
"We cannot afford to have a tunnel shut down. If a tunnel shuts down, three quarters of the rail traffic shut down with it, which will cripple the economy of this state," said Sweeney in reference to the more than 100-year-old tunnels currently carrying hundreds of thousands of commuters underneath the Hudson daily. "The federal government needs a commitment from New Jersey and New York to fund a third railway tunnel. That's why we're talking about the Port Authority selling off real estate assets to generate that funding."
The assembled officials were not specific about which of the Port Authority's real estate holdings they had in mind to be sold, although the World Trade Center was reportedly on their wish list.
"They list $12 billion in real estate holdings. In reality, we think there is about $3 billion that could be leveraged right now," Sweeney said on Tuesday. "I'm not going to name specific properties, because that creates a rush for the Port Authority to designate those properties when the time comes."
Other state legislative leaders, standing behind Sweeney in Newark's Art Deco Penn Station, chimed in to back pressing the Port Authority to make the real estate sales needed to jump-start construction of a new rail tunnel, known as the Gateway project.
"If we don't invest in our infrastructure, starting now, the state is going to continue on a downhill road. We need a new tunnel. We need funding for a new tunnel. It is past time for the Port Authority to get back to their basic mission: transportation," said state Senate Majority Leader Loretta Weinberg (D-37). "Heaven forbid something happens to the existing tunnel. This whole region would fall apart, and it's being held together right now by Scotch tape."
"This proposal gives the federal government the seed money that is needed to secure the federal dollars that are needed to begin this project," said Senate Budget and Appropriations Chair Paul Sarlo (D-36), a trained civil engineer. "It is a project that is greatly needed not only for North Jersey, but for the entire state of New Jersey."
Tuesday's press conference came a day after an override of state Senator Bob Gordon's (D-38) bill to reform the Port Authority failed on the Senate floor.
Sweeney, a potential 2017 Democratic gubernatorial candidate, said that Tuesday's event had nothing to do with Monday's vote.
"That has nothing to do with this," Sweeney said. "This has to do with investment and transportation, period."
"If we had this bill, which New York and New Jersey passed and both [New York Governor Andrew Cuomo and New Jersey Governor Chris Christie] vetoed, we would have more leverage over the Port Authority," Weinberg told PolitickerNJ. "I have no faith in what's going to happen there in the future."
"Consistent with the recommendations of the Governors' Special Panel on the Future of the Port Authority, the Port Authority is focused on meeting the increasing requirements for Trans-Hudson transit capacity at our crossings and terminals in coordination with regional stakeholders, and prudently divesting non-core real estate holdings in order to focus on our core transportation mission," said Port Authority spokesman Steve Coleman in a written statement. "Agreements we have made in recent years for the Essex County Resource Recovery Facility, the Newark Legal Center and the Westfield World Trade Center retail and are examples of this strategy of reviewing and disposing of non-core real estate holdings."
Martin Robins, director emeritus of the Alan M. Voorhees Transportation Center at Rutgers University, looking at the lack of a long-term solution for funding the state Transportation Trust Fund, framed the legislators' proposal in the light of urgency.
"Amtrak has said that the tunnels were very badly damaged by Superstorm Sandy. They are saying they will have to close down the tunnels for one or two years each for a significant overhaul. That is a prescription that is unacceptable to this region," said Robins, the director of the Access to the Region's Core (ARC) rail tunnel project at its inception in the mid-1990s. The project was cancelled by Christie in 2010. "We cannot reduce the rail access to Manhattan to just one tunnel at a time. It would be an economic disaster for northern and central New Jersey. It's absolutely imperative that they build additional tunnels. This just has to happen."