There is an old John Travolta line from "Welcome Back, Kotter," where, grinning and surrounded by friends, he turns to the camera and says simply, "This is my place, and these are my people."
No better words describe The Art Show, founded in 1988, just as the great art boom that has lasted on and off for nearly three decades, was just about to take off.
There's a cult-like, clubby–and competitive–energy to this show in the Park Avenue Armory. There are dealers and collectors who've never missed one, and sheets of slushy snow were not enough to defeat tradition last night.
It's a smug crowd, not because they are all rich, which they are, but because they think they invented the whole subsequent art adventure that has gripped the world. Which is largely true.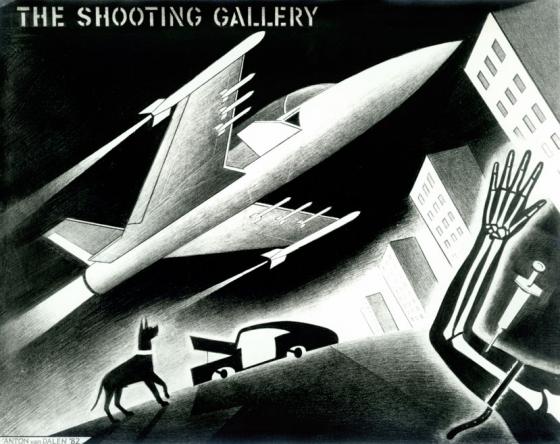 Warhol, Calder, Pollock, and, further back in the canon, Whistler and Marin, hung the walls. Crowds clustered at Lehmann Maupin's booth for the Tracey Emin show. Sean Kelly started selling small-scale, striking Antony Gormleys from the get-go. Jim Dine works looked fine indeed at Pace; a Cincinnati gallery has a magnetic Nam June Paik installation.
All the art shows in town this week have their plusses, but this is the one where veteran gallerists who have to read about "Gagosian-Gagosian-Gagosian" all year long (truly, the over-accomplished Marcia Brady of the art world) get to say, with their own wares: "So there!"
Robert Mnuchin, at his gallery's own booth at the front of the fair, was justifiably giddy at his duo of Frank Stella geometrics. He explained (quoting Eugene Thaw about Pollock) that, now that 50 years had passed, it was okay to call them beautiful, which at the time they were made would have been considered an insult.
Two Jackson Pollocks, circa 1941 and $150,000 a piece, made Washburn gallery the favorite of Charlie Bergman, chairman of the Pollock-Krasner Foundation.
Not everything is great of course, by any means, but there was enough good so that Andy Warhol Museum director Eric Shiner was initially flummoxed when asked for his favorite booth, then picked Luhring Augustine. A stunner, they were showing new work by Arte Povera star Michelangelo Pistoletto, whose three-panel-mirrored painting created an illusion in which everyone entering the Armory was crowded behind a velvet rope.
Later, outside in the snow, the museum director sprinted over to us: "I change my mind! P.P.O.W. gallery! [Which is showing works by Anton van Dalen] Go look!"
The Art Show is open through Sunday.