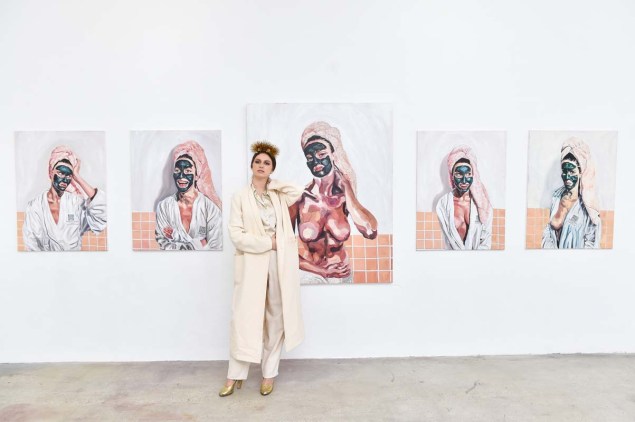 On Tuesday morning, Francesco Clemente walked into Catherine Ahnell Gallery in Soho to see paintings by Tali Lennox, a 22-year-old artist with no formal training who is having her first solo show.
"He loved it," Ms. Lennox said, mentioning that they talked a ton about the location of the gallery, the Soho that Mr. Clemente once ruled. "He was like, 'This is what it was like—I had my first show on Greene Street.'"
Many would argue quite convincingly that one of the iconic painters of the 1980s came to stop by a young woman's first-ever show—which is called "Tali Lennox: Layers of Life," which opens tonight—because her mother is Annie Lennox, the lead singer of Eurythmics. Such people would also say that her status as a high fashion model and frequent appearances in London tabloids and stateside fashion blogs are the reason for any attention as an artist.
"I'm aware that given what I've done in the past—and having a well-known parent—that people will be very quick to judge my path more than others, but I have to just not care," she told me.
There were splatters of paint on her white t-shirt and ripped jeans, and on her arm she had written, in loopy cursive, "follow the light." She wasn't wearing any makeup.
"Art is subjective," she said. "I'm not looking for people's praise."
It goes without saying that, yep, many have already judged her based on her mother and based on her past. The reception in style and lifestyle publications has been rampant and rapturous, with coverage in Elle, W, Harper's Bazaar, Style.com and a print feature in the April issue of Vogue. When I arrived, there was a prominent former model interviewing Ms. Lennox for Diane von Furstenberg's website. The New York Daily Mail seems to monitor her every move.
No art publication has mentioned her work at all. And that makes sense, to some extent, as she's showing in a gallery few have heard of, in a neighborhood the dealers abandoned decades ago; she has no MFA from Yale, she hasn't worked as a studio assistant for a prominent artist to pay her dues and she hasn't done her time in Berlin. Though to call Ms. Lennox a "celebrity" wouldn't be accurate; it's fair to say the powers that be would never fully accept a celebrity-turned-artist. The great Brad Troemel brilliantly skewered that concept of the CTA (Mr. Troemel's preferred term) with his recent show at Zach Feuer, where he displayed his collection of art works made by the likes of Bam Margera from Jackass and the actress Jane Seymour and the lead singer of Incubus alongside his own works.
But also, perhaps for this reason more than all the others, critics will not write about the show because Tali Lennox is a young woman.
"I think you can see it in the work—female emotion, female strength, female fragility," she said. "Because I am a woman."
"She's the first woman I've given a show to," said Catherine Ahnell, who opened her gallery a year ago.
(Ms. Lennox told me that Ms. Ahnell didn't know about her background when they met through friends and arranged for a studio visit, so maybe the fact that Ms. Ahnell was named "Supermodel of the Year, 1984" by Ford Models is a coincidence.)
I'm no Eurythmics fanatic, nor do I follow the travails of It Girls on gossip websites, so I didn't find myself in what's now a gallery dead zone on a Tuesday evening for these reasons. I was intrigued by the work. Yes, perhaps I wouldn't have opened the email if that last name didn't ring a bell, but once I did, there was something refreshing about the paintings.
And they do look good in person. Made over the course of a month while Ms. Lennox was living in a tiny bedroom that Ms. Ahnell installed in the gallery, the paintings display Ms. Lennox in various states of undress, or imagining herself performing as different characters, à la Cindy Sherman—Tali as a debutante, Tali as a lush, Tali as as a man, Tali as a baby (Mr. Clemente's favorite, she told me). There are five paintings of her in a bathroom: four of them small works of her smiling broadly in a bathrobe, one larger one with the bathrobe taken off. In one painting she appears to be brutally beaten up. Others obscure or alter her face in ways that make her unrecognizable.
"They don't look like me, they don't look like each other, it's more about exposing the inner realms—it's what we see inside ourselves," Ms. Lennox said. "Sometimes I feel like a man, sometimes I feel like a child."
Such phrases like "it's what we see inside ourselves" come off as platitudes, but she had been doing interviews for hours, for days, and anyway it doesn't seem like she has much interest in speaking in the grad-speak of catalogues when describing her work. She doesn't seem to have much interest in that world at all.
"I don't want to do things because it will please other people," she said. "I'm not doing this to get fame or any attention. I try to be selective about who I get advice from. I would like to contribute to the art world, but, you know, you can't plan these things."
(Though, because this is indeed a commercial gallery, the works are on sale, for $8,000 to $16,000, which seems a tad high for a debut solo show.)
I told her that the art world is just as vain and petty as the fashion world, if not worse. Maybe she's seeing some parallels.
"But this, for me—it's something I create with my own hands, it's something that's more reflective of me," she said. "Modeling, I'm just dressing up. They're completely different."
Looking again at the slightly smudgy impressionist works, all essentially free of irony, I couldn't help but think of the first solo show for another artist, also a young woman with work touching upon the feast and famine of fame: Elizabeth Peyton's 1993 show in room 828 of the Chelsea Hotel, put on by Gavin Brown. I realize that's extreme exaggeration, or at least premature, as Ms. Lennox is still developing and Ms. Peyton was years into her career—but still, that's what I thought of. That show, too, got little attention from the art world—the legend stands that only 50 people saw it.
Then again, when I returned to the gallery Wednesday night for a private, invitation-only reception for "Tali Lennox: Layers of Life," there were seemingly 50 people outside waiting to get in. A friend pulled me up, and past the Champagne bar was a collision of the worlds of art and fashion and English society. Princess Eugenie of York, so far the only royal to work at Paddle8, was there, along with fellow Brit Bonnie Wright, a woman who a good chunk of the world would recognize as Ginny Weasley from the Harry Potter movies. There were fashion designers and the models they play dress up with. There was fashion photographer Arthur Elgort, and he was speaking to Annie Lennox herself, who did indeed come to see her daughter. Tali flitted around, dragging her boyfriend Ian Jones—who is a model-turned-photographer, of course—through the crowd as she doled out hugs.
And what of the work? Well, people were actually talking about it, which is more than you can say for most openings in Chelsea.
[Correction: An earlier version of this story referred to a man speaking with Annie Lennox as "fashion photographer Ansel Elgort." In fact, the fashion photographer in question was Arthur Elgort. Ansel Elgort is his son, an actor currently starring in The Divergent Series: Insurgent. The error was pointed out by this reporter's younger sister, a teenager, who noted that Ansel Elgort is "vaguely attractive."]