Every two years since 1996, the Guggenheim Museum has parceled out an especially impressive and lucrative honor: The Hugo Boss Prize. Named after and funded by the German luxury clothier, it carries with it a grant of $100,000 and something even more valuable to the career of the artist winning it, a featured exhibition at the museum.
In 2014, Nancy Spector, the Guggenheim's deputy director and chief curator, along with selection committee, picked Paul Chan. The Hong Kong artist, best known for infusing haunting and emotional works with a dose of politics, joined a roster of Hugo Boss certified artists that includes Matthew Barney, Douglas Gordon, Danh Vo and Rikrit Tiravanija. His exhibition, titled "Nonprojections for New Lovers," opened earlier this month in New York and runs through May 13, 2015.
For an artist who has repeatedly stated that he prefers noble failure to commercial success, this moment is something of a challenge. "I am very grateful and I am honored that Hugo Boss and the Guggenheim would honor someone as questionable as me," Chan told the Observer recently, with a smile. Chan was born in Hong Kong in 1973, grew up in Nebraska and currently lives in New York City.
"I am always looking for bigger and grander stages to fail on and I haven't changed my mind about that," he said, half-laughing. "I am not looking to succeed in any sense of the term. I am looking to make something that will at least hold my attention in a way that makes my time on Earth worthwhile."
"Paul's protean ability to work across multiple platforms from his videos to his more elegiac light pieces and community-based performances is what particularly stood out" and earned him the win, said Ms. Spector, Chan, who is represented by Greene Naftali Gallery, also runs a publishing house, Badlands Unlimited.
From the outset of his career, Chan has worked simultaneously as political activist and artist, equally engaged in the two parallel careers. The artist's first major video piece, Happiness (Finally) After 35,000 Years of Civilization, created from 1999 to 2003, employs the surrealistic drawings of American artist Henry Darger to examine the failure of utopianism, the depressing reality of recurrent wars and the disappointments of present-day political systems.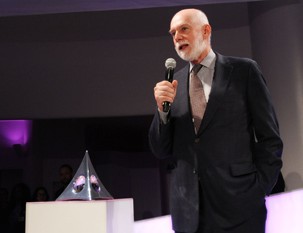 In The 7 Lights (2005–07), entire rooms are transformed by swirling silhouettes, including figures falling through space, in this homage to the World Trade Center tragedy.
During the same period, Chan has also engaged in direct social activism. In 2002, at a time when US sanctions forbade working in Iraq, Chan spent a month in Baghdad with the aid group Voices in the Wilderness. Two years later, as a member of the collective "Friends of William Blake," Chan helped create and distribute The People's Guide to the Republican National Convention, a map for protesters that delineated the key RNC events.
His art and activism came together in 2007, with a riveting production of Samuel Beckett's Waiting for Godot, staged in the middle of a poor and devastated neighborhood in New Orleans, just two years after Hurricane Katrina.  The response from both critics and the local community was overwhelmingly positive.  "It is the only time I really engaged in public art," says Chan. "It was a response to my sheer anger over the situation in New Orleans."
Politics takes a back role in Chan's current show at the Guggenheim. The exhibition features the first U.S. presentation of Chan's series Nonprojections (2013– ), a body of work in which video projectors are operating, yet emit no discernible film or images. The projectors' lenses flicker and strobe as if outputting videos, no image can be seen in the brightly lit room. In an adjoining gallery, Chan present a "sculptural animation", in which movement, light and shadow is created simply by placing a length of sail cloth in front of wall-mounted electric fans.
"Over the years, I have learned to take away—just reduce, reduce, reduce," Chan explained. "And now I am trying to reduce the projections down to core elements: the flickering of light and the movement that comes from the lack of light and it is only discernable if you look at the light itself." Indeed, the idea behind the nonprojections is to trick the viewer into kneeling down on the floor and peer inside the projector, as if looking into someone's eyes. Even then, no apparent narrative will be visible.
"Nonprojections for New Lovers"  also incorporates the activities of Chan's publishing enterprise, Badlands Unlimited. While sometimes producing e-books with a political bent, its most recent series, New Lovers, are works of erotica written by female authors. Chan said his inspiration for this project is Olympia Press, the avant-garde publishing house in the 1950s that published volumes of adult pornography in order to fund its distribution of then-censored works such as Henry Miller's Tropic of Cancer. "Sex and sexuality has been a part of my work since the beginning," said Chan, pointing out Darger's vision of naked nymphets that populated Happiness (After) 35,000 Years.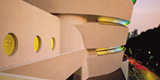 Chan connects the exploration of sexuality in the current series of books published by Badlands with such highly charged issues as campus rape and the Bill Cosby scandal. "An issue close to my heart is that different generations have different ways of talking about what is pleasure and what is pleasing to them and that is very political," he said. To Chan, publishing is the ultimate work of public art.
"Paul has talked about this exhibition as moving forward by going backwards," said Guggenheim curator Susan Thompson, noting that he started his career by making animations that were presented on screens, then moved to works like 7 Lights that were more like shadows on the floor, and now there are just the projectors themselves. She sees the "New Lovers" series as just a continuation of this reductive process. "The act of reading is very much where the text animates images in our minds and with erotica, through our bodies, as well."