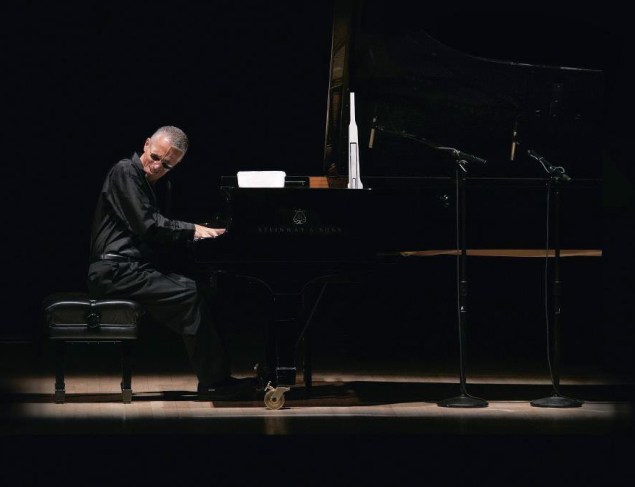 2015 marks the 40th anniversary of The Köln Concert, a landmark album by jazz pianist Keith Jarrett, who played a solo concert at Carnegie Hall last week. Few albums have touched me as deeply as this one. As a 16-year-old kid who knew very little from the jazz world, I first heard a selection from the record on the nightly "Eric in the Evening" program on WGBH FM, Boston's public radio station. The host, Eric Jackson, a quintessential cool FM jazz DJ, was my Jazz 101 instructor, at least until I took an actual jazz history course at the University of Massachusetts with professor Archie Shepp, a legendary saxophonist, composer and playwright. In one of my favorite college memories, professor Max Roach sat in as a substitute teacher.
Prior to that, though, Mr. Jackson's selections made up my jazz appreciation course load. He spun everything from the postwar bop period to contemporary records. After a track ended, there would be a few seconds of radio silence. In stark contrast to the increasingly wall-to-wall onslaught of FM manic rock radio, Mr. Jackson would calmly inform us of the track title, the name of the album, the year of release, and the personnel on the recording in an unhurried manner, interspersed with ultra-chill pauses. For a lonely kid whose family had just moved from Long Island to a small wooded town in the Boston suburbs, Mr. Jackson's impeccable taste—alongside the adventurous new punk and post-punk of the early-1980s being played on the area's many college radio stations—provided a bit of relief, if not a lifeline. "Last Night a D.J. Saved My Life," indeed.
---

The popularity of The Köln Concert is in large measure thanks to its spiritual resonance, the idea of one man ascending to the stage to channel improvised, often repetitive mantra-like music in a communal setting.

---
One night, in my bedroom, no doubt feeling quite sorry for my own forlorn teenage soul, I heard Mr. Jackson spin a stunning solo piano selection from The Köln Concert. It went on for over 15 minutes, as if it were a classical piece. Yet while it certainly had resonances with more Impressionistic classical composers such as Debussy (as I later learned), Mr. Jarrett also was striding in gospel chords and rhythms, music that sounded almost like a pop song in spots. But then while Mr. Jarrett's left hand would start to augment the basic and familiar chords with unexpected harmonies, at the same time, the right hand would shoot out a run of notes at a blistering "Flight of the Bumblebee" tempo, each note in the flurry articulated cleanly.
The recording ended. There was the space of a breath or two, and then the sound of applause. To that point there had been no evidence that it was a live performance. As the audience sounds faded out, there was another pause, maybe five seconds, then Mr. Jackson's mellifluous voice effortlessly described what we had just listened to.
It was unlike anything I had ever heard, even though it had familiar touch points. I immediately went out and bought the record—well, a cassette, actually. The fact that it was on a tape provided that early form of portability via the Walkman. The music became that much more intimate, direct through my headphones to my brain, as I took the bus to school, mowed the lawn and later walked the campus at college. At the time, I had been listening to everything in the rock and roll realm, and on The Köln Concert, I heard stuff that reminded me of the melancholy two-chord songs and rhythmic repetitions of New Order's Power, Corruption, and Lies; the driving rock and roll and churning blues cauldron of the Rolling Stones' Exile on Main St.; Jorma Kaukonen's solo fingerpicked ragtime acoustic guitar, and even the Velvet Underground's extended brutal jams. I could also recognize the more obvious influence of Gershwin's soaring melodic rhapsodies.
Recorded as one continuous concert at the Cologne Opera House in 1975, the album is divided into four tracks, titled, "Part I" (running time: 26:01); "Part II A" (14:54); "Part II B" (18:14); and "Part II C" (6:56). In one illustrative passage beginning around the 9:30 mark of "Part I," Mr. Jarrett locks into a hard-hammering, left-handed gospel vamp, which improbably flows out of a far-less-nailed-down, delicate two-chord dominant theme. The transition seems natural and effortless, slipping by unnoticed. Indeed, I have often rewound back, or lifted the needle on the vinyl to listen again to how Mr. Jarrett got from Point A to Point C. While one might expect the bluesy right hand soloing over the gospel left hand work on this passage, Mr. Jarrett soon rattles off stunning lyrical runs. And then the passage takes on a specifically New Orleans tone, before he steers it around to something more contemporary and cosmopolitan.
Around 14 minutes into "Part I," Mr. Jarrett allows his improvisation to break down, as if the movement were about to end. But he teases out melodies that soon sound like they were always there, hiding around the middle of a chord, from a pivotal note that you might not have been aware of, but which he uses as a lynchpin. This subsequently transitions to something sparse and Japanese feeling, percussive like a plucked koto. Before you know it, in the 19th minute the pianist has turned all Rachmaninoff on you, pummeling you with a darker, denser and more strident attack. And he's not done: Via a Modernist turn, with Cubist-like chord structures, the heavy curtains open up to a cascading waterfall of chords, a "Dance of the Girls with Lilies" lightness that in turn becomes an uplifting country-folk piece. This staccato left hand on the acoustic piano could also easily be imagined against a synth-pop pulse. There is something mechanized and modern about it. This resonance with electronic music is perhaps not accidental; Mr. Jarrett was already a veteran of Miles Davis' electric band by the time he sat down in Cologne in 1975, even though he notes that he thinks of electronic instruments as "toys" and was compromising in order to work with Mr. Davis. Interestingly, the city of Cologne itself is storied for its place in electronic music.
---

The album is the answer to the ultimate stoner Zen koan—what is the sound of one man jamming with himself?


---
"Part I," begins with Mr. Jarrett playing a five-note figure that was apparently echoing the chimes in the lobby of the Cologne Opera House alerting attendees that the performance was about to start. If you listen carefully, you can hear the knowing titters of the audience members who understood this musical quote. By the end of 26 minutes, the artist has created a whole movement that he brings down with a symphonic flourish, leaving just a few keys to finish the last few ringing notes, the middle register note somehow melting into it's bass-octave cousin.
And somehow it all relates: The jazz, the classical, the blues, and the folk references. I can hear it all, man. In some spots, it sounds like Mr. Jarrett is playing all the best parts of a band—not only a well-oiled jazz combo; in spots, The Köln Concert sounds as if it could be the Stones or the Grateful Dead cooking on one of their peak nights. Keith Jarrett is a one-man jam band on the album. The album is the answer to the ultimate stoner Zen koan—what is the sound of one man jamming with himself? No wonder the record found a home in many a Deadhead's dorm room. The Dead were a decades-long manifestation of the musical ideal captured in Gram Parson's "cosmic American music," an Americana-blend of jazz, blues, gospel, country, soul, folk, and rock and roll.
Mr. Jarrett's music contains these and other, deeper and broader multitudes. But while such rock and roll bands hit moments of brilliance, the comparisons start to seem silly. While they might mine some of the same sources, and hit on some similar trance-like grooves, Mr. Jarrett is a true virtuoso with absolute pitch who seemingly can play anything (he is also a multi-instrumentalist with a particular talent for the soprano saxophone). The Köln Concert record is just one of his albums that stand as evidence that this artist is a genius, inasmuch as the music repeatedly flows seemingly wholly composed from his heart, soul, and/or mind, if not from some divinity or otherworldly force. And perhaps that's its wellspring.
Like the Dead, or other jazz, and improvisational art, you never know what you were going to get when you went to go see Mr. Jarrett perform solo, but that was part of the excitement. The man's astonishing technical ability and musical vocabulary is always subservient to the muse at his solo improvisational performances. There is that communal feeling of, "we're all here at the same time to experience this art being created in the moment." The audiences at a Keith Jarrett program, however, tend to be more like one found at a classical concert.
Upon arrival in Massachusetts, I had made a friend in the neighborhood, a kid named A.J., and it was with him that I went to go see Mr. Jarrett perform at Boston's storied Symphony Hall on December 7, 1983. It was a Wednesday night during my junior year of high school. I had only been in Massachusetts for six months and this was my first time in Symphony Hall. We were seated on the floor, close to the stage. There was a grand piano up there. Behind it were two sections with about a half-dozen rows of folding chairs, with people seated there—on the stage. Mr. Jarrett, a slight man with a mustache and short, tight, curly hair, came out and acknowledged the audience's applause. Then he sat at the piano, head bowed down, for what seemed like five minutes. This is his protocol for clearing his head and tapping into his inspiration.
A.J. remembers him getting agitated for coughing, something for which he has become infamous. What I remember is a guy on stage, a portly balding man with a white beard—his image burned in my brain—snapped a flash photo on stage. Mr. Jarrett looked at him with dagger eyes for a few seconds while the guy turned red, and gritting his teeth, said so all could hear, "Put. That. Away. Far away."
When he performs these solo improvisations, he is clearly out there without a net. The trust has to flow both ways between the performer and audience. "There's never been a time where improvisation has been given the respect that it deserved," he said in the documentary, Keith Jarrett – The Art of Improvisation. "By virtue of the holistic quality of it, it takes everything to do it. It takes real time, no editing, it takes your nervous system to be on alert for every possible thing in a way that cannot be said for any other kind of music. I'm essentially an improviser. I learned that by playing classical music (laughs)."
That he has repeatedly found the muse, in front of thousands of people, with only his chops and broad musical vocabulary to guide him to some musical discovery, a form of spontaneous composition that heretofore did not exist, should—but does not always—engender that respect in his audience members which Mr. Jarrett describes. These improvisations are not mere runs up and down a scale over an established chord progression, with other musicians holding down the foundation. As opposed to much of his work with well-established Keith Jarrett Trio, his solo performances such as The Köln Concert do not begin with standards or other songs to provide a structural launching point. He comes with little or nothing prepared. However, his encores for such concerts tend to be shorter pieces that seem more song-like in structure. "Part II C" of The Köln Concert is as a catchy as any pop song, while offering an emotional depth that leaves the listener breathless.
Instead, Mr. Jarrett explores until he finds a hook or a motif, and takes off from there. And this is why the record found its way into so many non-jazz collections that it is, according to the Guardian, "the bestselling solo album in jazz, and the bestselling solo piano album in any genre." The resulting music has as much to do with the revelations found in Krautrock and prog rock repetition. Gary Peacock, the bassist in the Keith Jarrett Trio, noted to Mr. Jarrett's biographer, Ian Carr, "When we're playing something in straight time, boy! When this thing locks, something else takes over and it's like you're not playing—it's kind of floating!"
---

Keith Jarrett is a true virtuoso with absolute pitch who seemingly can play anything.


---
But of course, that also relates to gospel, or any devotional music aimed at ecstasy. And I don't mean the capital "E" drug. While adventurous musicians from Charlie Parker to the Dead sought to be aided by chemicals in the search for their muse, the influences that Mr. Jarrett attributed to this singularly legendary performance are no more than sleep deprivation, a faulty piano and a long wait for a lame meal in a Cologne Italian restaurant. He told grammy.com, "I was due to go onstage soon, we'd had so many hassles, and the piano was such a terrible instrument. And I hadn't slept anyway. So I was in almost hell. Then we went to this Italian restaurant where, for some perfectly symmetrical reason, we were served way last. Everyone else was eating, I was the one who was going to play in an hour, and I still didn't have any food. And then when they finally brought the food, I was still hungry, because I wasn't happy with the food they served."
Other than speed, it would be difficult to point to a drug that would have allowed Mr. Jarrett to play with such agility. Drugs may help one find inspiration, or help one with his or her energy level, but being able to execute those ideas, ay, there's the rub! In Ian Carr's book, Keith Jarrett: The Man And His Music, Mr. Jarrett explains, "Once somebody … said something about getting high and I said, 'Yeah—on the music. For me, it's hard to understand why a musician needs more than the music."
The Köln Concert is transcendent in the literal sense, with Mr. Jarrett transcending the all-too-typical obstacles for a musician on the road—lack of sleep, bad food and shitty equipment. "Every situation is different, the dressing room situation, the social situation, where I eat," he told Ian Carr. "These are all big, big things, not insignificant details. If I have, say, an 8 o'clock concert and the audience is not in the hall at 8, I'm capable of losing my timing. I'm aiming an arrow at the event, and I'm divorcing myself from anything that's the wrong thing." Regarding the concert in Cologne specifically, Mr. Jarrett recalled, "What happened with this piano was that I was forced to play in what was—at the time—a new way. Somehow I felt I had to bring out whatever qualities this instrument had. And that was it. My sense was, 'I have to do this. I'm doing it. I don't care what the f*** the piano sounds like. I'm doing it.' "
Indeed, he has also noted that such equipment limitations can trigger those inspirations. He told Keyboard Magazine, referring to a performance in Rio De Janeiro, "So when I find a piano that has this 'imperfect' character, it's actually much more to deal with—and I mean that in a good sense—than a 'perfect' piano. So you're hearing me discover which notes on the keyboard will do this zingy thing with the overtones, and I'm learning what part of the keyboard is acting a certain way."
The popularity of The Köln Concert is in large measure thanks to its spiritual resonance, the idea of one man ascending to the stage to channel improvised, often repetitive mantra-like music in a communal setting. The appeal of devotional music from various traditions was working its way into jazz starting in the mid-1960s, with Eastern drones and chants informing such records as John Coltrane's A Love Supreme (1965) and providing the very basis of much of his widow, Alice Coltrane's work, such as Universal Consciousness, (1971). Of course, jazz itself, like soul music, takes church music as one of its foundational stones. Mr. Jarrett is an adherent to the philosophy of George Ivanovich Gurdjieff and even released an album called G.I. Gurdjieff: Sacred Hymns (1980), which he describes as "a spiritual exercise," not a musical one.
In Cologne, "It just seemed like everybody in the audience was there for a tremendous experience, and that made my job easy," Mr. Jarrett told grammy.com. Mr. Jarrett moans and grunts at various points during the performance, as he does regularly, and as others such as Thelonious Monk and Charles Mingus have. While these exaltations have a dramatic effect, only the most callous could doubt their organic source from uninhibited spirit of generous performance. Mr. Jarrett was 29 at the time of The Köln Concert. He was in complete trust of his capabilities, his source of inspiration, and his audience. More than 3.5 million copies of the album have been sold. Don't blame him for any "new age" noodling that followed. His aim was true.
[youtube https://www.youtube.com/watch?v=T_IW1wLZhzE&w=560&h=315]