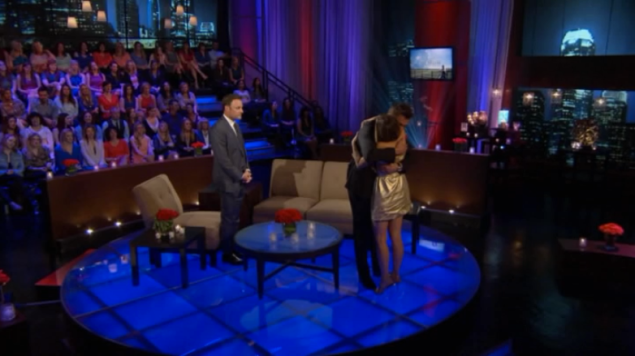 The Bachelor is so good, it's frustrating that we have to cap it off at a measly two hours per week. That's why each Tuesday, we'll be having a Bachelor morning-after rose ceremony to celebrate the people, places and moments that really made the previous night's episode shine.
A rose to Chris Harrison, who's positively glowing with excitement about finally getting to be the belle of the ball. For Chris Harrison, the Women Tell All and the Finale episode are his grand reward for slogging, thanklessly, through an entire season of the Bachelor. They're the Bachelor equivalent of the Golden Globes and the Oscars, and dammit, Chris Harrison has come here to shine. He even gets to declare this one of the most shocking seasons ever, which you just know makes him wiggle with joy.
A rose to this drunk mom, who's definitely vying for a spot on Bachelor in Paradise. To be honest, I like her chances.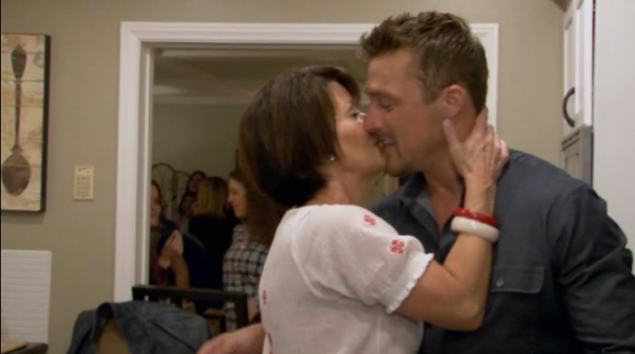 No roses to Britt, who literally spent the entire episode spouting liquid from her eyeballs. She cries because the women thought she doesn't want children (come on, you guys, she's, like, built orphanages in other countries!); she cries because she thinks Carly ruined her chances at love; she cries when she finally sees Chris again; she cries when ABC cuts to commercial break, and when the cameras start rolling again.
When Britt finally gets a chance to talk one-on-one with Chris—following the single longest, most uncomfortable hug in Bachelor history—she asks if she'd still be around, had it not been for Carly. Chris promises Britt it wasn't Carly, but other "things" that made him realize she wasn't the one for him. Maybe it was the fact that Britt cries more than she talks and/or breathes?
A rose to Carly, who was not only unjustly painted as a villain last night, but who also got the added bonus of being reminded how pathetic her love life has been, up until now.
"I just feel like the hate from you is borne out of pain," Britt says to Carly, obviously through tears. "I think it was easier for you to demonize me than figure that out." In other words, "Don't hate me 'cause I'm beautiful and you, on the other hand, spent years dating a maybe-gay boyfriend."
A rose to this person named Trina, age 33, who I think said more on last night's episode than she did on the entire season.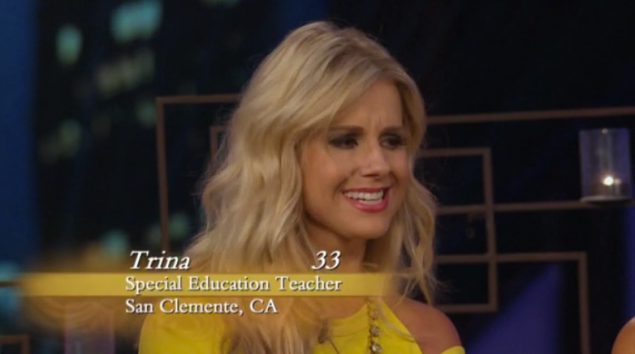 A rose to Kelsey, who literally did nothing last night to assure America she's not Gone Girl come to life. Kelsey had one job—one job—and yet still she elected to carry herself like a Toddler in a Tiara all night, laugh like a spastic robot when Chris Harrison offered his handkerchief, and use the word "amazing" like 476 times. I don't know, Kels—maybe it's time to find a new word? It's hard to pinpoint—there were just so many options—but I'm pretty sure this is when Kelsey reached peak Kelsey: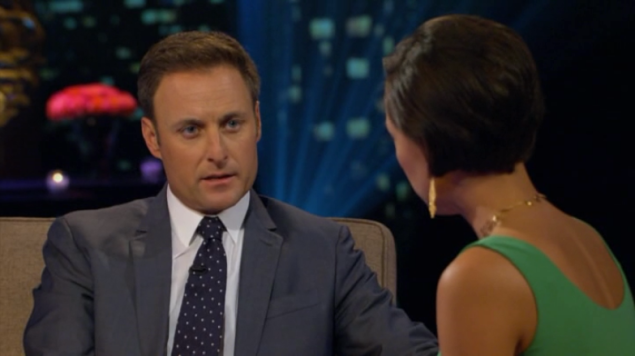 A rose to noted virgin Ashley I., who is not having a) sex, or b) any of Kelsey's shit.
A rose to what was truly the most anticipated part of this episode: THE RETURN OF ONION GIRL. Right from the get-go, as she watched her own montage, it was impossible to tell what Ashley S. was thinking. Was she preparing to defend her bizarre behavior, or was she just trying to figure out where the f*** she was?
Even after last night's episode, I am no closer to figuring out what, exactly, is up with Ashley S. I know Chris Harrison insists they didn't hire her as an actor, but that doesn't mean Ashley S. isn't still acting, just for the fun of it. As she, herself, said, being on the Bachelor gets boring. And there was a point during her interview—perhaps around the time she said "I like to ride bikes"—when it looked like she might be on the verge of laughter.
Remember Onion Girl's zombie-killing rampage? 'The Bachelor' Morning-After Rose Ceremony, Week 2
But on the other hand, certain degrees of weirdness are just too weird to fake. Like bringing an onion for Chris Harrison. Or eliminating all indicators of recognizable human emotion from her face. Or this interaction: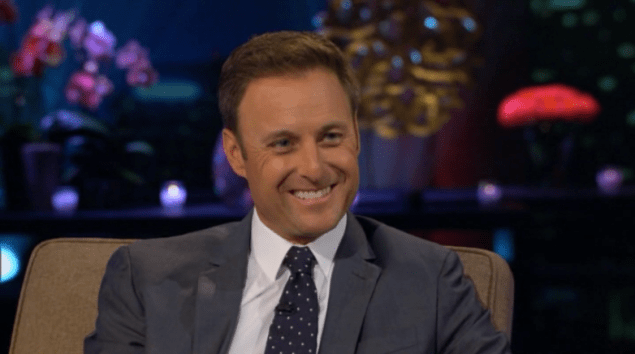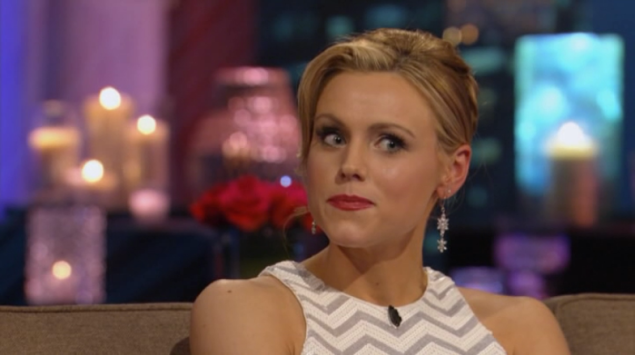 A rose to whatever the heck freaky stuff went down in Chris and Kaitlyn's Fantasy Suite, because Kaitlyn admits she had never been more confident going into a Rose Ceremony than she was in Bali, and that she was totes blindsided when Chris sent her home. "You have this intimacy, and a romantic connection, and this night that's totally off camera, which we totally deserved," Kaitlyn says, "And I had zero reason to believe I was done."
What went down in there? Did Kaitlyn change into her laciest, most see-through crop top? Did she and Chris eat soybeans off each other's bodies? Did they watch Jade's porno? Whatever happened, extra roses to Kaitlyn, because it must really suck to do all that, and then still lose out to a girl who barely knows Chris, and refuses to do sex until marriage. Kaitlyn for Bachelorette, amiright?
No roses to this super boring conversation between Jade and Chris. You know Jade doesn't really have anything she wants to talk about when her main points of contention are a) Chris's word choice on his People.com blog, and b) his use of the word "awkward" when he watched her naked video. I'm sorry—is it not awkward to watch your girlfriend's secret porno while her family, who you've just met for the first time, is in the next room? You can tell even Jade knows this entire conversation is B.S.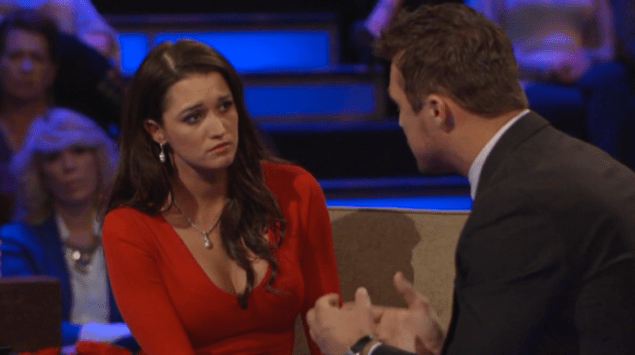 A rose to every viewer who wanted to stick forks in their eyeballs and twist when Chris Harrison said the word "panties" in the blooper reel.
Listen up, Pulitzer committee. A rose to what's certain to be the most important work of literature of our time: The Perfect Letter by none other than CHRIS. F***ING. HARRISON. That's right, folks: the god of all things Bachelor has written a book. An actual book. I predict this might out-sell the Bible.
Here's the riveting Amazon description:
"Chris Harrison, the beloved longtime host of ABC's The Bachelor, explores the perils and rewards of risking everything for love in his first novel.

"As the longtime host of ABC's hit shows The Bachelor and The Bachelorette, Chris Harrison has witnessed the joys and heartbreak of men and women searching for everlasting love. A true romantic at heart, he believes that everyone deserves their own fairytale ending. Now, in his first work of fiction, Chris draws on his unique insights and wisdom in a remarkable debut novel that explores love and its consequences—a must-read for Bachelor fans and hopeless romantics everywhere."
That's right, folks—this book will cover not just love, but also "its consequences." May 19 literally could not come sooner.
Read last week's recap: 'The Bachelor' Morning-After Rose Ceremony, Week 9