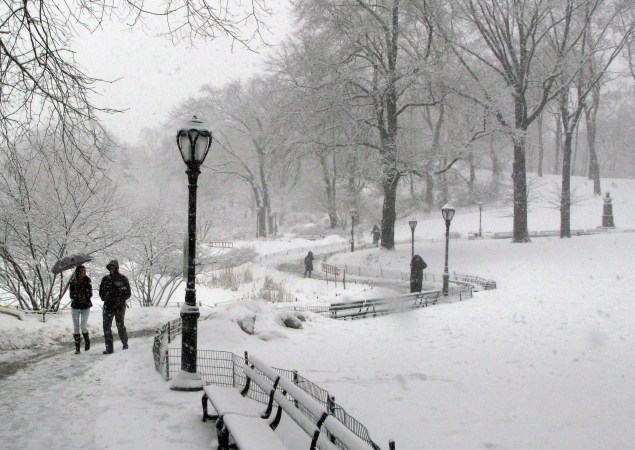 Winter may be over at 6:45 p.m. today, but that doesn't mean winter-like weather is subsiding. From the windows of the Observer offices, it looks like it's been snowing for at least a couple of hours now. In case you've forgotten, though, this is what happens during early spring. Sure, it's a shame we couldn't have a bright, warm equinox to savor, but seasonal transitions are messy. This is not cause for alarm.
Forecasts say we might get up to six inches of snow today, which could sound like a lot to those who fear even the slightest dusting. But it's really not. It'll be gone soon. It's supposed to be warm tomorrow—51° Fahrenheit!—and the snow will probably melt away pretty quickly. I'm not saying that we shouldn't take the snow—and the cold—seriously. It can feel like a slog enduring frigid winds for months on end. Planes skidding off runways are no joke. Boston got screwed this winter, and that was a serious matter.
But having spent four years in Montréal, where the temperature occasionally hovered around -40° Fahrenheit (in 2008, we got 342 centimeters of snow, and some of it contained lightning), I have little sympathy for those who complain about cold weather, unless perhaps, you live in Deadhorse, Alaska. Put on a warmer coat if you're chilly. Get some thermal socks and a pair of long underwear. New York City isn't Siberia. This isn't One Day in the Life of Ivan Denisovich.
I have to say that I am tired of people telling us how upset we should be about winter. I know this February in New York was one of the coldest on record, but so what? It's one month out of so many more you will experience. Why not try to enjoy it? Mayor Bill de Blasio set the tone in late January when he mistakenly scared everyone out of their wits by telling them that we might experience the worst snowstorm to ever hit New York City. Unsurprisingly, we didn't. From there it's been one overly anguished article after another.
"Winter shrinks the vision, narrows it to the limits of a parka hood," the New York Times wrote in late February, joining the chorus of complainers. "It numbs the heart, dulls the reflexes of graciousness and gratitude as people's behavior on sidewalks and train platforms shifts to self-preservation."
I don't buy it. New Yorkers are assholes in the summertime, too, when the humidity is heavy enough to make you sweat away your humanity. Recall, too, that it didn't actually snow that much this season—especially relative to last year, which, I admit, was excessive. And it's worth pointing out the obvious here, lest we forget: Snow is beautiful. Up close, snowflakes look like tiny doilies. How great is that? After a substantial storm, I always appreciate, in the morning, how my Brooklyn neighborhood looks like a Currier and Ives painting. I've found few things more peaceful than walking alone at night as fresh snow squeaks beneath my boots.
Look, I get it. I'm not trying to be overly romantic here. I get that you're tired of feeling cold. I get that you want to put on one layer again and have that be it. We all want to sit outside at a bar and drink beer and laugh and talk to our friends about something other than the snow. (How about real estate?) And that time will come. I've always felt that spring really starts in May, anyway, when the warblers start flooding Central Park on their migrations North for the summer. (Robins, contrary to popular opinion, are here year-round and represent nothing.)
So, with that in mind, try to have a mind of winter, as Wallace Stevens put it—even if it's officially over this evening. You'll feel stronger as a result, I think. Remember, it sometimes snows in April. It did last year, and it might this year, too.